If you're at all across your iconic album artwork history, then chances are you've come across the work of Roger Dean, the British fantasy artist responsible for many of the iconic sleeves of prog rock stalwarts Yes, as well as spin-off band Asia, as well as countless 70s LP covers, his work has been an inspiration to generations of artists including a famous film director, according to a new lawsuit from the 68-year old Dean, as iO9 reports.
Roger Dean is suing filmmaker James Cameron, claiming that the floating islands and lush visual plateaus of his 2009 blockbuster, Avatar, are a little too close to comfort to the British artist's fantasy landscapes. Dean is suing the American director and his studio, 20th Century Fox, for more than $50 million in damages, as well as an injunction against any Avatar sequels that include similar imaginary geological visuals – claiming that Cameron directly based the look and aesthetic of the fictional world of Pandora on his artwork.
The full legal complaint, filed in the New York District Court last week and posted on Deadline, alleges that Cameron substantially copied elements of Dean's artwork, including studying his paintings during his preparations for what has become the highest grossing film of all time. The complaint reads:
Plaintiff has been a well-known and successful artist and designer for more than 45 years. Plaintiff is recognised internationally for architectural concepts, stage, furniture and logo design – but particularly for his paintings of unique and original landscapes that feature geological forms not otherwise occurring in art or nature…

The similarities of each such work are substantial, continuing, and direct so as to rule out any accidental copying or similarity in scenes common to the genre. The infringing portions of Avatar are so similar to Plaintiff's Works that Defendants and others employed in the preparation of the film must have had access to the Plaintiff's Works."
The legal paper specifically references Dean's paintings, 'Floating Islands', 'Arches', and 'Pathways', as being directly copied by Cameron and his team. A quick look at the pieces cited makes the similarities difficult to ignore, the million dollar question is of course is where the line is drawn between inspiration and plagiarism and whether Cameron has crossed it.


During a 2010 interview with Entertainment Weekly, James Cameron was asked if he'd got the idea for floating islands and the lush, misty atmosphere of Pandora from a Yes album cover, to which the director replied vaguely, "it might have been, back in my pot-smoking days." Hardly legal basis for a confession but it's not the first time that Avatar's fantasy elements have drawn legal complaints.
Cameron has already won two separate claims that elements of the film's script were stolen from others; last March, Complex reported that screenwriter Bryant Moore sought copyright infringement in a $25 billion trial likely to go to court in the next few months, while another budding screenwriter called Eric Ryder similarly called out Cameron for stealing elements of his script, according to TMZ.
You can view more comparisons of Roger Dean's fantasy artwork and images of Avatar's fantastical Pandora below and decide for yourself if its merely creative inspiration or something more sinister.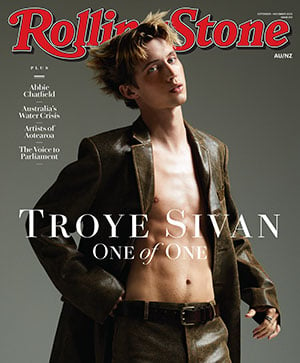 Get unlimited access to the coverage that shapes our culture.
Subscribe
to
Rolling Stone magazine
Subscribe
to
Rolling Stone magazine