Sydney-based one-man band Flume, aka Harley Streten, has quickly made himself known as one of the most talented producers in the Australian music scene. It's hard to believe this amazing beat-maker is only 20 years old. Also serving as one half of the duo, What So Not, this electronica/indie genius has made quite the reputation for himself.
Streten got his first taste for producing at the age of 11 from the most unlikely of places – a music production program he found in a box of Nutri-Grain. Of this discovery Streten says, "It got me really excited. I've always had this fascination for making music."
It was this fascination that helped him make a name for himself when, at only 19 years of age, he signed to Future Classic as Flume. This move was followed quickly by getting his other project, What So signed to DJ Ajax's new imprint Sweat It Out.
Although the 20-year-old has been working as Flume for some years, he took a break from his solo project when he began What So Not two years ago. Lucky for all the fans out there that he went back to his original moniker and started creating more works of art about a year ago.
As to whether he prefers collaborating or working alone, Streten says, "It's good doing what you want but it's nice bouncing ideas off someone else."
Streten isn't shy about listing his musical influences and says without hesitation that his dream collaboration would be with Flying Lotus.  "He's my biggest influence."
Listing some of his other influences as Hudson Mohawke, Rusty and Jamie xx, it's not surprising to hear that Streten knows his fair share of producers and music. Even the name Flume has musical references, originating from the Bon Iver track that the electronica artist fell in love with.
Ever since the creation of his alter ego, Streten has been making waves – scoring himself a spot on Triple J's hottest 100, licensing global advertising campaigns for Rip Curl and taking his live show to The Sydney Opera House as part of Vivid Festival.
Flume created even more hype when he released his own take on Antony For Cleopatra's track "Sleepless". The remix  is the title song from Flume's debut EP which came out in August 2011. Transforming the vocals and speeding things up a bit, Flume turned the song into a super catchy electro-pop anthem.
When asked about how he feels about the success of his EP, he explains that he was surprised by its popularity. "I didn't really think it was going to go that way at all." Talented and modest – this boy is perfect.
It's impressive that Streten has stayed so calm and level headed when, all over Australia, people are describing his production skill and knowledge as rivalling that of most producers ten years his senior. "It's pretty strange," Streten says when talking about how this makes him feel. "But I've been producing for nine years. I've had a head start with it all."
He continues, detailing his desire to stick with producing, "I did the DJ thing for a little while but I hated how it was all about bringing people down to the venue and not about the music." Amen to that.
He definitely won't need to convince people to come to his shows now that he's playing at famous venues and festivals like Splendour in the Grass, and – of course – the upcoming Parklife lineup; alongside the cream of Australia's electronica crop – like The Presets – to some large internationals like Passion Pit, Plan B and Nero.
What's next for Flume? "I've got festivals and gig dates coming up and the album release at the end of the year and then Europe and USA next year," Streten reveals. "I feel like my kind of music is more suited overseas. Things could get more serious in the States and Europe."
Considering Streten's talent, it'll be no surprise if his predictions come true.
Listen to Flume's tunes over at his Soundcloud, while Parklife 2012 kicks off nationally in September. Full dates and details here.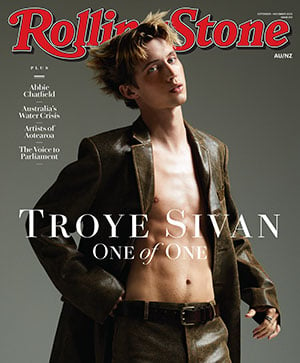 Get unlimited access to the coverage that shapes our culture.
Subscribe
to
Rolling Stone magazine
Subscribe
to
Rolling Stone magazine