Bill Callahan – lo-fi legend, acclaimed singer-songwriter, enchanting folkster – doesn't just collaborate with anyone. It won't come to define her burgeoning career, but Gena Rose Bruce getting the Smog singer to feature on her second album certainly feels momentous. 
The Melbourne artist released Deep Is the Way today, and it contains the sort of intensely thoughtful lyricism that should see her continue her ascent to the level of her country contemporaries Barnett and Jacklin.
Weighty themes – love, self-destruction, ennui, psychoanalysis – are explored breathlessly, Bruce nimbly navigating a multitude of emotions throughout the album's 11 tracks.
Her brand of melancholic indie-meets-alternative country isn't necessarily reinventing the wheel, but nor does it have to, such is the impressive sharpness of her songwriting.
To celebrate her album release, we got Bruce to discuss each track on Deep Is the Way, and her answers were as considered as you'd expect from a lyricist like her.
And if you want to hear these songs played live, Bruce will be touring Australia throughout April, before heading to the U.K. for a run of shows (more information here).
Gena Rose Bruce's Deep Is the Way is out now via Dot Dash/Remote Control Records.
Love Indie?
Get the latest Indie news, features, updates and giveaways straight to your inbox Learn more
'Future'
Coming to terms with what it means to let go of a personal dream. To question and wonder who it is you are without that passionate drive. Having that scary realisation that passion can come as a burden. This song came together very quickly, I think I wrote it in about 30 minutes.
I remember feeling very heavy with emotion at the time of writing this song, I think that's why the lyrics just poured out of me. I think it's the perfect opening track to the album, as it sets the tone of the record and sums up pretty well my mindset at the time of writing this album. I tried writing a few more verses to this song, however I decided to not add them in as I think this is a song where less is more. 
'Destroy Myself'
I was reading Sigmund Freud's Civilization and its Discontents – this song is inspired by Freudian psychoanalytic theory, the death drive. The death drive is the drive toward death and destruction, often expressed through behaviors such as aggression, repetition, compulsion, and self-destructiveness.
I wrote this song in many different parts, it took a while for me to see where it was going and to believe it was worth finishing. I just couldn't easily get it to a place where I was happy. When I struggle with finishing a song I jump between piano and guitar for different inspiration, and that's what happened here.
Finally I sent a rough demo to my producer, Tim Harvey, and it wasn't until he came back with a new chord progression for a chorus that I understood where the song needed to go. Once it came time to record, I wanted to go really wild sonically – I love the vocal effect as it just didn't suit having clean tone vocals on this song. 
'Foolishly in Love'
I've always loved pop music. I was listening to a lot of Goldfrapp and Robyn at the time of writing this song. I wanted it to be high energy and just a lot of fun.
I wrote this song in many different parts. I had this one verse I liked for a long time but just couldn't seem to write a chorus to fit. It wasn't until I showed the song to Bill Callahan and he added a new set of lyrics; I think at first it was only one line. However it inspired me lyrically to see where this song could go and then within a day, I had written the chorus and another verse.
It was 90% finished by the time it came to recording, and then once we were tracking the vocals my producer and I, Tim Harvey, added new lyrics to the third verse and it really felt complete then. This song was co-written with Bill Callahan.
'Harsh Light'
Relationships take work, and every day you need to make a conscious choice to continue to make them work. But over time, that work you put in leads to a great trust and a deep closeness. You become strong, and even through the darkest of times (global pandemic, lockdown, stuck in a tiny apartment), you can trust that you will make it through. Originally I wrote this song as a ballad and visioned it as quite a slow song. It wasn't until we got in the studio that we realised it needed to be five times the tempo! I'm a huge Beatles fan and I think this song really shows that. 
'Misery and Misfortune'
This was the last song I wrote for the record, it came together pretty effortlessly (unlike the rest). There is nothing worse than being numb and unfeeling. This song is about feeling grateful and appreciative for when you can actually feel your feelings. Even if some of those feelings may not be positive, at least they turn on all your senses and remind you that you are still alive.
I think my guitarist Cordy did such a great job on this track, the guitar lines remind me of something that you would hear in a No Doubt song, really cool pop tones. I also wanted the synths in this song to almost be too loud, to be as prominent as the vocals. I think they just bring so much emotion and character to the song. This is one of my favorite songs off the album to perform live. 
'Deep Is the Way' (ft. Bill Callahan)
A song dedicated to those who struggle to fit in and connect with the modern world. I originally wrote this song on piano, it's another song that had a few random parts written but no real song, and it wasn't until late in the writing stage I put them all together to write this.
I sent those random parts of the song to Bill, and again it wasn't until he came back with the most poetic lyrics I have ever heard that I could then see lyrically where I needed to take the song. I could then finish writing a chorus and another verse, turning it into a proper song. We sat on this song for a while as my producer and I weren't sure how to record in a way that didn't sound cheesy.
I always wanted it to be quite subtle musically, and have the vocals be the main carrier of the song. I remember Weyes Blood's 'Wild Time' being a big influence for this song – I love songs where the instruments just float in and out of the song, almost ghost-like. Duet and co-write with Bill Callahan.
'Morning Stars'
This song was written for someone I hold close to my heart who was going through a time of loss and dealing with the stages of grief. I guess it was my way of saying I am here for you. I liked the concept of the morning stars – there is a special thing about waking up early enough to still see stars in the sky. The universe is so quiet in those early hours and you have a wonderful feeling knowing that there is a whole new day ahead of you.
'Love'
I've only recently started learning to play piano but it turned out to be a big influence musically for this record. 'Love' was the first song I wrote for this record. I wanted to capture a similar emotion to Nick Cave's 'Into My Arms' and create that same feeling I feel every time I listen to that song. I wanted to play with a lot of dynamics when recording this song, to keep those verses so soft and intimate and then have that big feel good chorus. 
'Rather Be a Dreamer'
We recorded all the instruments live for this song, including the vocals. We really wanted to capture that energy of a live band jamming in a room. I wanted this song to be wild, fun, despite the sarcastic and kind of sad lyricism.
I was listening to a lot of Electric Light Orchestra at the time of writing and recording this song. I really wanted to capture something similar to them, so that can explain all the quirky instruments coming in and out of this song plus the bizarre backing vocals. 
'I'm Not Made to Love Only You'
I don't need to go into too much detail on the meaning behind the lyrics for this song as I believe the title sums it up pretty well. This was another song I wrote on piano and first envisioned as a Billie Holiday kind of vibe.
It wasn't until I brought the song to Tim and we played around in the demo staging with all these dark synth tones that it was clear where the song needed to go. My guitarist recently started learning classical guitar so we were able to incorporate that into the song – the classical guitar riff almost brings a Western movie sort of vibe. 
'Captive'
The story behind this song was inspired by Richard Yates' Revolutionary Road. I didn't particularly like this book, but I found myself fixated on it. I strangely felt a similarity to April – I think going through a lockdown and being out of work made me feel slightly like a locked up 50's housewife.
This was another song that came to me really fast. I remember going for a walk on the beach and writing all the lyrics down on my phone throughout that walk, and getting home and just putting it all together so easily. I wanted to create a feeling of another world in this song, almost fantasy like, but also a sad disco vibe.
I think the drums sound like another instrument in this song, they sound so enchanting. 'Captive' is the perfect closing song for the album, as it does leave you with the feeling of another chapter is about to begin, in a hopeful but fucked up way.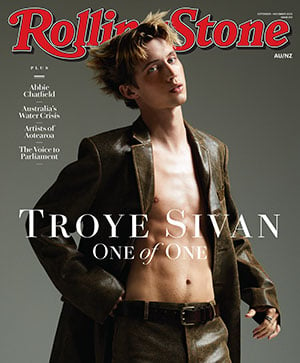 Get unlimited access to the coverage that shapes our culture.
Subscribe
to
Rolling Stone magazine
Subscribe
to
Rolling Stone magazine