From X Factor Australia contestant to a budding, globally-signed songwriter and now an artist in her stride, Alex Hosking is one to watch.
Having already seen her co-writes hit Spotify's New Music Friday playlist, and hit #1 in the dance charts in the UK ('Saying Something' by Lucas & Steve), and in Germany ('Skin Deep' with Tom Ferry), it was about time Hosking stepped into the limelight herself.
While her publishing deal with Sony/ATV has seen her travel the world to collaborate with Bijillionaire, Tigerilla, and The Preatures, among many others – all in the last 12 months – Alex Hosking has finally announced her own solo music project.
Alex Hosking's single 'Monsters' has just been released to the world today, and it's a huge sign of big things to come for this genre-blending artist. It started out as a poem and grew into an indie pop track, recorded in a bedroom studio in Santa Monica, California.
To make sure you know just that little bit more about Alex Hosking before the whole world does, check out the below Q&A for her story, her hobbies outside music and why her grandma is probably cooler than yours.
Get To Know: Alex Hosking
How did your career in music come about?
I started writing songs at age seven. The first song I can remember that I wrote was about letting your true self shine through and being kind to others. After that, I was always writing. Professionally, I started writing songs two years ago.
How would you describe your music to your grandma?
Well, one of my grandpas is Irish and he feels like my music doesn't have enough "jig" to it. but my grandma is 83 and she is on Instagram so she is up with it. She knows what's current.
Tell us about your debut single?
'Monsters' is my first release, it's about struggling with one's inner thoughts.
What do you love about your hometown?
The air is so clean and the food is so fresh it always feels like I've gone camping when I go home. It's so chill. I love being back home for the holidays.
Career highlight so far?
Signing a global publishing deal with Sony/ATV was super cool because it allows me to travel the world writing for artists from all different countries. I love getting to experience new cultures and being able to bring in my own experiences.
Fave non-music hobby?
Traveling and eating in no particular order.
What's on your dream rider?
I've heard of some pretty insane riders so I would love to just put crazy things on request and see if they would do it. Like a room full of retro pinball machines, games and an exotic selection of teas.
Dream music collaboration?
I would love to collaborate with Allday, Mallrat, Sigrid, Anne Marie, Raye, Mø, Tove Lo… I have a list.
Where do you see yourself in 10 years?
Somewhere on tour.
What's your go-to karaoke song?
Anything Spice Girls.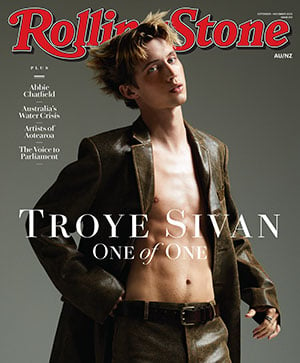 Get unlimited access to the coverage that shapes our culture.
Subscribe
to
Rolling Stone magazine
Subscribe
to
Rolling Stone magazine