Melbourne's own alt-pop singer Brigitte Bardini just released her debut track 'Aphrodite' at the beginning of the month. Now, it's time you get to know her a little better.
At only 20 years of age, Brigitte Bardini is making big waves in the music world with her debut single 'Aphrodite'.
Not only has she put her psychology degree on hold to dive deep into her music, but has released her first song earlier this month, with a beautiful and immersive video to go with.
"I wanted to create a film clip that immerses the viewer into this world of a goddess being beckoned, almost taking you underwater to Aphrodite's birthplace," Bardini explains.
In celebration of this lovely debut song, we asked Brigitte Bardini a few questions about all the things that make her a unique, and powerful singer.
From being featured as our video of the week to being an all-around lovely person, we thought it was high time you got to know Brigitte Bardini.
Check out 'Aphrodite' by Brigitte Bardini:
How did your artist name come about?
Brigitte Bardini is my birth name.
Love Indie?
Get the latest Indie news, features, updates and giveaways straight to your inbox Learn more
How would you describe your music to your grandma?
I'd tell my grandma it's calm and flowy and that, "yes, it is me singing, Nonna."
What do you love about your hometown?
I love that I know it like the back of my hand, that it has lots of beautiful little alleyways to explore around the houses and my neighbours never complain that I play my music too loud.
Career highlight so far?
Having had my music be well received so far by the public has been amazing as well as being able to talk to platforms like you guys at Tone Deaf about the song and the video.
Fave non-music hobby?
Drawing has been a huge hobby of mine since I was really young so if music wasn't the main choice I'm sure I'd be attempting to sell a few drawings here and there.
What's on your dream rider?
If there's jet lag involved I think a few fireball shots might be a necessity and I can't deny my Greek/Italian roots so a platter of food is always ideal.
Dream music collaboration?
Air is a French band that does incredible, mostly instrumental, tracks.  They also do features where artists like Beck and Jarvis Cocker have sung on their tracks. So basically, this would be a dream.
Where do you see yourself in 10 years?
Ideally I'd have consistently been involved in the music industry for 10 years, still working on my own music and potentially producing other people's tracks also.  And maybe I'd have written a movie soundtrack by then, wouldn't that be great.
What's your go-to karaoke song?
I don't know what that would be as I can't say I'm very experienced in the art of karaoke but if there's one song that comes on that I can't help but sing and mime to it's 'Baker Street' by Gerry Rafferty.
What's on the cards for the future?
I'm super excited to let you guys know that there'll be an album coming!  Only time will tell when it will be released but I'm extremely eager to get it out there and see what you guys think of it.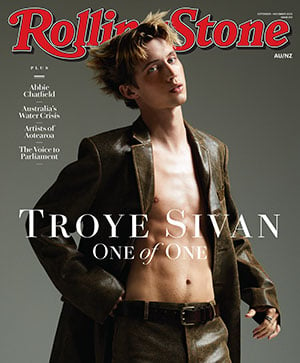 Get unlimited access to the coverage that shapes our culture.
Subscribe
to
Rolling Stone magazine
Subscribe
to
Rolling Stone magazine