Much loved Byron Bay based (via Canada) singer songwriter Garrett Kato is fresh off the biggest year of his career, having spent 2015 enjoying rave reviews from triple j and Rolling Stone, touring with Pete Murray, and selling out album launches across the nation.
To celebrate all of the success spurred by the release of his new album, That Low & Lonesome Sound, and to kick off 2016 in style Kato is currently on the road for a series of headline performances.
With performances set for every state and territory in the country (except NT), Kato's profile is sure to ascend even further by the time he finishes up at Hobart's Homestead. We caught up with Kato while he was on the road to get to know him a little better.
The Beginning
I started playing music at the age of 13 or 14. Playing mainly Deftones and hilarious NU Metal bands songs in drop D. Loved it. Then slowly faded into the weird alternative folk dude.
Main Influences
I'd say it's Springsteen for some musical stuff, but I listen to most things and get something out of it. Like the new Vince Staples record is particularly awesome. Super hard to say it changes all the time.
The Move from Canada To Byron, Why?
"It's a long story, but I was wanted for a number of crimes in Canada and figured I had to get out while I still was a free man. Also I met a lovely lady and could play music pretty much non stop so naturally wanted to stay."
How Australia's Music Scene Compares To Canada
"It's an amazing climate for live music and most cafes and bars are happy with the idea of live music. I'd say triple j is the most interesting difference between Canada and Australia being that it's an amazing platform that provides legitimate artist a shot at a career.
The only problem being that the whole industry is mainly built on the radio station so it can be just as challenging if you're not getting the love."
Playing Alongside Isle of Wight's BESTIVAL
This is why busking is the best. I was performing on the street in Byron at the famous Mokha cafe and this woman saw my show and loved it. Said she ran a festival called Bestival and to email to get on the line up. Initially I didn't take the offer to seriously mainly because I had never heard of the festival.
A few weeks later I was digging through my wallet and found her email. Checked out the Festival and realised I had made a huge mistake not staking up the offer. So I just said yeah for sure I'll play.
I met Wu Tang Clan that was pretty great. Shared artist camping with some gypsy acrobatic knife throwers. All really great people, had a great time overall the show was mind blowing to say the least."
New Single 'Trouble Will Find Me'
"This song is mainly about me finding the same problem in Canada with myself in Australia and me soon realising I am in fact an asshole. Since that time I've tried to fix it and I believe I've upgraded to dickhead."
Plans For The Rest Of 2016
"Thinking of record some new songs that have been kicking around for sometime and maybe touring more?
Maybe cowriting with some new folks? but it's really up in the air, last year was so busy I think it's good to sit back and plan the next chapter of the journey."
Upcoming Tour Dates
Saturday, 12th March 2016
Black Bear Lodge, Brisbane
Tickets: Oztix
Thursday, 17th March 2016
Brighton Up Bar, Sydney
Tickets: Brighton Up Bar
Saturday, 19th March 2016
No. 5 Church St, Bellingen
Tickets: Oztix
Sunday, 20th March 2016
Flow Bar, Old Bar, Sydney
Free Entry
Wednesday, 23rd March 2016
Shebeen, Melbourne
Tickets: Ticketscout
Thursday, 24th March 2016
Workers Club, Geelong
Tickets: Oztix
Saturday, 26th March 2016
Crown & Anchor, Adelaide
Tickets: Oztix
Sunday, 27th March 2016
Homestead, Hobart
Tickets: On the Door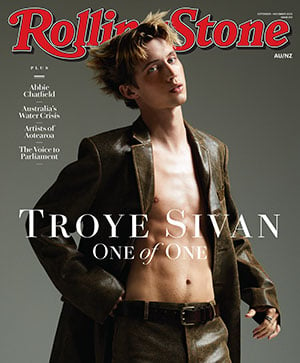 Get unlimited access to the coverage that shapes our culture.
Subscribe
to
Rolling Stone magazine
Subscribe
to
Rolling Stone magazine