Pop is no longer an overseas import, it's now a homegrown resource that is being tapped into by some of the best music makers this country has seen. One of these pop aficionado's is Chymes, the multi-instrumentalist singer-songwriter from the Central Coast who is making bop after bop after bop. We sat down with her to get to know her better.
Previously a two-piece, Chymes has emerged as a solo project with her latest release (with producer Cameron Taylor still working on the project behind the scenes).
Now Chymes is ready to step into this new stage of her performing life, with a slot at Lost Paradise this December on lock, and a brand new single called 'Sleepless' out and making beautiful impressions upon everyone.
Chymes first shot to international recognition after BTS, the world's biggest boyband tweeted about her song 'Dreaming' early this year. The tweet landed her music in several Global Viral 50 Spotify Charts including Japan, Philippines, Malaysia, Thailand, Turkey, as well as charting on the Korean Melon charts and earned her an even bigger, super-dedicated fan base.
New track 'Sleepless' flirts with addictive pop sensibilities that allow Chymes' voice to blissfully glide over pulsating beats, almost as if she were in the clouds and nothing could be sweeter. The track flaunts the parts of Chymes that have made her so addictive to listen to, and has no qualms about exuberating all of its glossy elements to fans and newcomers alike.
We sat down with Chymes to get to know her better, discussing clay bowls, pocket beaches, ginger tea, and her incredible new tracks that are heading our way.
You can check out the fantastic video for 'Sleepless' below.
Love Pop?
Get the latest Pop news, features, updates and giveaways straight to your inbox Learn more
Get To Know: Chymes
How did your artist name come about?
Well, I was actually on the hunt for a name and I decided to scroll through my producer's (Cameron Taylor) iTunes playlists and found a Friendly Fires song called "Chimes".
How would you describe your music to your grandma?
Electronic pop with sweeter / delicate vocals that tells all different stories.
Tell us about a few tracks; their titles and what they're about?
I just released a song called 'Sleepless' and it's about blurring the lines of friendship into something more intimate. The song itself sounds more playful than its lyrics but I wanted it to feel that way because when you're in the moment, you're not really thinking too much of the consequences.
My next single is a darker pop track and has more of a vulnerable, sad story… but you'll just have to wait for that one ;)
What do you love about your hometown?
The beaches! There are so many smaller "pocket beaches" as I like to call them, where the waves aren't too big and the water is clear.
Career highlight so far?
Umm… Honestly, I am so grateful for so many things that have happened and I have the most beautiful group of supporters that are so encouraging and the amount of love that they showed
me when I released 'Sleepless' was just insane. But having JK from BTS tweet my song 'Dreaming' was mind-blowing and life-changing and I wouldn't have gained such a beautiful group of followers if it wasn't for that.
Fav non-music hobby?
I make small things out of clay! Like bowls, earrings, pots etc. I'm not very good at it but it's therapeutic for me.
What's on your dream rider?
Jeez, I don't know! A masseuse to come give me a pre-show massage? Haha! I'd like to think I'm pretty low maintenance (even though I just said a massage lol), I thought about this question for a while… A good quality green tea or lemon and ginger tea I really appreciate.
Dream music collab?
I can't pick one… so here's my list
BTS
Ed Sheeran
Sam Smith
Charlie Puth
Halsey
Ariana Grande
Lolo Zouai
Where do you see yourself in 10 years?
Selling out Stadium tours internationally!
What's your go-to Karaoke song?
Anything Ariana Grande or Michael Jackson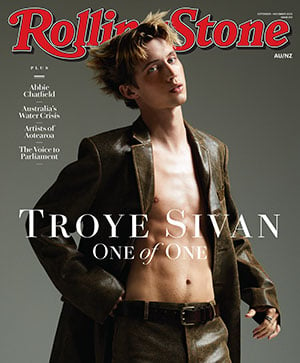 Get unlimited access to the coverage that shapes our culture.
Subscribe
to
Rolling Stone magazine
Subscribe
to
Rolling Stone magazine