They're one of the most exciting and intriguing groups on the scene, and HMLTD are proving they're a name that you need to know as soon possible.
Close to five years ago, the world was introduced to the majesty of English outfit HMLTD. A musical collective that cannot easily be placed into one single genre, the group have been making some pretty groundbreaking music for quite some time now.
Boasting a sound that almost sounds as though Everything Everything listened to Death Grips before getting into the glam-rock and punk scenes of the '70s, HMLTD are already one group who demand your attention with every move they make.
Having released their debut EP, Hate Music Last Time Delete, last year, 2020 will see the release of their long-awaited debut record.
To celebrate its release, we caught up with the band to learn a little bit more about them, and whether or not we'll be seeing them on our shores soon.
Check out 'Loaded' by HMLTD:
Where does the HMLTD story start?
We all met in London, but our story really begins in the places we each grew up. The countryside, suburban England, Paris, Athens; each in their own way parochial, conservative and stifling. We all reacted against that.
How would you describe your band in one sentence?
Music for outcasts, made by outcasts.
Love Electronic?
Get the latest Electronic news, features, updates and giveaways straight to your inbox Learn more
How did your artist name come about?
We used to be called Happy Meal Ltd. Then McDonalds sent a cease-and-desist letter.
Tell us about a few of your tracks; their titles and what they're about?
'Music!' is about the Battle of Jutland (31 May, 1916). 'Kinkaku-Ji' is about a Zen Buddhist acolyte burning down an ancient Japanese temple. 'Mannequin' is about falling in love with a Mannequin. 'Flex' is about female bodybuilders. 'Loaded' is about gun violence.
What sort of themes do you employ in your music?
Madness. Mythology. Morality. Masculinity in its toxic and non-toxic forms.
Check out HMLTD's 'Kikaku-Ji':
What can you tell us about your upcoming record?
It's called West Of Eden and it's released on 7th February 2020. It's story unfolds against the backdrop of the collapse of Western civilization. The West is dying in complacent affluence. Love is commodified. Faith is dead. Morality is wielded as a weapon. And all the while, the earth grows sick.
Ecological catastrophe looms large. The story of the record is told through the voice of Cain, who personifies this West. The album charts his struggle to return to Eden while this world collapses around him.
What do you love about your hometown?
We all live in London, so I guess that's our collective hometown. We love the creative community of artists, fashion designers, musicians and other creatives that surrounds and inspires us. There's nowhere quite like it in that sense.
What's your biggest career highlight so far?
Playing to 30,000 people at a festival in Bogota was pretty special.
Fave non-music hobby?
Feeding crows, and sometimes pigeons, on Clapham Common.
What's on your dream rider?
Our dream rider is our current rider. It asks for champagne, oysters and dragon fruit. We never get it though.
Dream music collaboration?
The Bucharest Philharmonic Orchestra once covered one of our songs. We'd like to record our entire catalogue with a philharmonic orchestra. Failing that, we'd settle for Ski Mask the Slump Dog.
Where do you see yourself in 10 years?
Rowing down Oxford Street to try and find some food, on a raft made of human bones.
What's your go-to karaoke song?
Depending on how the crowd feels, I alternate between Kate Bush – Wuthering Heights, and DJ Bobo – Chihuahua.
Do you have any international touring plans in the future?
Next year we're returning to the USA and Russia, amongst other places. More than anywhere we want to play in Japan and Australia. Ideally not just in Melbourne and Sydney. We'd like to play a show in Alice Springs.
Check out HMLTD's 'Music!':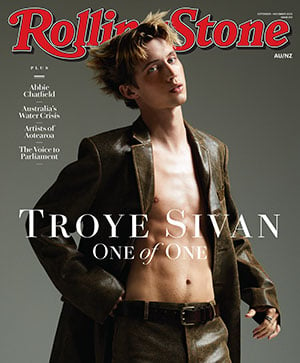 Get unlimited access to the coverage that shapes our culture.
Subscribe
to
Rolling Stone magazine
Subscribe
to
Rolling Stone magazine