If your playlist doesn't already feature Aussie hip hop artist Masked Wolf on it, you're probably going to want to rectify that ASAP.
Undoubtedly a name to watch, his hit song 'Astronaut in the Ocean' has racked up over 32 million plays on streaming giant, Spotify.
And, the party is just getting started for Masked Wolf, he's recently been signed to Warner Music/Elektra Records in the US. In October, he featured on Rolling Stone's Breakthrough 25 – The fastest rising artists of the month.
His brooding sound somehow manages to be upbeat at the same time and his music is more reflective of American hip hop than typical Australian hip hop. Think: if Drake's music procreated with Hopsin's, it would sound something like Masked Wolf.
We sat down with the talented musician to have a chat as part of our Get To Know series.
How did your artist name come about?
I called Masked Wolf because I felt that outside of music I was just like a normal guy, you wouldn't even think that I am a rapper if you looked at me. But when I get into the studio it is all work and no play, the wolf/beast comes out, hence why I called myself the Masked Wolf.  
How would you describe your music to your grandma?
I would have said to her that's its music that everyone could nod their head and dance too but when they listened deep down to the lyrics it could mean so much more.
Love Joyner Lucas?
Get the latest Joyner Lucas news, features, updates and giveaways straight to your inbox Learn more
Tell us about a few of your tracks; their titles and what they're about?
'Astronaut In The Ocean' touches on mental depression, how I was stuck in a place of anxiety and feeling low. 'Night Rider' is about how I overthink certain situations but feel like I am more true to myself when I am in the late night. 'Numb' is about how I felt about peer pressuring, people always used to say it's not cool if I don't come out and drink, why aren't you partying. It was the song I made to show it's OK to be you and not something others want you to be.
What do you love about your hometown?
I love that rap was nothing here, until the last year or so the rap genre didn't really have a huge name, I took it as a challenge because I wanted to be that guy from Sydney who made, who cracked the code type of thing.  
Career highlight so far?
Easily doing a feature with a high labelled artist who I can't divulge at the moment. But expect it out in the next couple of months!
Fave non-music hobby?
Basketball and gaming  
What's on your dream rider?
I love bourbon and whiskey. Also some gin and tonic is great, but I just like chilling out with some whiskey
Dream music collaboration?
Where do you see yourself in 10 years?
To be honest I just want to be happy and be able to wake up any morning and say I can head into the studio right now and make a track.
What's your go-to karaoke song?
'MAMBO NO. 5'.
What's the best advice you've ever received?
Haven't received this personally but 50 cent once said there is always going to be someone who hates your music, it doesn't matter how famous or non-famous you are, there are always haters and people who will spread hate even if they truly don't hate it.. once I realised how true this was, music became a lot easier to make.
What's one obsession you have that no one would guess after listening to your music?
I have a pet peeve of listening to about 300-500 beats a week until I find the right beat.. being a perfectionist when it comes to music is I guess an obsession of mine… I will find the smallest things that nobody would ever notice and still want them changed.
Listen to Astronaut in the Ocean below: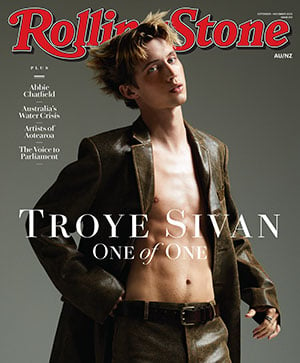 Get unlimited access to the coverage that shapes our culture.
Subscribe
to
Rolling Stone magazine
Subscribe
to
Rolling Stone magazine