We sit down with Max Leone to get to know him better, as he slowly wins over the hearts of the world with his unique brand of soulful, shimmering pop. 
Today, rising songwriter-producer, Max Leone, shares his second single 'Cautious' via The Darkroom. Showcasing Leone's unique songwriting, 'Cautious' displays smooth guitar lines over a buzzing synth bassline and choppy vocals.
Says Max of the track, "Cautious is about isolating yourself from the world in an attempt to protect yourself from it, but ultimately discovering that the beauty and meaning in life are often derived through its discomfort."
'Cautious' is the follow-up to Leone's debut single 'First Grade,' which garnered early praise from Paper, the BBC, KCRW, Alt Citizen and more. Defined by soulful, acoustic-led songwriting with left-of-centre production choices, Leone's music calls to mind King Princess, Cautious Clay, or the DIY pop intelligence of Omar Apollo.
Get up to speed with all the hype by tuning into Max Leone's new single 'Cautious'. 
Get to Know: Max Leone
How did your artist name come about?
It took me a good amount of time to figure out what I wanted my artist name to be, but Leone just immediately felt right as soon as I thought of it. Leone comes from a couple of things, but mainly one of my favourite Frank Ocean songs, 'Sierra Leone' off of Channel Orange. 
Love Pop?
Get the latest Pop news, features, updates and giveaways straight to your inbox Learn more
How would you describe your music to your grandma?
If I drew a Venn diagram of Cat Stevens, Pink Floyd, and Kanye West, my music would be somewhere in the middle. (I hope). 
Tell us about a few of your tracks; their titles and what they're about?
My debut single, 'First Grade', is about realising that no one is perfect, and taking a chance on someone is the only way to ever build a relationship.
My second single, 'Cautious', (coming out today) is about isolation and coming to the understanding that the moments that make life memorable only happen when you make yourself vulnerable.
What do you love about your hometown?
I was born and raised in Portland, Oregon, which is a fairly small city but it has a very distinct character. Portland has kind of become synonymous with my family and my best friends, so going back home always makes me really happy for that reason. It's also really green and beautiful which makes for a nice break from LA every once in a while.
Career highlight so far?
Honestly just seeing the response from people online after releasing my first song. It's always so amazing to get a message from a complete stranger who likes my music. 
Fave non-music hobby?
Surfing! I try to go as often as I can!
What's on your dream rider?
Tough question. There would definitely be some Guayaki. 
Dream music collaboration?
I have an endless list of dream collaborations, but I would say it's between Frank Ocean and Kanye. 
Where do you see yourself in 10 years?
Hopefully touring around the world and making music! 
What's your go-to karaoke song?
I've actually never done karaoke! But if I was to I would probably go with 'Money, Money, Money' by ABBA.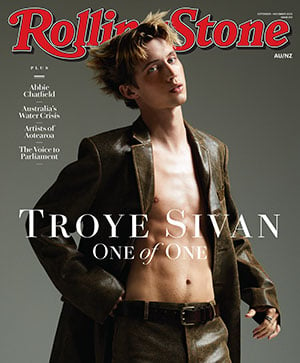 Get unlimited access to the coverage that shapes our culture.
Subscribe
to
Rolling Stone magazine
Subscribe
to
Rolling Stone magazine