On the scene since 2017, electro indie dynamic duo PLGRMS have been delivering track after track of mood music for our listening pleasure. Get to know the rising Sydney group.
Composed of singer-songwriter Jacob Pearson and multi-talent instrumentalist and songwriter Jonathan Bowden, the Sydney pair have been climbing the charts across the globe, tracking over 10 million streams online.
Forged together during Bowden's search for someone to vocalise the music that he'd written, he stumbled upon Pearson via a YouTube video, where the pair have combined to deliver a powerful connection within moody vibes, sensational beats, and synths that leave the heart singing.
While the duo have released a handful of tracks across the year, their newest 'Disappear' dives deeper into the world of electro-indie than ever before, spouting a dream-like beat, and breathy vocals that capture the essence of PLGRMS wholly.
With the duo destined for great things, we thought it was high-time you got to know the duo, so join us as we get to know one half of the group – Jonathan Bowden.
Check out 'Disappear' by PLGRMS:
How did your artist name come about?
When we began, we lived about an hour or so (longer when there's traffic) away from each other (still do actually!). So to get in the studio to record, rehearse, gig, etc, Jake would have to travel into the city. We thought the band name Pilgrims was fitting as pilgrim is "a person who journeys, especially a long distance, to some sacred place".
After we released our first single, we discovered there was an American country band or something with the same name…hence the the dropping of the vowels to PLGRMS.
Love Electronic?
Get the latest Electronic news, features, updates and giveaways straight to your inbox Learn more
How would you describe your music to your grandma?
We make music with real instruments and computers.
Tell us about a few of your tracks; their titles and what they're about?
Our recent release is 'Disappear'. It's about wanting to take the first step, to dive towards something new when it's so easy being resistant to change. These words can feel like a 'note to self'. And sometimes almost drowning is what it takes for us for to learn how to swim.
Before 'Disappear', we released 'Daylight' in early 2019. Daylight is a feeling, a choice to be made, a person; it's whatever you need it to be so that you can bring yourself out from the dark.
What do you love about your hometown?
I grew up in the middle of sugar cane farms on the Sunshine Coast in Queensland. We had no neighbours for miles and as one of four boys, we had the space to make as much of a racket as we wanted and not get into trouble! Although the Coast is pretty gentrified now, it can still feel like a little, coastal town…which is nice to get back to. My family still lives there too, so that's another reason to visit!
Check out 'Daylight' by PLGRMS:
Career highlight so far?
We've had some great shows and supported some great acts, but I think the career highlight for me thus far, is the reception that our first release 'Pieces' received. The support from both streaming and radio was instrumental in getting PLGRMS to where we are now.
Fave non-music hobby?
I enjoy watching and playing sport…in particular Rugby League and Boxing. I'm also a closet gamer.
What's on your dream rider?
A personal masseuse would have to be up there for sure!
Dream music collaboration?
I would love to write a song with John Lennon and have it produced by Nigel Godrich.
Where do you see yourself in ten years?
Hopefully in a position where playing and making music is my full-time career. I might even own my own house!
What's your go-to karaoke song?
'Champagne Supernova' by Oasis
Check out 'Fools And Their Gold' by PLGRMS: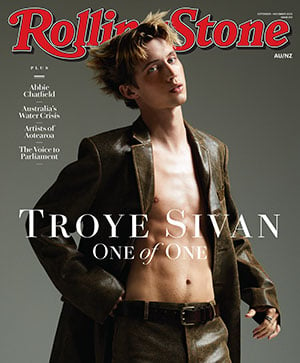 Get unlimited access to the coverage that shapes our culture.
Subscribe
to
Rolling Stone magazine
Subscribe
to
Rolling Stone magazine