We're excited to feature South African born, Germany raised and Toronto based pop/rap artist WizTheMc on our Get To Know series.
Hot off of the release of his brand new music video for 'Break', Wiz explores working through the trials and tribulations of a relationship's end.
The video serves as one of three visual pieces highlighting the core narrative of the overall EP, Where Silence Feels Good.
A turning point of sorts, 'Break' marks the next sonic chapter of Wiz's musical journey, representing a time where he began to move beyond his cultivated rap chops and tap into his aptitude for melodies alongside producer Jeff Hazin.
Wiz also issued a statement on the release, saying that on 'Break', "I explore the layers of a heartbreak I went through. The song is about the phase post-relationship, how the perception of the previous lover changes over time, how you can see them in a different light as the feeling of heartbreak changes and transforms, even as you see another person."
We were lucky enough to chat to WizTheMc about his career, non-music related hobbies and more.
How did your artist name come about?
Love Pop?
Get the latest Pop news, features, updates and giveaways straight to your inbox Learn more
Made it up when I first discovered social media at the age of 12 and just stuck with it. Crazy thing is that at that point I didn't even know what an MC was or knew any rappers called Wiz.
How would you describe your music to your grandma?
Upbeat rap music.
Tell us about a few of your tracks; their titles and what they're about?
The first single of my EP Where Silence Feels Good named 'Everything' is about infatuation. The following single 'Break' is about heartbreak and all the feelings that come with that… and there might be a song on the way that will talk about the willingness of opening yourself up again after a heartbreak 👀
What do you love about your hometown?
The air. No 5G and my childhood memories.
Career highlight so far?
Just being able to travel constantly. Having that be part of my job is pretty cool.
Fave non music hobby?
Boxing and watching videos on human nature/psychology on YouTube.
What's on your dream rider?
A yellow room, jacuzzi, ice bath, Gary Vee, spresso machine with all the non animal milk, bbq, a tesla show room, Elon Musk & Grimes, French media asking me questions but they have a translator so they get my answers delayed and I get to make eye contact while my words are being translated.
Dream music collaboration?
OutKast.
Where do you see yourself in 10 years?
Somewhere outside of the city, either in LA, Berlin, Toronto or Cape Town at a nice house with my wife (probably no legal paper but she'll still be my wife), my first kid (boy obviously) will be 2 years old by that time. I will have just come back from a world tour of my 4th LP.
I'm still working on music but at that point writing shows and movies and helping ideas come to life for others will be my priority. Will also have animals and bunch of plants, weed and mushrooms.
What's your go to karaoke song?
I never did karaoke before.
What's the best advice you've ever received?
I picked this up from a Lakeith Stanfield interview… he said (I'm paraphrasing), "Peoples' ideas of yourself are in their head not yours, so why care."
What's one obsession you have that no one would guess after listening to your music
I'm obsessed with my life and how I live it. I want to use my time and energy as best as possible and sometimes that gets in the way of me enjoying it or having fun. Ever since being a teenager I've been obsessed with adults and how ordered or perfect their life seemed.
Watch the new video for 'Break' by WizTheMC: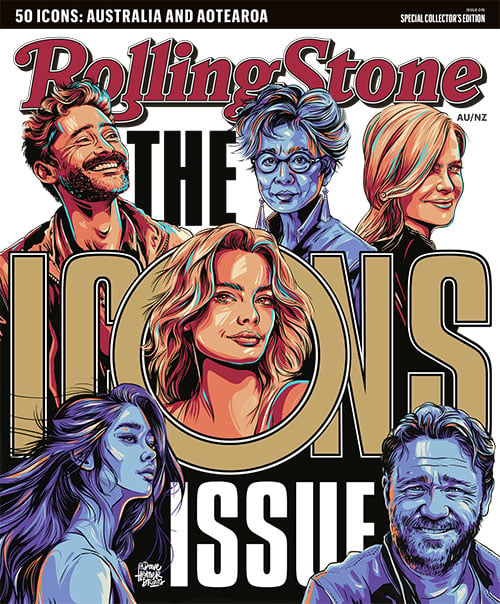 Get unlimited access to the coverage that shapes our culture.
Subscribe
to
Rolling Stone magazine
Subscribe
to
Rolling Stone magazine