When you think about prolific trios throughout time, who comes to mind? Harry, Ron and Hermione? The power puff girls? Ferris Beuler, Cameron and Sloan? Ed, Ed and Eddy? Nirvana? Well it might be about time to add Victorian based trio, Woodlock to your list.
The group found their origins in New Zealand when two brothers Zech and Eze Walters (guitar/vocals) decided they wanted to use their shared time and experiences to make music together. Upon moving to Yarrawonga in Victoria the two struck up a friendship with drummer Bowen Purcellafter.
It was one of the most fitting comings together of siblings and a third party since Ben and Casey Affleck decided to make movies with Matt Damon.
In search of adventure, the trio traveled around Australia busking, exploring and gaining life experiences, before eventually settling in Melbourne. In a move of unprecedented loyalty and support the band put an early opportunity to tour internationally on hold early on in their career in order to take a step back and focus on their shared mental health and well being, a mature move that highlights the level of friendship and respect the trio has for one another.
It was at this time that they were completing tours of the Philippines, China, and Canada off the back of 'Something Broke That Day' single. The title track of their Sirens EP, meanwhile, had reached iTunes Top 50 charts and Top 10 spots on Spotify's viral charts globally.
Now after a brief hiatus and the recent signing the Canadian record label Nettwerk Music Group, the trio are ready to continue their rise through musical exploration and success with a string of releases set for 2020.
Today marks the release of 'Sirens (The Headphones Version)', the bands re imagining of their already beautiful release and the last release before lead single off their upcoming EP set for release later this year.
Love The Beatles?
Get the latest The Beatles news, features, updates and giveaways straight to your inbox Learn more
Check out 'Sirens (The Headphones Version)':
How would you describe your music to your grandma?
Bowen: Remember the time you found those butterscotch lollies on sale? Take that feeling you got and mix it with some sweet melody and lyrics. A wholesome treat!
Where did the name Woodlock Come from?
Zech: We had three names we were trying to choose from when were deciding our name. The first was "Coffee's Creek" Which is an old swimming hole in our hometown in New Zealand. The second was "Puhaboys" Which was something our mother used to call us growing up. The third was "Woodlock Winds" which was the name of a song we had written.
We decided on "Woodlock Winds" but dropped the wind line about 3 weeks in because it just felt too weird to say.
Can you tell us about how you all came to play in Woodlock together?
Eze: About eight years ago our parents were pressuring us with the talk of settling down, buying a house etc. we decided that we would backpack around Australia for six months before we did that, so we quit our jobs, bought a caravan and spent a summer emptying it out and rebuilding it.
We started travelling. The rule was we were only allowed to use money from busking to make money for fuel and food. So Woodlock as a band was never the purpose of us hanging out so much as it was just a way for us to have a good time.
What is it about making music that you love so much?
Zech: It feels natural, often my my head is a spinning mess of sounds, thoughts, melodies, words and it's always churning. Making music and writing is a place where I can organise the chaos into something beautiful, or something that makes sense.
Eze: We were homeschooled and our mum used music to teach, so now its just a part of me and its also where me and Zech really relate. We aren't that similar except for our love of creating music so it is a common ground for us.
With such close ties, do you have any good stories from your past together?
Bowen: We were travelling in China for work and this particular night we had off. We'd heard from a friend that there was an open mic night at a small bar. So we thought we'd give it a go. just getting there was hard enough we took the wrong train several time and it was pouring down, we ended up just catching a cab after so long trying to find it.
It was finishing up by the time we arrived but we still got up and played a few songs. After we finished a fellow who played before us came up and said a few words "loved the set, enjoyed it… and I especially loved that cover you did." Which cracked us up cause it was our song 'The Garden'. He had heard it on a YouTube surfing clip. It took some serious convincing to tell him it was ours!
Check out 'The Garden' by Woodlock:
One album each that has helped shaped your musical outlook?
Zech: 'Viva La Vida' – Coldplay. Everything about that album i find inspiring, The soundscaping, the way that he chooses lyrics its just a masterpiece.
Eze: 'For Emma, Forever Ago' – Bon Iver. Enough said.
Bowen: 'Rumors' – Fleetwood Mac. I grew up on this album and was my favourite growing up. It's so well rounded and timeless that its a places i constantly look to for inspiration.
Was there anything specific that inspired the aesthetic created in 'Sirens (Headphones Version)'?
Eze: Anybody who knows the original will know it's a salute to the art of our Sirens EP. The photo was taken while we were touring in Canada. I think we were in Trois-Rivières QC, and we saw the ship in water that had been frozen over. The fact you could walk up to it seemed pretty cool.
Go to music to relax to?
Zech: like anyone I've made my relax playlist. It's filled with James Taylor, Simon and Garfunkel, The Beatles, Fleetwood Mac and a bit of Bon Iver. So I suppose for me it's anything with that soft folky feel. Either that or a stormy rain sound effect.
If you had to wear one outfit for the rest of your life, what would be?
Zech: Is it self washing? Or will it wear down? It makes a difference. I like to look good over being comfortable. So I'll go with a clean, plain white, well-fitted t-shirt; a fresh pair of tapered washed out jeans, maybe a touch torn and some bad ass loud colour high tops that offset the plain outfit.
Eze: I'll go for some decent track pants, a comfortable hoody and socks 'n' crocks.
Bowen: Black Levis are a must, a band shirt and work boots.
Check out Woodlock's 'Lemons':
What is the rest of 2020 looking like for Woodlock?
Bowen: well touring is obviously off the table but that won't stop us releasing music, we have some songs that we have waiting FAR too long to release so we are just hanging out to do that.
Livestreaming has actually been a fun way to talk to our fanbase in a way that we normally wouldn't so we will probably do that more often. We have even been looking streaming with our artist friends doing something like double sided interviews and shows, which we think would be pretty fun.
All in all it's been a crazy start to the year. With the fires in Australia and the isolation I think everyone's been caught off guard but it won't stop us doing what we love.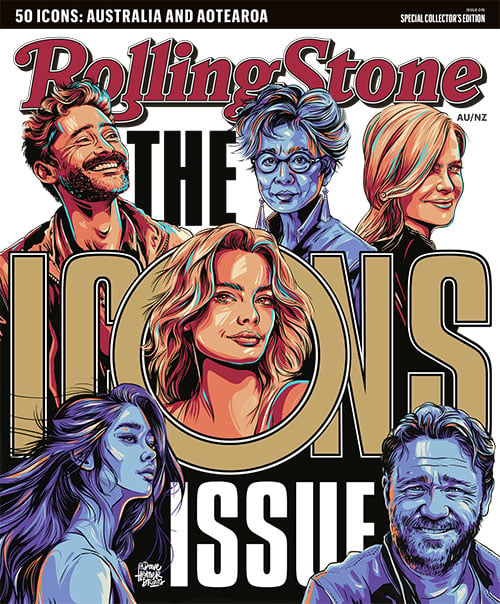 Get unlimited access to the coverage that shapes our culture.
Subscribe
to
Rolling Stone magazine
Subscribe
to
Rolling Stone magazine