Review: Good Things festival at Flemington Racecourse, Melbourne, December 6th 2019
Back in August, the Aussie music world was stoked to learn that after a successful debut in 2018, the Good Things festival would return for a second run in 2019.
Boasting a lineup that features the likes of Parkway Drive, A Day To Remember, Simple Plan, Violent Soho, and so much more, local fans were undoubtedly in seventh heaven, set to be spoilt for choice as another dose of punk, rock, and emo descended upon their town.
Thankfully, this year's kick-off did not see a repeat of 2018, with 39 degree weather being replaced by cloud coverage and jackets, though sunscreen was still in full effect as the afternoon's rays shone down upon our eager faces.
With doors opening at midday, many fans found themselves rushing to catch hometown heroes The Bennies as they dished out their party-starting anthems, and proved themselves the perfect act to begin such a mammoth event.
With frontman Anty Horgan finding himself out amongst the crowd for portions of the set, those who arrived late were just in time to witness a veritable highlight of 'Party Machine', with "hey, motherfucker, I'm a party machine" serving as not only a catchy singalong for all of us, but an anthem to keep in mind as the day rolled on.
Check out 'Party Machine' by The Bennies:
As The Bennies were wrapping things up, the main stages were just getting started as YouTube sensation and musical enigma Poppy brought her eclectic sounds to our ears.
Love Skegss?
Get the latest Skegss news, features, updates and giveaways straight to your inbox Learn more
With a slick presence and an immersive performance style, Poppy's devastating mix of nu-metal and electronic pop was warmly received by the crowd, with shredding and breakdowns in clear abundance.
It wasn't too long before the ska stylings of Reel Big Fish were brought to the forefront, with the Californian legends returning to dish out songs from their latest album, Life Sucks…Let's Dance!
Taking to the stage to the tune of Richard Strauss' 'Also Sprach Zarathustra', the collective kicked things off with a cacophony of brass instrumentation before their classic ska sound showed fans they were here to party like always.
With members dressed in either classically loud outfits, Hawaiian shirts, sharp suits, casual jeans, jackets, or flat caps, both their style and music was a varied and enjoyable as their collection of tunes, beginning their set with tunes like 'Pissed Off' and 'Sell Out', and helpfully describing most of their tracks as "a ska song".
For those seeking something a bit more confronting though, the cinematic sounds of Ice Nine Kills found themselves an eager audience on stage three, dishing out a set primarily comprised of tracks from their latest record, The Silver Scream.
Living up the expectations of fans, the group's horror movie-inspired outfits saw references to IT and other films, with the film series' iconic red balloon taking taking centre stage while tied to a mic stand.
Dishing out tunes such as 'Savages', 'A Grave Mistake', and more, newcomers could easily have mistaken the group's confronting performance style and samples for something horrific going down. For longtime listeners though, this was just the beloved outfit doing what they do best, and doing it very well.
Check out 'A Grave Mistake' by Ice Nine Kills:
Serving as the first Aussie act on the main stages, Skegss proved just how exceptional Aussie music is today, with an infectious set that served as something of a collection of their greatest hits. Having begun things with 'Got On My Skateboard', it was mere moments before the band's sound was drowned out by the sound of screaming fans, with each and every one chanting back the band's iconic lyrics.
Ripping through classics like 'Smogged Out', 'LSD', and much more, it was clear to see that Skegss could very easily have served as a headline act and no one would have batted an eyelid.
Of course, the most-discussed act of the day was undoubtedly The Veronicas, whose almost out-of-place appearance on the lineup was backed up with one of the most intriguing and iconic sets you'll see anywhere.
Dishing out a mass of hits, including 'Everything I'm Not', 'Hook Me Up', and covers of Blink-182 and Tracy Bonham, it was the final moments of their set that everyone was waiting for. Introducing their iconic 'Untouched' by asking fans to "stand for the national anthem", raucous cheers and singalongs were complemented by a wall of death in the crowd.
While some might have doubted The Veronicas' ability to not only appear on a festival predominantly populated by acts with a harder sound, there's no doubting they not only managed to turn this set into one for the ages, but have paved the way for future performances like this.
Check out The Veronicas' wall of death at Good Things:
While Trivium clearly had a huge act to follow, the Floridian metal icons wasted no time in showing fans what they've been missing, with massive breakdowns, blistering drumbeats, and some of the most ferocious riffs you'll find anywhere on full display.
Meanwhile though, fans of Aussie music found themselves venturing over to see powerful sounds of Slowly Slowly on the smaller stage.
Arguably one of the best Aussie acts on the bill today, the group's emotional vocals gave fans a bit of a refuge from the metal outfits on offer, before their set rose in intensity to the point you'd think they'd just been kicked off the main stage.
One of the most enjoyable and versatile acts on offer, Ben Stewart noted just how strange it was for the band to be playing the festival, stating how "a few years ago we probably couldn't even afford tickets" to such an event.
Nevertheless, their presence was appreciated by the crowd, who fervently joined in massive performances of tunes like 'Aliens' and the stunning 'PMTWGR'.
Back on the main stage though, it was time for a bit of musical history, with punk icons Bad Religion taking to Aussie stages for the first time since 2012, delivering tracks from their latest record, Age Of Unreason.
Beginning their set with '21st Century (Digital Boy)', it took no time for the group to show us why they were considered an iconic punk outfit, with furious guitar work, pounding drums, and the matter-of-fact performance style of vocalist Greg Graffin proving that it's been far too long between drinks for the classic outfit.
While tracks like 'Fuck You' and 'My Sanity' played out, the crowd decided that now was the time for an exuberant display of toilet paper, throwing rolls around the stage, and causing band members to also get in on the fun, bridging the gap between band and fans, and showing us that they were having just as much fun as we were.
Check out 'My Sanity' by Bad Religion:
As the evening began to roll on, it was time for fans of classic pop punk to be treated to the sublime sounds of Montreal's Simple Plan.
Rushing onto the stage to belt out a massive version of 'I'd Do Anything', fans of the band and their iconic tunes were instantly in heaven, as their energy and positivity was as infectious as the apparent scourge of sunburn in the crowd.
Between anthems like 'Welcome To My Life', 'Addicted', and 'Perfect', it was obvious to everyone in attendance that Simple Plan are still as beloved as ever, with widespread singalongs barely letting up for a single second.
As the Canadian punks took their leave, Mansfield's finest rocked up to show us how it's done, with Violent Soho dishing out a high intensity set.
With Thy Art Is Murder bringing the deathcore sounds on a nearby stage, Violent Soho managed to get everyone in earshot grooving hard, with their immersive mix of grunge and punk combining to deliver a set full of Aussie anthems.
From 'Like Soda' to 'Jesus Stole My Girlfriend', to 'Liars" first performance in 2013, and onward to classics like 'Covered In Chrome' and their cover of 'My Pal', you'd have been hard-pressed to find anyone not stoked to witness the return of these legends, with new track 'Vacation Forever' giving us a sneak preview of what the next era holds.
Check out 'Vacation Forever' by Violent Soho:
Over on the smaller stages though, Karnivool were proving to fans just why they're a critically-acclaimed band, with their crushing guitar work and complex rhythms complementing the smooth vocals of frontman Ian Kenny.
Almost feeling too big for the stage, the group's lengthy songs brought the intensity with each and every second, while tracks like 'Simple Boy', 'Set Fire To The Hive', and 'Roquefort' helped to remind fans that while alternative metal is often overlooked as a genre that dishes out the hits, Karnivool are a band who have got the talent to deliver just that.
Back on the main stage, the punk anthems of A Day To Remember were in full effect, with the band's endearing, high-energy sets proving them as one of the day's biggest highlights.
Belting out old favourites and new tracks, it was almost impossible to find a single person not feeling the band's immense set, with pyrotechnics, beach balls, and a t-shirt cannon appearing before the crowd – which also featured a bit of crowd-surfing from a wheelchair-bound patron.
As essential tracks like 'I'm Made Of Wax, Larry, What Are You Made Of?', 'If It Means A Lot To You', 'All Signs Point To Lauderdale', and 'The Plot To Bomb The Panhandle' signalled the end of a monstrous set, it was obvious to all and sundry that A Day To Remember are clearly one of the most enjoyable punk and hardcore bands on the scene, and would have fit perfectly into the coveted headline position.
Check out 'All Signs Point To Lauderdale' by A Day To Remember:
Wrapping up the smaller stage for the day, fans were treated to a bit of music royalty, with Blink-182's Mark Hoppus and All Time Low's Alex Gaskarth giving us the Australian debut of their Simple Creatures project.
Amazingly though, the duo played to what was likely the smallest crowd of the day, with stunning tracks like 'Need Me', 'Ether', and 'Strange Love' being appreciated by a dedicated, but criminally-undersized group of audience members.
Accompanied by a backing track, the most amazing part of their set was clearly just how unique the new outfit sounded, with each and every song sounding like a mix of the musicians' talents rather than a watered-down version of Blink-182 or All Time Low.
With Hoppus and Gaskarth trading jokes between songs and mocking the other's preparation, it was clear that they were having as much fun as we were, and that Simple Creatures is likely a project that will be giving us these infectious songs for years to come.
Back on the main stage though, Byron Bay heroes Parkway Drive had arrived to wrap up proceedings for the day. Kicking things off with the monumental 'Wishing Wells', it took fans no time at all to realise not only how brilliant Parkway are as a live act, but how much of a boon for the local scene it is to have an Aussie band of their calibre headlining an Australian festival above big international names.
As Winston McCall belted out tunes like a man possessed, it felt as though any second would see the group collapse from the exhaustion and intensity displayed by each and every band member.
With 'Karma' being dedicated to the guys in Thy Art Is Murder, the group's set was undoubtedly a showcase of the biggest hits, with a massive encore performance of 'Crushed' and 'Bottom Feeder' being accompanied by a drum solo from Ben Gordon as he spun in the purpose-built cage.
If Parkway Drive's monumental set was anything to go by, it's clear that the 2019 edition of Good Things was just as ferocious and powerful as its 2018 debut. While fans left last year wondering and hoping about its return the following year, the conclusion of 2019's festivities has not only left us looking ahead to next year eagerly, but already counting down the days before we get to do it all again.
Check out 'Bottom Feeder' by Parkway Drive: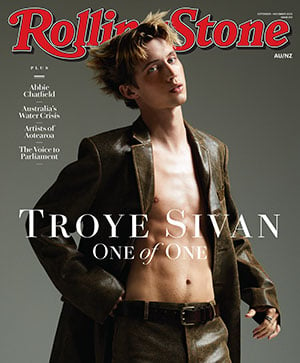 Get unlimited access to the coverage that shapes our culture.
Subscribe
to
Rolling Stone magazine
Subscribe
to
Rolling Stone magazine