Innovations and technological-milestones in the music streaming industry keep coming for many a-bombarded consumer.
On top of recent developments made in the industry, the plethora of music streaming services continue to respond to the lightning pace of changes in the industry.
Starting with Internet radio service Pandora, who broke new ground yesterday, having accumulated 200 million registered users worldwide.
According to a press release, staking claims to it's first registered user in 2005, Pandora reached the 100 million user mark in July 2011 only to double that figure less than two years later.
Having opened up to the Australian and New Zealand masses late last year ago, the exponential development and growth of Pandora has obviously not gone unnoticed on foreign shores. In light of the 200 million subscriber figure, Pandora's Managing Director for Australia and New Zealand, Jane Huxley says:
"It's incredibly exciting to be a part of this major milestone. I have loved watching Pandora thrive and grow in the Australian and New Zealand Markets, the local listeners are responding equally well in listening to their favourite artists and discovering new music."
Pandora have capitalised on their statistical success, releasing secondary data illustrating their increasing popularity with users. Pandora reached the 100 million user mark in July 2011 only to double that figure less than two years later…
Such points include: Pandora stream 200 million songs per day before 10am; last month the stream service  played more than 100,000 unique artists and more than 1 million unique songs, the "vast majority of that music receiving no other terrestrial radio airplay"; and more than 140 million listeners have tuned in to Pandora on a mobile device.
Pandora founder Tim Westergen, in light of these statistics, has put the company's success downto as a result of their responsiveness to changing trends in music consumption.
"We started this company to help people discover and enjoy music they love, and to help artists reach and grow their audiences," says Westergren. "It is now clear that radio is changing, and that's great news for music fans and for the tens of thousands of working artists who now have a home on the air."
In fact, a recent survey from the NPD Group demonstrated that in America online streaming is as popular as traditional radio among people aged under 35, with Pandora so popular that it makes up nearly half of that demographic's listening habits, ensnaring 39% of music streaming usage of those surveyed, nearly doubling that of second and third place (iHeartRadio and Spotify respectively) combined.
Meanwhile, internet search engine titan Google is looking to join the music streaming ranks, but is still drawing criticism from the British and American record industries that they aren't doing enough to discourage illegal downloaders from discovering pirated sources in their search engines.
Regardless, the company's equivalent of Apple's iTunes store, Google Music, is now being made available to Australian consumers, reports Tech World.

Releasing its music service in conjunction with its makeover of the Google Play Store, Google Music has kicked off its Aussie debut, offering users Down Under the same online locker storage as its British and American counterparts; allowing users to store up to 20,000 songs online, which can be streamed from Android devices and PCs.
…The company's equivalent of Apple's iTunes store, Google Music, is now being made available to Australian consumers.
Google Music has also announced that are going to introduce a "Google Play artist hub for Australia" to provide exposure to independent artists, acting as "a platform for independent artists to sell their music directly to fans." Further elaborating: "In the artist hub, artists can create a profile, upload their music files, suggest a retail price, and sell their music on Google Play."
Google's plans to accomodate independent musicians sounds similar to streaming service Deezer and their 'Deezer For Artists Initiative' (D4A), which the company's CEO Axel Dauchez describes as "extending the corporate hand to aspiring bands and artists in order to initiate a dialogue or interactive platform in the hopes of drawing in fans to Deezer;" essentially a rewards scheme that offers payouts every time a person subscribes to the music streaming service.
Related to the the notion of interactivity and social media in music streaming, according to The Next Web, Spotify have announced the public release of their "Follow" tab, a new initiative that pushes the streaming music market leader into social media territory.
Spotify have timed the release of the new tab with an ad push based around their partnership with French indie band Phoenix, just in time for the band's follow-up to 2009's Wolfgang Amadeus Phoenix – the April scheduled Bankrupt!
The Gallic quartet are promoting the convenience of the new 'Follow' function in Spotify, deemed a more convenient way to interact and gain recommendations compared to the soon-to-be-replaced "People" featured. The Follow tab, according to Spotify "get[s]  music recommendations from your most trusted and most inspiring musical influences." Expansion into the social media side of music consumption has come at a time where Spotify has looked to branch out into other forms of media
This new function allows users to "follow friends, artists, influencers and media, including the likes of Barack Obama, David Guetta, Katy Perry, One Direction and Ed Sheeran, and get updated on what they're listening to in real time."
Drawing parallels with 'Daisy' – the code name for the revolutionary new music service from Beats Electronics with Trent Reznor at the helm – Spotify seems to have taken a page out of that same book – where demand for tailored recommendations continues to be an achilles heel for streaming services.
Expansion into the social media side of music consumption has come at a time where Spotify has looked to branch out into other forms of media in response to the increasing competitive nature of the streaming industry, having previously stirred the pot with talk of looking for partners to help fund expansion into a video streaming service.
Competitor Rdio subsequently beat them to the punch, launching their Vdio service last week, gaining rights to new releases through deals with the big names in production including Fox, Warner Brothers, Paramount, MGM, Sony, CBS, ABC, and Disney.
Apple may also jump on the streaming bandwagon facilitated by brokered deals with similarly big names in the industry, with rumours spreading of Apple signing deals with both Warner Music and Universal Music Group, but crucially still missing an inked deal with Sony, for a new free streaming service that will be integrated into their iTunes store.
There's no faulting the growing cultural impact and importance of music streaming services, shown both by the number of big companies looking to enter the market – including Amazon and Twitter – and recent industry reports.
The IFPI's Digital Music Report showed subscription services experienced a 44% rise, with 20 million paying subscribers worldwide expecting to help account for 10% of digital music revenues, while the RIAA's own recent report demonstrates the same services – which it labels 'access models' – accounted for over $1 billion in music sales in 2012 and a 15% share.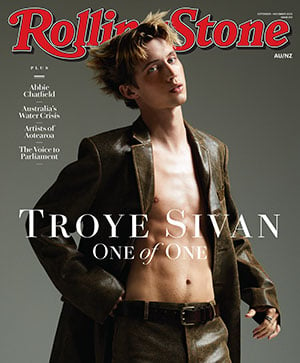 Get unlimited access to the coverage that shapes our culture.
Subscribe
to
Rolling Stone magazine
Subscribe
to
Rolling Stone magazine