With less than a week until the convoy for regional music festival Groovin The Moo hits the road, demand for the final leg of the tour in Western Australia has led Bunbury putting up Sold Out signs.
The May 11th sell-out comes after the Bendigo date of Groovin The Moo 2013 sold out in less than 48 hours, and Maitland following suit, leaving only the Canberra and Townsville legs, on April 28th and May 5th respectively, being the only events left with tickets still available.
"It's a wonderful result for GTM and we thank all the fans in Bunbury and West Australia for being so supportive of our show once again," said Stphen Haplin of Cattelyard Promotions, who along with WA's Sunset Events were ecstatic with the news that there would be a full paddock for Bunbury. "It's such a great way to end the tour," he added.
The Bunbury sell-out also comes six days after Groovin The Moo unveiled the (very well-arranged) set times for each of the festival's five dates (which you can view below). Co-ordinating the impressive list of international acts and local heroes into two manageable stages for a full day's worth of music entertainment.
Groovin The Moo officially announced their lineup a few months ago, leaking a day earlier than anticipated, after indie wonder twins Tegan & Sara and left-field veterans They Might Be Giants let slip that they were planning on touring our shores in April/May.
"Groovin The Moo was our first choice," Tegan Quin told Tone Deaf in our feature interview. "We've been to all of the cities that are on the tour and we love them, that's why we're doing it again." While They Might Be Giants' John Linnell told us he was excited about the band's first visit to Australia in a decade, saying of their 2003 visit: "That was a memorably good tour; everyone still has very fond memories of that tour."
Frightened Rabbit are equally enthusiastic about their impending visit. "We were so pleased that we were offered that festival," enthused Scott Hutchsion, frontman for the cathartic Scottish outfit, in a recent interview. "We've never really done the touring festival experience, which is a really unique thing to Australia," enthuses Hutcison, adding, "we're excited to see the bands on that bill."
A bill that features the return of international headliners, hardcore act The Bronx, snappy Brits The Kooks, UK performer/producer Example, indie-punk duo Matt & Kim, and electronic adventurers Yacht.
Locally, there's plenty to enjoy too, with the world-beating likes of Tame Impala, The Temper Trap, and Flume, the inventive guitar rock of Last Dinosaurs and Hungry Kids of Hungary, Melbourne sextet Alpine, hardcore heroes The Amity Affliction, and that sure-fire of festival players, Regurgitator. Hip hop heads will also be sated by the appearance of Pez, Seth Sentry, Urthboy, and Tuka with Ellesquire.
There's also a DJ set(!) from DZ Deathrays, Alison Wonderland behind the decks, Midnight Juggernauts' stomping brand of electro, Shockone's dangerous dubstep, and Yolanda Be Cool to enjoy on the regional touring festival's impressive bill.
With 26 stellar acts and ticket prices lower than $100, it's no wonder the festival is selling out faster than most.
If you were banking on the Bunbury, Bendigo or Maitland tickets, never fear, as a number of the headlining acst have already announced sideshows, including Tegan & Sara, The Bronx, They Might Be Giants, Matt & Kim, and The Kooks. That and Tone Deaf are offering the chance to win a double pass to Groovin The Moo – but you better be quick, as entries close tomorrow.
Groovin The Moo 2013 Set Times
MAITLAND
Click image to enlarge

CANBERRA
Click image to enlarge

TOWNSVILLE
Click image to enlarge

Groovin The Moo 2013 Lineup
Alison Wonderland / Alpine / The Amity Affliction / The Bronx (USA) / DZ Deathrays (DJ Set) / Example (UK) / Flume / Frightened Rabbit (UK) / Hungry Kids Of Hungary / The Kooks (UK) / Last Dinosaurs / Matt And Kim (USA) / Midnight Juggernauts / Pez / Regurgitator / Seth Sentry / Shockone / Tame Impala / Tegan And Sara (Canada) / The Temper Trap / They Might Be Giants (USA) / Tuka with Ellesquire / Urthboy / DJ Woody's Big Phat 90s Mixtape (UK) / Yacht (USA) / Yolanda Be Cool
Groovin The Moo 2013 Dates
Saturday 27 April 2013 – Maitland NSW – SOLD OUT
Maitland Showground
Blomfield St, Maitland NSW 2320
Sunday 28 April 2013 – Canberra ACT
University of Canberra
Kirinari St Bruce ACT 2617
Saturday 4 May 2013 – Bendigo VIC – SOLD OUT
Bendigo's Prince of Wales Showground
42 – 72 Holmes Rd, Bendigo VIC 3550
Sunday 5 May 2013 – Townsville QLD
Murray Sports Complex – Townsville Cricket Grounds
Mervyn Crossman Dr & Murray Lyons Cres, Idalia QLD 4811
Saturday 11 May 2013 – Bunbury WA – SOLD OUT
Hay Park
(off) Parade Rd Bunbury WA 6230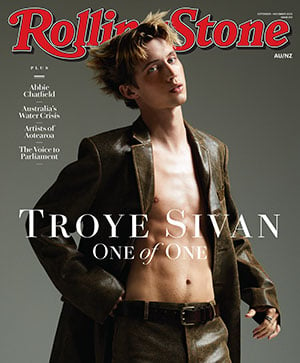 Get unlimited access to the coverage that shapes our culture.
Subscribe
to
Rolling Stone magazine
Subscribe
to
Rolling Stone magazine