It was the tour we never thought we'd get to see, but it seems that lightning may just strike twice and that Guns N' Roses now-completed tour of Australia won't be the last time we'll see them in Australia together.
Having wrapped up the Aussie leg of their Not In This Lifetime tour in Perth last night, the band have taken to socials to let us know we'll be seeing them again. Bassist Duff McKagan hinted at a return on Twitter with a vague "until we meet again", before Slash came through to express his gratitude for the tour, and confirm that the band will indeed be back for another run:
Thanks you Perth! And…THANK YOU Australia in total. It was one hell of a tour. Until we meet again…everyone take care of each other✌

— Duff McKagan (@DuffMcKagan) February 21, 2017
Fabulous crowd in Perth tonight! Perfect last show of an awesome Australian run! Have a great rest of the summer! We'll be back! iiii [; )'

— Slash (@Slash) February 21, 2017
A post from the band's official page also offers a "see you next time", building the expectation we have for a return. While Axl hasn't mentioned anything along these lines from his personal account, he did at least apologise for the incident the other day in which the pre-show announcer referred to Melbourne as "Sydney" – drawing some boos from the crowd, but thankfully no thrown bottles.
Thank you Perth! Thank you Australia!
See you next time#GnFnR #NotInThisLifetime Tour 2017https://t.co/R8emcwZ1PY pic.twitter.com/Okg0mMvyg1

— Guns N' Roses (@gunsnroses) February 21, 2017
Melbourne! Didn't notice r intro yday. R sincere apologies!! Really amazing crowd!💥McBob feels horrible pic.twitter.com/4hZ7C9xH0b

— Axl Rose (@axlrose) February 15, 2017
While the idea of having Gunners back one day is in itself a comforting one, it opens up several awesome possibilities. Might original guitarist Izzy Stradlin and drummer Steven Adler return for a tour with the classic lineup to celebrate the 30th anniversary of Appetite For Destruction? Might they even manage to get back in the studio for a less Axl-centric follow-up to 2008's Chinese Democracy?
We'll have to see what the next step is, but right now we're comforted by the fact that there will at least be a next step – unless they manage to break up all over again.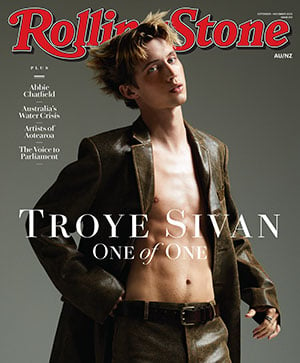 Get unlimited access to the coverage that shapes our culture.
Subscribe
to
Rolling Stone magazine
Subscribe
to
Rolling Stone magazine