You'd think given his popularity, including holding audience with the Queen for her Silver Jubilee and performing for US President Barack Obama, that Geoffrey Gurrumul Yunupingu would be a highly-recognised figure, let along a well-respected one. But that wasn't the case for one particular Melbourne transport worker, who's now embroiled in an investigation of racist discrimination.
The Victorian Taxi Directorate are investigating claims by the management of Indigenous singer Geoffrey Gurrumul Yunupingu today after a shocking display of racism from a Melbourne cab driver, reports ABC News.
After a concert by the singer at St Kilda's Palais Theatre last night, Gurrumul was guided to a taxi waiting at the side stage door, but as the performer approached the cab, the driver looked at the Aboriginal musician, and said "no" before driving off.
According to Yunupingu's manager, and head of Skinnyfish music, Marke Grose, the blind indigenous singer was exiting the venue after finishing his performance in support of Missy Higgins – exiting via the side door with his girlfriend Bronwyn when Grose had hailed a taxi.
"The taxi driver looked at him, said no, locked the car and drove off," Grose told ABC Radio. "I'm not kidding. I was absolutely gobsmacked… He refused to take the fare for whatever reason. It's a mystery, but there's only one reason I can think."
When pressured what that might be, Grose replied, "well he (the taxi driver) just looked at the colour of his skin and said 'that's it, I'm not taking him'. There's no other explanation," he explains."He just looked at the colour of his skin and said 'that's it, I'm not taking him'. There's no other explanation."
– Mark Grose, Skinnyfish Music
According to Grose the driver was of Indian and Pakistani, but as outrageous as the incident was, Gurrumul himself was less shocked as it's not the first time he's been the victim of persecution.
"Like most Aboriginal people that we've worked with, they've experienced these things before and they're less shocked than we are," Grose said. "Every artist that we've worked [with] has experienced racism and you just sit there absolutely heartbroken for them."
Of Yunupingu he said "He loves Melbourne and he just takes that sort of stuff in his stride which he shouldn't have to do."
According to Steve Bright, spokesman for the Victorian Taxi Directorate, the claims will be investigated, as it is against regulations to refuse a fare based on a person's appearance.
"They'll get an infringement notice of $300 or so on the first offense and they can have their accreditation removed for repeat offenders," Bright said.
Gurrumul is currently supporting Missy Higgins on her national tour, following a winning performance at Queenscliff Music Festival, and plays the Port Fairy Folk Festival early next year.
In related news, Mark Grose and fellow Skinnyfish Music founder Mark Hohnen, have landed a nomination as Northern Territory finalists in the 2013 Australian of the Year award, while the founders of Indigenous music label – home to the likes of Gurrumul, Saltwater, and Dewayne Everettsmith – have also become major stakeholders in the Barunga Festival.
Now approaching its 27th iteration, the festival is held annually in a small indigenous community south of Katherine, NT where participants set up camp, take part in community programs and workshops, dancing ceremonies, didgeridoo making, traditional bush tucker,  and of course, plenty of great music from the region.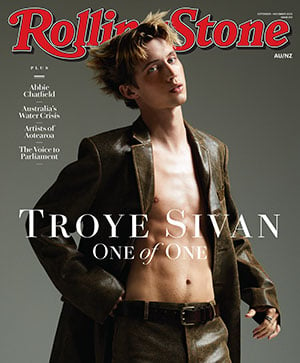 Get unlimited access to the coverage that shapes our culture.
Subscribe
to
Rolling Stone magazine
Subscribe
to
Rolling Stone magazine