Difficult Second Album?
Hardly. Harvest 2012 was more Nevermind or The Bends than Yours Truly, Angry Mob but then the virgin showing of one of Australia's festival success stories was never really the Pablo Honey that Melbourne audiences made it out to be.
Following its debut last year, many selectively ignored the brilliance of organisers' ability to put together an impressive selection of acts (not least bringing Portishead out for the first time in over a decade), and instead focused on the many teething problems.
Namely – long queues, a broken ticketing system, and a severe under-supply of toilets and staff alike.True to their word, they were all things that were fixed for Harvest's 2012 showing.
Not even the lack of a functioning Werribee train line could affect the festival's degree of quality, with the proposed bus replacements plentiful and frequent.
Even the weather conspired to make the beautiful grounds of Werribee Mansion a visual, as well as aural delight; and despite the frosty disposition of their namesake, Winter People kicked off proceedings on the main stage with discernible vigour.
Their aching, sweeping folk played to a patchy, but enthusiastic crowd as the punters began to swell in by midday – taking in Harvest's many non-musical delights before the afternoon began proper.
With a (literally) healthy selection of food, on top of the usual greaseries, as well as bars that actually allowed for a quick drink; many fossicked through the Secret Garden's selection of pond-side arts and crafts, while the Le Boudoir tent and Campfire stage offered talented burlesque and comedy respectively.Difficult Second Album? Hardly. Harvest 2012 was more Nevermind or The Bends than Yours Truly, Angry Mob
Further north, playing against a perfect blue sky at the open paddock of The Windmill Stage, The War On Drugs offered the first great set of the day.
Their fuzzed-out take on classic Americana, complete with ringleader Adam Granduciel's Tom Petty twang, was perfectly pitched to ease punters into the sun-glazed event.
As the wind snagged his burly locks across his face, he led his trio of bandmates charging down the musical highways of 'Best Night' and 'Baby Missiles'.
While Dexys prepped to follow, many made the pilgrimage to the main stage for the stalwarts not of new wave soul, but instead of dosed rock, to pop some Dandy Warhols.
Unfortunately, they were more on the comedown side of the ride, than the ascent.
Though still able to whip large crowds into a hypnotic stupor with their equally languid tunes, opening at first with the lethargic 'Godless', they soon start to sound as fried as Courtney Taylor-Taylor looked.
As the snaggle-toothed frontman later recounts, he is recovering from spending his first overnight stay in a "ghetto-ass NYPD gunshot wound hospital," but even then their take on hits like 'Bohemian Like You' and 'We Used To Be Friends' fall victim to the drugged dirge of This Machine's more tedious moments, which also get a showing.
They're not awful by any stretch, and to be fair, the wind does weird stuff to their sound as much as the flanking visuals attempt to do to their presentation, but they seem best to those already helping themselves to spinning euphoria – which at the early afternoon, isn't many.
Meanwhile over at The Big Red Tractor Stage, Liars could be found delivering their avant garde assault, with suitably spiky renditions of 'Let's Not Wrestle…' and 'WIXIW'.
Sheltered under tent and bathed in erratic lighting, they created their own atmosphere, something that Silversun Pickups slightly struggled with against the blazing sun of The Windmill Stage.
Nevertheless, they delivered a solid set that demonstrates they've outgrown those Smashing Pumpkins comparisons, but not their primal energy as they cherry-pick from their three album discography.
When frontman Brian Aubert hits that keen part of his upper register, on the likes of 'The Royal We' and blossoming 'Lazy Eye', against the crunching rhythm section and his own scintillating guitar, it's hard not to cast your mind back to the glory days of alt rock.
A style that Mike Patton has long since cast aside, the Faith No More mouthpiece was almost unrecognisable for the uninitiated back at the Main Stage, delivering his latest madcap adventure, Mike Patton's Mondo Cane – an album of 60s Italian pop covers, as seen through the twisted lens of its creator.
Sounding like Morricone meets Mr Bungle, Patton gave one of the performances of the day, in a dapper suit he alternatively looked like a bug-eyed murderer, and the world's most charismatic used car salesman. All the while his characteristic voice oozing charisma and playful menace in all the hammy rolled 'r's the Italian language could muster.
Whether shouting into a megaphone, or snarling with a crazy expression as he coaxed and crowed through his set, he was no doubt having the time of his life, content in the fact that the entire spectacle was all down to his own crazed whims.
That he had the coolest and craziest backing band – including his very own steampunk Beethoven manning a theremin – only helped the occasion. If Patton didn't deliver a Cheshire cat grin to every man and woman in his presence, it's because they were confused, scared, both – or making their way to see Cake for some lighter entertainment.Sounding like Morricone meets Mr Bungle, Mike Patton gave one of the performances of the day…
Though their latest, independently released album (2011's Showroom Of Compassion) seemed to come out to nary but a whisper down under, there's no faulting the pulling power of a cult act; particularly one with a few 90s hits on the board.
Their style has changed little over the years, remaining all clipped trumpet lines battling with dusty and buzzing guitar in a bid for catchiest riff, while the rhythm section plugs along at a delightful chug.
Laconic frontman Jon McRea is as endearingly humorous in his stage banter as his off-kilter lyricism and bone-dry vocal style would suggest. Between catching out an amateur cameraman ("You are here in the moment. Not with your Facebook friends!") and faking his way through an early exit, he leads a heroic performance.
After apologising for the band's severe Australian delay ("we are not utilising jet fuel efficiently while it's still cheap"), he launches into Cake's rendition of 'War Pigs.'
Bringing out the latent funk edge of the Black Sabbath original, it's an unexpected but brilliant turn before the band close with 'The Distance', which gets exactly the kind of ecstatic groundswell you would expect of a beloved semi-rap, low slung, crowd punctuated ("all alone!"), dirty-awesome 90s hit.
Fitting then, that backing Cake is Ben Folds Five, returning to Australia and the music fold (no pun intended) for the first time in 13 years.
There were concerns that the titular piano man would outperform his two peers as he's forged on with his solo career while they moth-balled, playing casually elsewhere out of the spotlight – but such fears were quickly disassembled as they whipped through pitch-perfect harmonies and their familiarly rich interlocking musicianship.
Playing a few selections from their comeback album, namely the brazen 'Erase Me', lilting 'Sky High', cacophonic 'Do It Anyway' and new anthem 'Draw A Crowd'; they held up admirably to the classics everyone was hoping for.
Scintillating takes on 'Jackson Cannery', 'Uncle Walter', and a glorious rendition of 'Underground' (all from their eponymous 1995 debut) were all highlights, along with a stunning rendition of the delicately dashing 'Selfless, Cold and Composed'.
There was also the rolling out of the typically chuckle-worthy 'Rock This Bitch', juxtaposed with 'Brick', which has retained all of its tear-jerking power even after being played to death.
It may seem cliché, but seeing the three back on stage together again, jamming in perfect synchronicity despite looking older, there's every hope they keep on the reunion trail.
While some of the animal-suited encamped themselves under the Red Tractor tent for the alternative Harvest ending in experiencing late-night synth bearers Chromatics, then dance away the festival to Fuck Buttons and Crazy P; many more staked their spots claimed during the European brass and sunny sounds of Beirut to await Beck.
The genre-defying extraordinaire does his best to hop between the many styles and periods of his impressive catalogue, and does a pretty good job of balancing the wider-known numbers ('Devil's Haircut', 'Loser', a slightly underwhelming 'Where It's At'), with the lesser-known, but no less fervid parts of his output.Seeing the three members of Ben Folds Five back on stage together again, jamming in perfect synchronicity despite looking older, there's every hope they keep on the reunion trail
The fizzy bounce of 'Qué Onda Guero' and 'Summer Girl' move effortlessly into The Information's 'Strange Apparition' and Odelay's 'Jack-Ass' before slowing down for a couple of selections from Sea Change. Though soul-searching break-up songs at heart, 'The Golden Age' and 'Lost Cause' instead hit with blissful potency as the sun-dappled crowd soaks up the last rays.
The only odd moments come when Beck takes a few sly digs at final headliners Sigur Ros, ("that was an 80s guitar solo… they could use some in their set"), before an awkward moment where the opening strains of 'E-Pro' are cut short.
Presumably asked by organisers to wrap up, Beck departs unexpectedly, but not before he harumphs into the mic: "guess you'll have to hear that another time," cue sulking and mild disappointment from the crowd.
He may have the broader appeal and career, but there really is no better way to finish Harvest than with the ethereal spectacle and sheer weight of the Icelandic outfit's celestial soundtrack.
Sure, Grizzly Bear were ones not to be missed either – the four impossibly talented Brooklynites (buffered by a fifth touring member) bringing all their musicianship and rich catalogue to bear on the Harvest crowd; and Santigold's party-centric set proved a brilliant alternative, but Sigur Ros brought an epic curtain to the night.
As attendees flooded the lawn, both picnic rugged at the back or the stoic standing crowding the front – all were united in awe-struck appreciation. Though the intimacy and spacious nuances of Sigur Ros' music has typically featured at venues at the classier end of the spectrum for their previous Australian tours – Harvest proved that they're just a visceral and worthy a festival act.
Opening with 'Í Gær, which shifts from a twinkling Tim Burton soundtrack to crushing post-rock glory, the members of Sigur Ros – bolstered by a mini-orchestra-come-choir and two multi-instrumentalists replacing regular bandmate Kjartan Sveinsson  – demonstrated their full musical dynamic from the outset.
The cathartic build and release of 'Glósóli follows, and with projected images of sparkling golden fields and sweeping silver vistas, quickly established that the impressionistic visuals were as important to their aesthetic as the yawning sound spreading its way across the inky blue sky that had descended.Though Sigur Ros' angelic-voiced frontman Jónsi Birgisson said nary a word to the crowd, he didn't have to, as his uncannily beautiful singing split the sky with every ascending phrase
Though angelic-voiced frontman Jónsi Birgisson said nary a word to the crowd, he didn't have to, as his uncannily beautiful singing split the sky with every ascending phrase. Particularly spine-tingling on the depth-charge transmission of 'Svefn-G-Englar', his vocals ringing through his guitar's pick-ups at one point of the extended slow-motion lullaby.
Fellow Agaetis Byrjun cut, 'Olsen Olsen', is another undisputed highlight, wringing every corner of its orchestral sweep, while 'Hoppipola' is far more transcendent than a song about 'hopping puddles' (the song's literal translation) deserves to be, as images of fireworks fizz on-screen.
While many of their tracks contain the occasional post-rock pitfall of 'formulaic build and climax' structure, as it does on the celebratory 'Festival' or aching 'Varúð' (thankfully, the only cut from the band's latest and most ambient work, Valtari) – you'd be hard-pressed to otherwise criticise their evocative shifts and grand swells.
Despite being sung in another language (or just plain gibberish, or 'Hopelandic' as music journos have come to label it), there's no deeper understanding or suspension of disbelief needed to enjoy their sense of majestic scale.
None more-so than fan-favourite and regular set-closer, 'Popplagið'; and tonight's near-fifteen minute rendition of the closing track from 2002's ( ) is ripe with apocalyptic fervour, it contains the group's most shimmeringly exquisite highs and – as the rhythm section of Georg Holm and Orri Páll Dýrason bring the thunder – also their darkest moments.
After its apocalyptic ragnarok n roll, there is simply no room, desire, or need for an encore, anyone immune to Sigur Ros' appeal pre-set having now been well and truly immersed in a wash of what makes them uniquely impressive.
The exact same could be said of Harvest's Melbourne showing, with all the kinks of its birthing having been fironed out in order to fulfil its potential as one of Australia's greatest music festivals.
Be sure to check out our epic gallery from Harvest Melbourne 2012 here.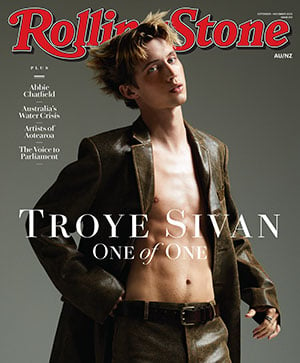 Get unlimited access to the coverage that shapes our culture.
Subscribe
to
Rolling Stone magazine
Subscribe
to
Rolling Stone magazine