Do you enjoy throwing away your hard earned money? How about not getting what you paid for? How about sitting in a totally exposed field while 35+ degree sun blazes down on you? If all of this sounds appealing, yesterday's Heatwave Festival may have just been the thing for you. After dismal ticket sales, no-shows from bands and the news that organisers failed to sort out liquor licencing for the Melbourne leg of the tour, things did not bode well.
When the first thing you see upon arriving at a festival is a sign offering a refund due to D12 being unable to perform as a whole, you should probably run as fast as you can in the opposite direction. Walking in to Heatwave after dodging many suspect-looking men trying to sell discounted tickets in the park, we were greeted by ear-splitting feedback and a near empty Sidney Myer Music Bowl. The warm up group Midnight Militia are blasting quickly forgettable hip hop-by-numbers and constantly spruiking their new double CD which is available from the merch tent.
Interestingly, the merch tent seems to be free of any merchandise. Apart from a few not-so-authentic-looking Kid Cudi t-shirts and a few caps the tent is empty and smaller than some tents I have camped in. The VIP and XXL VIP areas that were available for a higher ticket price are well and truly under capacity. The front of stage area is near deserted.
Once Midnight Militia clear the stage, various "hype men" (four of the best we are told, whatever that means) jump around onstage and yell random words over the top of other people's songs. This will prove to be an ongoing annoyance. The hype men also insist on playing back to back Notorious B.I.G and 2Pac, two hip hop giants who went to their graves hating each other. The idiocy of this is staggering.
At this point we all begin to look at our watches and wonder where the first international act Chamillionaire is. Clearly the guys on stage are wondering the same thing and begin to stall uncomfortably while some random on a low rider bike does intermittent laps across the stage. With absolutely no announcements forthcoming from the organisers, the confused crowd begins to get impatient. Boredom and heat exhaustion begin to set in and there is still no information as to the whereabouts of Chamillionaire (possibly "Ridin' Dirty" somewhere?) after a good hour of waiting. The schedule has been completely pushed back already and any set times have been thrown out the window.
By this point it is pretty apparent that Chamillionaire is a no show and finally they hype men are shooed off the stage to make way for D12 who have actually shown up, albeit late. D12 do the best they can to inspire the less than capacity crowd, but missing a few members and relying heavily on a backing tape it is hard to differentiate between them and the various hype men that have been haunting the stage all day. Calling it a live show seems a bit of a stretch, the "Sing Along With Eminem Show" is much more appropriate. They do a pretty mean version of "Purple Pills"; well it would have been had they finished it. They finish up with a tribute to Proof and shuffle offstage.
Next up (after the ever present hype men) are Crazy Town. I am so starved for any form of live music by now that the sight of a guitar nearly brings me to tears. This doesn't last long. They wheeze their way through a set so lacklustre that the crowd has given up on applause and just stare while quite rightly wondering just why the hell they are on the bill. After spruiking their guitar player by claiming he is "very single and very disease free", they finally play "Butterfly" and leave to a smattering of applause.
Love Eminem?
Get the latest Eminem news, features, updates and giveaways straight to your inbox Learn more
Things are looking bleak and the wheels are beginning to get squeaky on this bloated ego fest when what will turn out to be possibly the most ridiculous, overhyped waste of time of the day takes the stage. Obie Trice, who I believe had a gimmicky hit many years ago, slimes his way onto the stage and once again the backing tape is out in full force. Obie announces he is going to choose one lucky lady to join him onstage and for some reason some of the female members of the crowd are excited by this. "You keep jumping like that your titty gonna fall out," says Obie to the oh-so lucky girl before he proceeds to bend her over and dry hump her on stage.
I am silently wondering how gouging my eyes out will affect my career as a reviewer at this point. The insanity continues when he plays a full tribute to Nate Dogg, and when I say play I mean somebody pressed play on a Nate Dogg CD and Obie sings along. Thankfully, he leaves the stage soon after.
Tech N9ne comes onstage to the strains of "People Are Strange" by The Doors. It is clear why he has such a huge following, along with right hand man Krizz Kaliko he breathes life into an almost flatlining festival. The set is clever, energetic and to my delight I am not called a motherfucker once. My delight is cut short when an understandably pissed off Tech is kicked off the stage 40 minutes into his set without playing half of his hits, thanking Chamillionaire snidely but promising to come back to Australia with his full show.
The audience, who at this point have been sitting through painfully underwhelming acts for over six hours, begin to move closer for who we hope will be our saviour, Kid Cudi. By now it is nearing 9:40pm and the idea that noise restrictions could see the show shut down creep into my mind. I dismiss this idea; surely there would be no way that this could happen.
A cloud of pot smoke to rival the closing day of Woodstock envelopes me as what seems to be the entire festival blazes up in anticipation for Cudi and when he bounces onto the stage the first real roar of appreciation explodes from the crowd. Clad in skinny jeans and smiling, he is forgiven immediately for breaking my no sunglasses at night rule. Cudi is smashing it out of the park by just having a live band with him. He rocks it out during "Soundtrack to My Life" and "Marijuana" before being called over by his synth player. This is the first indication of what is about to unfold.
Cudi has been giving a five minute warning to wind up his set barely 20 minutes into it and he is furious, "These niggas promised me an hour, so I'm doing an hour," he shouts to a crowd just as pissed off as he is and launches into "Up, Up & Away". Blown away by the fact that the crowd knows his older work, Cudi seems untouchable. That is until his mic is cut off during "Cudi Zone".
At first it seems like yet another technical difficulty but it quickly becomes apparent after the guitars and synths drop out that the show has been shut down and shit is about to hit the fan. Security chases a still singing Cudi into the barrier between stage and audience and yanks his microphone off him. Cudi's guitarist and drummer try their best to keep playing but without vocals it really is a lost cause. A visibly frustrated figure, Cudi kicks a light in frustration and upon hearing the cheers that follow he pushes over speaker stacks and stage lights before security escort him offstage. The rest of the band raise their hands in defeat and angrily leave the stage.
Chants of "refund" and a hail of bottles, one so perfectly thrown it hits the cymbal and everyone roars in approval, take over the once peaceful and music-filled space, bins are kicked over and police are called. Many members of the audience in the VIP sections are actually crying. Had I paid upwards of $150 to witness this clusterfuck I probably would have cried too.
In terms of festival fuck up's Heatwave may just take the cake. Presenting a bunch of has-beens and never-weres with backing tapes and cutting off the two headlining acts shows complete arrogance, ignorance and disrespect.
Organisers have been trying in vain to delete the wave of negative comments off various social networking sites and hate groups have already sprung up all over Facebook. This festival was worse than any other failed festival in the history of Australian music, and that is saying something. The fact that no-one was seriously injured and a riot didn't break out is beyond me. The only good thing that will come out of Heatwave is if the morons who managed to somehow create a festival and drive it straight in to the dirt never work in this industry again. My final word on Heatwave? Well it goes out to the organisers: better get a lawyer, son, better get a real good one.
– Maddy Thomas
Check out our slideshow of the biggest disasters in Australian music history. Naturally we'll be updating it soon to include Heatwave.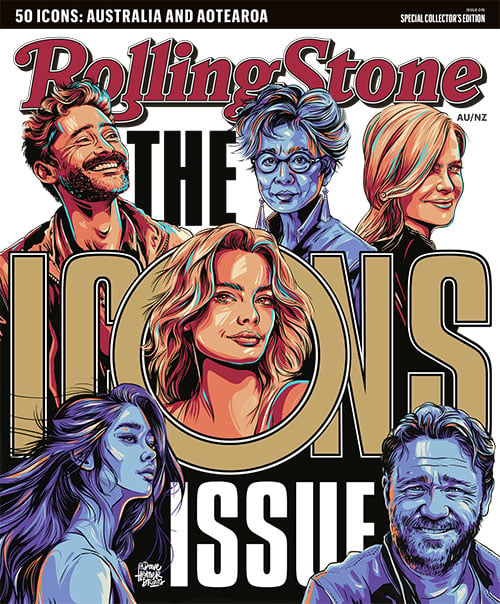 Get unlimited access to the coverage that shapes our culture.
Subscribe
to
Rolling Stone magazine
Subscribe
to
Rolling Stone magazine