With album sales of over 25 million around the world, Savage Garden are one of the most successful Australian bands of all time. On average, the partnership of Darren Hayes and Daniel Jones sold 12.5 million copies per album, more than any other Australian act ever.
Of course, one has to remember that the duo only ever released two albums – their eponymous 1997 debut and 1999's Affirmation. In 2001, the band went out on top, with singer Hayes confirming their breakup following seven years of existence.
With the band now back on the promotional circuit, albeit separately, to promote a new best-of compilation, Hayes and Jones recently spoke to News Corp, revealing just what led to the dissolution of one of Australia's biggest bands and whether or not they'll ever reform.
"The thing with a band is it really is a marriage," says Hayes. "In our case we had a marriage that ended in divorce. People don't get married by accident and they don't get divorced by accident."
"There are reasons why musical relationships are magical and those same reasons are sometimes why they can't last. I've softened a lot to the (re-formation) question nowadays. I take it as a huge compliment when people ask if we'll get back together."
"What they are really saying is you changed my life. I have wonderful memories associated with what you did back then. We've also been lucky in that people also respect it ended for a reason. You'd no sooner ask a couple who broke up to get back together just because you liked going to the movies with them."
"I get it, there are some really happy memories associated with it. But as human beings and artists there are also some things that obviously didn't work. I don't think we would have stayed disbanded for however long it's been if that was an accident."
Back in August 2007, a journalist from The Daily Telegraph asked Hayes if he and Jones would ever consider reuniting, to which he sharply replied, "No, never. I once said I'd only do it if it cured cancer, and that's still how I feel." He feels no different today, it seems.
Jones definitely feels the same way. The multi-instrumentalist left the band after finding dissatisfaction with the lifestyle of being in a band and even being on stage. He's avoided the limelight ever since he stepped away from it in 2001.
"It's just not for everyone," Jones says. "And you don't know that until you do it. The one thing I never wanted Darren to think was that it was personal against him. My decision of walking away from the limelight wasn't directed towards anyone but my own self and my own happiness. Years later, I don't miss that lifestyle."
"The decision I made back then is still the right decision for myself. It's who said what sometimes, it can get out of control but the reality is I never loved the lifestyle of the band or the existence of touring. I've never said anything other than that."
After leaving the band, Jones says he felt "guilty" and decided to give back to the Australian music industry, launching his own record label and using his own money to fund several projects, though none saw the success he achieved with Hayes.
"The reality was I spent a whole lot of money on different projects that never really went anywhere. I couldn't keep doing that forever, otherwise I'd end up with no money. It was one of those things, I had every good intention to give back but the reality was it didn't go so well."
Now married to former Hi-5 member Kathleen De Leon, a Las Vegas-based Jones stays busy by looking after his family and "flipping" houses he bought cheaply in Vegas, even getting involved in the renovating himself. For him, music is "on the backburner".
[include_post id="443707″]
Hayes, who had a brief but relatively successful solo career, has also left music behind. Now based in Los Angeles, Hayes has found a new creative partner, Tim Stanton, and is doing a comedy podcast called He Said He Said.
"I did my last [live] show three years ago," says Hayes. "I came off stage and had no idea what I was going to do with the rest of my life, which was terrifying and exciting. My husband (Richard Cullen) and I decided to go to America for an adventure."
"Three years later we're permanent residents, we're as happy as ever, he's screenwriting and I've spent the last two years studying at the Groundlings Improv school. No one really knew I was doing it. I went through the whole process which for a 43-year-old man is really challenging."
"I'm so proud I got through it and did it under the radar. Every week I do my comedy show I laugh all day. It took me a while to realise I wasn't laughing when I was making music for a while."
However, Hayes still sees a future for himself in music. Inspired by seeing Kate Bush's sold-out residency shows last year, he says, "I knew that would be me. I know I'll make another record and tour but that time isn't now, at all."
Both men seem to have their futures plotted out for them and they don't give much thought to the past. "We still have a lot of respect for each other," says Jones, remarking on the state of the Hayes-Jones partnership in 2015.
"We don't really have a relationship any more because of the distance, he's moved on and I've moved on, but we still have a great respect for one another. I still hear him speaking highly of me and that is reciprocated."
Instead, both men are happy for the lives that Savage Garden has provided for them. "It was an window of time, just before the fall of the Roman empire," says Hayes. "A lot of people made a lot of money. I poured that money I made into 20 years of a life of being an artist."
"I'm very proud of that. I don't live an extravagant lifestyle. I've toured in ways that have never made money. I've made feature length animated music videos. I've done it all, everything I wanted to do because of some of the Savage Garden songs. A million times thank you. Who could ever ask for more?"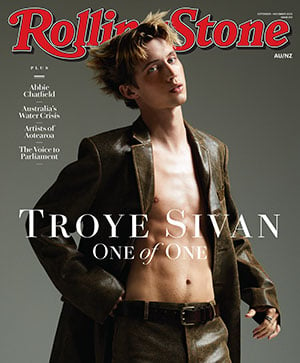 Get unlimited access to the coverage that shapes our culture.
Subscribe
to
Rolling Stone magazine
Subscribe
to
Rolling Stone magazine