We love a good fun fact here at Tone Deaf, and considering the triple j Hottest 100 is creeping up on us, we thought we would compile some of our favourite bits of information from the history of the Hottest 100, and present them here so you can impress your friends throughout the countdown by rattling a few of them off, seemingly just off the top of your head. Enjoy!
9 instrumental tracks have featured in the countdown since its inception
These include the likes of 'Da Funk' by Daft Punk, 'Theme From Mission Impossible' by Adam Clayton & Larry Mullen (aka, the other two guys from U2), and Gerling's 'Enter Space Capsule' – which totally counts, even though it features samples with words. The highest-placing instrumental is, appropriately enough, Pendulum's remix of the 'ABC News Theme (Remix)', which reached #11 in 2010.
Aussie, Aussie, Aussie
'Buy Me A Pony' by Spiderbait was the first Australian song to reach #1 on the countdown, in 1996. Notably, it is also the shortest song to hit #1, running for a mere 105 seconds.
Length doesn't matter
Frenzal Rhomb take the honours for shortest song to ever make the countdown with their anthem 'Russell Crowe's Band' (chorus: "And even if we know we never get a Billboard Top 10 hit, at least we know Russell Crowe's band's a fuckin' pile of shit") which hit #26 in 2003, and runs for 72 seconds. Following it are Eskimo Joe's 'Ruby Wednesday', at 93 seconds, and The Vines 'Highly Evolved' at 94 seconds.
Or does it?
The longest track to make the chart is a tie between Green Day's 'Jesus Of Suburbia', and Kanye West's 'Runaway'. Both run for 9:08.
Triple J listeners love covers
Three cover songs have hit #5 over the years: Bjork's 'It's Oh So Quiet' in 1995, Spiderbait's 'Black Betty' in 2004, and Boy And Bear's cover of 'Fall At Your Feet' in 2010. None of these were part of the now-popular 'Like A Version' segment. In the 2009 Hottest 100 of All Time, Jeff Buckley's cover of 'Hallelujah' reached #3.
It took a while for the Hottest 100 format to land
The Hottest 100 began life as a Hottest 100 of all time in 1989. The first two years saw Joy Division's 'Love Will Tear Us Apart' voted as #1, while 1991 saw that year's 'Smells Like Teen Spirit' take the top spot. Seeing the chart didn't move substantially throughout the three years, the station decided to can it for 1992, and relaunched in 1993, making it an annual poll. Denis Leary's 'Asshole' topped the poll that year.

Love Indie?
Get the latest Indie news, features, updates and giveaways straight to your inbox Learn more
B-sides are key
Interestingly, in 1999 Powderfinger took out the #1 spot with 'These Days', and #100 with Passenger. Even more interestingly, 'These Days' was actually the B-side to 'Passenger'.
Australia for the win
1999 was the first year in which Australian songs made up the top three: Powderfinger's 'These Days', Killing Heidi's 'Weir', and The Tenants' 'You Shit Me To Tears'.
Like A Harpoon In My Chart
In 1998, two versions of Jebediah's Harpoon charted: their own, at #7, and the Something For Kate cover, at #85.
The year of the spill
In 2009, a commercial for an upcoming issue of J Mag accidentally revealed the winner of the Hottest 100 ahead of time, courtesy of a cover story for Mumford And Sons announcing their victory. Oops!
Hip hop to the top
Macklemore and Ryan Lewis featuring Wanz – 'Thrift Shop' was the first hip hop song to top the chart, in 2012.
Unearthing success stories
Although Little Red, Killing Heidi, Missy Higgins, Grinspoon, and Art vs. Science all managed to hit #2 over the years, 2013 was the first year an Unearthed artist reached the top spot, with Vance Joy's 'Riptide.' The Rubens also achieved this in 2015's chart, with 'Hoops', which was inspired by the film 'Space Jam' (we assume).
Powderfinger and Chet dominate
Chet Faker and Powderfinger are the only artists to land three songs in the top 10 within one year, Chet in 2014, and the Finger in 2003.
Girl power
The Cranberries 'Zombie' in 1993 was the first chart-topper to feature a female vocalist.
Triple J airplay doesn't necessarily matter
Such was Alanis Morissette's popularity in 1995, that she landed three songs in the countdown without ever having been played on Triple J. The people (oughta) know what they want!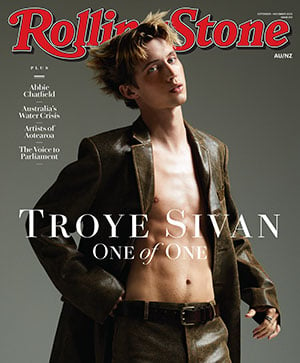 Get unlimited access to the coverage that shapes our culture.
Subscribe
to
Rolling Stone magazine
Subscribe
to
Rolling Stone magazine