There's no denying that pub rock songs dominated the Aussie music scene during the 1970s and 80s. 
But, one thing we think sometimes gets forgotten is just how popular so many of the classic tunes still are.
Whether it's at, you guessed it, the pub or just in the comfort of your own home, you'd be hardpressed to think of a genre that rallies people together more effectively than pub rock.
So, grab a beer, grab your mates and enjoy our countdown of some of the most iconic pub rock songs in Aussie history.
For more on this topic, check out the Classic Rock Observer.
'Am I Ever Gonna See Your Face Again?' – The Angels
Bizarrely enough, what is perhaps the most memorable part of The Angels' hit 'Am I Ever Gonna See Your Face Again' is not actually in the recording of the song. You know what we're talking about, the part where the crowd responds to lead singer Doc Neeson singing "am I ever gonna see your face again" with "no way, get fucked, fuck off." We're not exactly sure how the rather uncouth tradition came to be, but it clearly is quintessentially Australian.
'Khe Sanh' – Cold Chisel
This hit by one of Australia's most legendary pub rock bands has more to it than what meets the eye. While its success probably lies in just how catchy it is, its lyrics tell a surprisingly evocative story of a Vietnam vet attempting to ease back into everyday life.
Love Classic Rock?
Get the latest Classic Rock news, features, updates and giveaways straight to your inbox Learn more
'Don't Change' – INXS
While there are dozens of INXS songs that could have easily fit on this list, it's hard to look past the rousing heights reached in 'Don't Change'. It was the band's first song to get a widespread international release,  and it's not hard to see why.
'Beds Are Burning' – Midnight Oil
Midnight Oil made a name for themselves through their stirring, politically charged lyrics, and 'Beds Are Burning' was certainly no exception. The song was written as an appeal for the Australian government to give the native Australian lands back to the Pintupi people, which was one of the biggest topics of contention in Aussie politics at the time.
'April Sun In Cuba' – Dragon
Although Dragon had a slew of hits throughout the 1970s, the success of 'April Sun In Cuba' was simply next level. After debuting in 1977, it stayed in the charts for a whopping 22 weeks, cementing the band as a favourite among Aussie audiences.
'I Touch Myself' – Divinyls
To say 'I Touch Myself' by Divinyls was ahead of its time would be an understatement. Not only was the band fronted by a woman, which was sadly a rarity in the Aussie rock of yesteryear, but it also shed light on the ridiculously taboo topic of female masturbation.
'Holy Grail' – Hunters & Collectors
It's fair to say that 'Holy Grail' isn't just a song, it's an anthem. As if it wasn't Aussie enough to begin with, it endeared itself to listeners even further when it became an unofficial theme song of the AFL. Decades after its release, it is still practically synonymous with footy.
'It's a Long Way to the Top (If You Wanna Rock 'N' Roll)' – AC/DC
Of course, this list wouldn't be complete without a shout out to AC/DC. While it was hard to narrow down which of their songs to include, it was hard to go past the track that has spawned a number of loving parodies. If you haven't drunkenly sung "it's a long way to the shop if you want a sausage roll," then are you even Australian?
'Better Be Home Soon' – Crowded House
A slightly more melancholy tune than many other pub rock songs, 'Better Be Home Soon' may be unassuming, but it's certainly packed with meaning. The already sombre track became even more impactful when Neil Finn performed it at the 2005 ARIA Awards in honour of his late bandmate Paul Hester, who passed away earlier that year.
'The Boys Light Up' – Australian Crawl
The origins of Australian Crawl's title track from their debut album are surprisingly controversial. The song was almost banned from radio play and some TV shows due to its explicit lyrics that reference infidelity. On top of that, many fans believe the chorus references smoking marijuana, although the band have denied this theory.
'Never Tear Us Apart' – INXS
Looking back, it's shocking that INXS' seminal hit 'Never Tear Us Apart' only reached #14 on the ARIA charts back when it debuted in 1988. The fact the track was covered by The Teskey Brothers just this year as a tribute to Michael Gudinski is a testament to its timeless, touching lyrics.
'Cheap Wine' – Cold Chisel
'Cheap Wine' was Cold Chisel's first-ever top-ten single, and its happy-go-lucky vibe has ensured it's still one of their most popular tracks over 40 years later. It's also remembered for its commonly misheard lyrics, with many fans mistaking "cheap wine and a three-day growth" for "cheap wine and a three-legged goat".
'Throw Your Arms Around Me' – Hunters and Collectors
'Throw Your Arms Around Me' is undeniably as tender as pub rock gets. One of Australia's most popular (not to mention unique) love songs, you'll still hear it played at weddings across the country to this day.
'Working Class Man' – Jimmy Barnes
'Working Class Man' is widely considered to be Jimmy Barnes' signature song, and for good reason. Its lyrics paid tribute to the blue-collar, working-class demographic of Aussies, a group of people who had perhaps felt ignored in mainstream music before.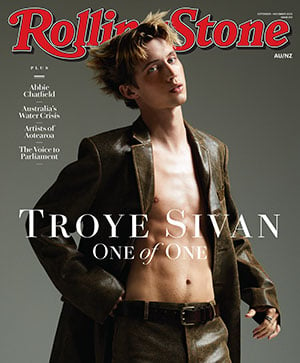 Get unlimited access to the coverage that shapes our culture.
Subscribe
to
Rolling Stone magazine
Subscribe
to
Rolling Stone magazine