The whole world is currently wrapped up in the life story of Ian 'Molly' Meldrum thanks to the Seven Network's new, eponymously titled bio-series, which is set to air its concluding episode this weekend.
The show has had the twin effect of renewing interest in Meldrum's life as well as in Countdown, the pioneering Australian music show which Meldrum created and hosted from 1974 to 1987.
One of Countdown's most infamous moments came in 1979 during an appearance from the Godfather of Punk, Iggy Pop. The plan was to do a short interview with Pop, who would then perform his single 'I'm Bored'.
What we got instead was Australian television history. A totally out-of-it Pop refused to pay attention to Meldrum's questions and instead bounced up and down on his stool, blew raspberries, and was generally incoherent.
When he finally got in front of the audience to mime the vocals to 'I'm Bored', the singer put on a shambolic performance in which he made no attempt to even pretend like it was a legitimate performance.
"It was a tough trip for me because it was my first time coming down and when you haven't done that trip before the jetlag is much more severe," Pop recently told Double J, reflecting on the appearance.
According to Pop's interview with Myf Warhurst, after arriving in Australia, the Stooges frontman was told he would not be playing live and would have to lip-sync all of his Australian TV performances.
"Then when I got there, I think what happened was the record company bribed my manager at the time or tricked me," Pop recounted.
[include_post id="465864″]
"I thought I was going to meet up with my band and play shows and play with my group on various TV shows. And then instead it was, 'You're doing playback' and I was pissed off."
"I can still remember the stage set up. It was set up as a kind of catwalk with the audience on two sides, and I remember talking to [Molly] and there was an interior dialogue, there was a voice telling me 'Do not let yourself take this guy seriously'."
"I don't know why I thought that, but I felt somehow to take that whole thing, well I didn't feel like being reasonable that day. Let's put it that way." You can watch the infamous appearance below.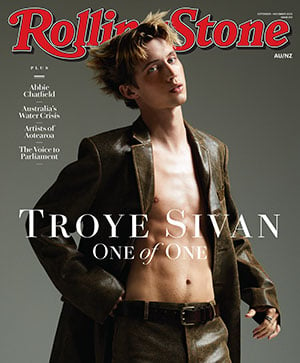 Get unlimited access to the coverage that shapes our culture.
Subscribe
to
Rolling Stone magazine
Subscribe
to
Rolling Stone magazine