Iron Maiden are making a welcome return to Australia and New Zealand on their 'The Future Past Tour' in September 2024, in what will be four years since the pandemic derailed their already long-awaited 2020 visit. 
For founding member and bassist Steve Harris, the Antipodean trip represents unfinished business for a band who have always packed the goods onstage.  
"We've really enjoyed playing all the shows on 'The Future Past Tour' this year, and the reaction from our fans has been incredible," he recently said in a statement on the band's website. "Being able to play some of these songs for the very first time has made the tour even more memorable, and we can't wait to continue it next year. 
"We're all really excited to finally be able to return to Australia, New Zealand and Japan as we know our fans have waited so patiently for us over the past few years. It's going to be great to get back there, especially with this new show. We promise you all, it'll be worth the wait!"
The band will most certainly be playing songs from their 17th studio album, 2021's Senjutsu, but true to form will always ingeniously craft a set that pays tribute to their much-storied back catalogue. 
In a recent interview with Triple M's Dave Gleeson (AKA The Screaming Jets' longtime vocalist) Iron Maiden lead singer Bruce Dickinson described their approach to saluting their past in a much more considered manner than most mega-bands.
"With 'The Future Past Tour' we thought we'd basically look at Somewhere in Time (1986) as an album which has really been unrepresented in terms of playing it live in recent years. Then you throw in some songs from Fear of the Dark (1992), and Iron Maiden (1980). "The Trooper" (from 1983's Piece of Mind)… then, 'oh yeah, let's do "Wasted Years" (from Fear of the Dark).'
Love Metal?
Get the latest Metal news, features, updates and giveaways straight to your inbox Learn more
"So you come up with an album which is basically a concept or theme for a show, and we have a little nod towards Seventh Son of a Seventh Son (1988) and those earlier albums, but a lot of the songs that we would normally have played in years gone by they've kind of gone to the semi-retirement home. There's somebody wheeling them around in the garden right now with little talk bubbles coming out of their mouth saying, 'One day they'll pick me.'
"And we will, we'll dig those songs out again in the future. We're not planning to stop touring. I mean, you never know, we might all get hit by thunderbolts or a piano might fall on our head out of the blue from the sky, but if none of that happens we don't see any reason why as long as we're still cutting it live and people are turning up and having a good time, it's like, 'Why stop?' We're having fun."
On the subject of Iron Maiden retiring from the road, Harris was philosophical about the notion in an interview with Classic Rock back in March. 
"Who knows for sure?" he stated. "At the moment we want to tour as much as we can. But even if we did semi-retire, we could still make albums. I don't know. We'll see.
"I always thought that it would be nice to make 15 albums, which we've surpassed. It's all downhill from here, isn't it?" he laughed. "But each of us is still enjoying it — possibly more than ever — maybe because we know that we're coming towards the end. We try not to think too much about that, but so long as everyone still enjoys what we do, we'll keep on going as long as we can."
In his interview with Triple M, Dickinson concurred. "We're very conscious that audiences, while they're wonderful, can also be super cruel," he said of staying at the top of their game. "You're more vulnerable to coughs, colds, sneezes, plague of frogs… the usual things. There is that, but I don't go around worrying about it too much. I think you just try and keep yourself in good nick, get a good night's sleep and drink reasonably. Follow the government guidelines!"
Testament to the band's commitment to the legacy they have created is drummer Nicko McBrain's recovery from a stroke he suffered in January. He rejoined the band for rehearsals in May and was back out on the road later that month. 
Speaking recently to SiriusXM's Trunk Nation Power Trip Special with specialist metal broadcaster Eddie Trunk, McBrain stated that he is at this point "85 to 90 percent back to strength."
"So now I'm starting to actually be able to kind of embrace it a bit more," he confirmed. "And I can't do that live. I have to wait until we start doing some rehearsals again or whatever it is. But I'm definitely getting stronger. And I've had great support from Rod (Smallwood, manager), the band, and all of the fans out there."
Iron Maiden have this year played 30 tour dates to over 750,000 people across Europe and Canada, and also headlined California's Power Trip Festival. The band's fanbase is now multi-generational, a fact that Dickinson clearly finds inspirational.  
"You can sometimes see family units where dad's passed it on to the kids and people are having a rite of passage – 'yes, it's my first Maiden show, I'm so stoked,'" he told Gleeson on Triple M. 
"It's really exciting and it's brilliant for us, to look down on the front 10, 15, 20, 30 rows down on the GA floor and they're not just people standing around they're really rocking and getting into it, and they understand the music and they're down with the detail of it as well as the show. It's really satisfying to have an audience like that."
Iron Maiden 2024 Australia & New Zealand Tour
With special guests Killswitch Engage
Tour information available via ironmaiden.com or tegdainty.com
Sunday, September 1st
RAC Arena, Perth, WA
Wednesday, September 4th
Adelaide Entertainment Centre, Adelaide, SA
Friday, September 6th
Rod Laver Arena, Melbourne, VIC
Saturday, September 7th
Rod Laver Arena, Melbourne, VIC
Tuesday, September 10th
Brisbane Entertainment Centre, Brisbane, QLD
Thursday, September 12th
Qudos Bank Arena, Sydney, NSW
Friday, September 13th
Qudos Bank Arena, Sydney, NSW
Monday, September 16th
Spark Arena, Auckland, NZ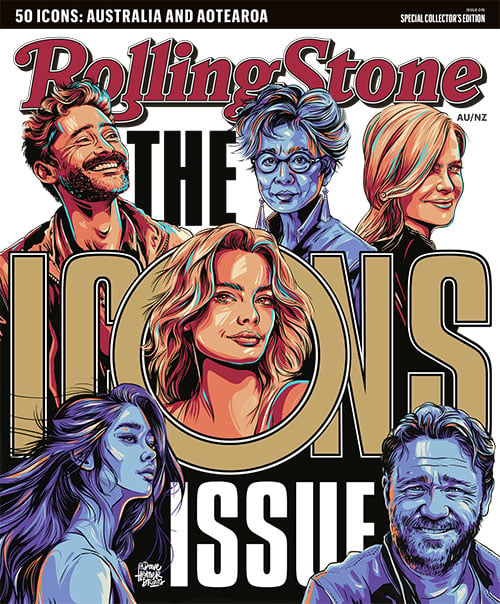 Get unlimited access to the coverage that shapes our culture.
Subscribe
to
Rolling Stone magazine
Subscribe
to
Rolling Stone magazine