Sydney soul rockers The Preatures continue their already massive year of sold out shows, including supporting Los Angeles babes HAIM last month, with the release their new five-track EP Is This How You Feel? which features the killer their latest single 'Manic Baby' and the killer title track.
To celebrate the band have announced yet another national headline tour in September which will be a step-up from their single tour earlier in the year, taking on larger venues to accommodate their rapidly increasing fan base, before they leave Australian shores to show the US and Europe exactly how it feels!
We caught up with Izzy Manfredi to talk about dream riders, what The Preatures eat in their tour van, and Izzy's signature dish: Batutta…
What were your food influences when you were growing up and what kind of food did you eat at home or with your family?
My Dad is an italian chef and he and my mum have run restaurants in Sydney for the last 30 years. My Nonna was (and still is) very famous for her pasta and I remember sitting up on the marble benches at the old restaurant watching her work in the flour and eggs to make tagliatelle, which she hung in long strips until they dried for cooking.
I spent a lot of time at the restaurants growing up, and I don't really remember eating at home with my parents very much because they both worked so hard. I was always interested in food though and loved trying things that were strange to a kid, like octopus, oysters, and raw meat. When I was eight I begged my Dad to take me to an abattoir to see how animals were killed, it just fascinated me. Strangely, he and I spent more time eating out together after my parents divorced than we did eating his food (and still do). I grew up like most kids of my generation in Sydney – eating lots of different cuisines and loving it.
What dish or cuisine do you most like to eat on tour and why?
A good breakfast can last me almost all day, which is great because I can't eat anything major at night before a show. I always go for avocado on rye or spelt toast with a poached or fried egg, and a long black. A hot meat pie with sauce is my favourite after-show snack. I also love a quick steaming noodle soup with greens.
What is your ideal cooking playlist?
I like listening to albums, especially new ones, while I cook. It's a good way to absorb a record. Any album of JJ Cale is perfect cooking music. My Dad wrote an article about restaurant playlists recently, and how he compiles them – it's quite funny (read here at http://www.stefanomanfredi.com/).
What type of food do you make sure to avoid before a gig or going on stage?
Anything spicy, heavy or creamy. Thai food is usually a no-no. Mexican food is suicide.
Imagine for a second you can request anything on your rider on your upcoming 'Is This How You Feel' EP tour. What food do you put on it?
All I ever want is some fruit and a cup of tea. Though we were on tour once with Deep Sea Arcade and they had their 'Pear and White Chocolate Fondu' rider request fulfilled, which of course was a complete joke. Many, maaaany photos of that.
What has been your biggest cooking disaster to date? 
My earliest memory of cooking by myself was pinching snails from the garden and dropping them into boiling water to see what happened. They all frothed up and went white. Maybe I'm a sadist?
When you tour overseas, what food from home do you miss the most?
The one and only glorious Australian invention Vegemite. With Avocado. Also dippy eggs and soldiers, because it's really hard to get that right in café.
What are your favourite tour van munchies?
Walkabout trail mixes and coconut water. Who am I kidding! It's chips.
Where is your favourite music venue to eat at in Australia? 
That's a hands down win for Adelaide. Also known as Shnitzelaide, where we break our 'no big meals before the show' rule and get Shnitzels all round at Ed Castle. We don't even play there, we just go for the delicious Schnitzels.
What is your signature dish?
I'm prone to low iron levels (that's where beef pies are a great and cheap source on tour) and aside from fatigue it also makes me really anxious. I don't really like eating beef in general, but when I was told I needed to eat more red meat all I could think about was having it carpaccio, which is an Italian way of saying 'raw'. My Dad gave me this recipe for Batutta, which is incredibly quick and easy to prepare. Most people get freaked out at the idea of eating raw red meat (strangely these same people will eat sushi without fuss), but the lemon and garlic in this dish cook the meat chemically if that makes you feel any better. It's a delicious way to eat meat; easy to digest and satisfying in a fundamentally primal way. And it's very very good for you.
The Preatures Tour Dates:
FRI 06 SEP @ OXFORD ART FACTORY, SYDNEY NSW
WED 11 SEP @ NORTHCOTE SOCIAL CLUB, MELBOURNE VIC – NEW SHOW
THURS 12 SEP @ NORTHCOTE SOCIAL CLUB, MELBOURNE VIC – SOLD OUT
FRI 13 SEP @ NORTHCOTE SOCIAL CLUB, MELBOURNE VIC – SOLD OUT
SAT 14 SEP @ KAROVA LOUNGE, BALLARAT VIC
THU 19 SEP @ JIVE, ADELAIDE SA 
FRI 20 SEP @ FLYRITE, PERTH WA
SAT 21 SEP @ MOJOS, FREMANTLE WA
THU 26 SEP @ TRANSIT BAR, CANBERRA ACT
FRI 27 SEP @ BLACK BEAR LODGE, BRISBANE QLD – SOLD OUT
SAT 28 SEP @ BLACK BEAR LODGE, BRISBANE QLD – NEW SHOW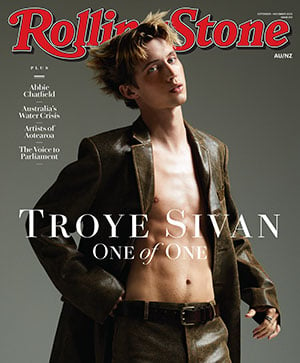 Get unlimited access to the coverage that shapes our culture.
Subscribe
to
Rolling Stone magazine
Subscribe
to
Rolling Stone magazine