Jack Shit – inveterate volunteer, broadcaster and deejay. The hardest working man in no business. Host of FBi Radio's longest-running freeform farce – Jack Off. Siamese sibling to triple j oddity of yore, Ken Oath. Music Director for RN Drive with Julian Morrow. (Ir)regular selector for Sydney Festival, Falls, Harvest, Laneway, Splendour, ATP, Dig It Up and the Festival of Dangerous Ideas. Play live sets – or radio recordings – and suss upcoming gigs via: www.jackshithouse.com
Let's start from the beginning, do you remember the first time you first heard radio?
I don't. Do you? I'd be intrigued to hear your tale if so. Seriously! 
Your show Jack Off with Jack Shit airs on Saturday's from 3-5pm. What does a Jack Shit playlist generally consist of?
We combine unlikely elements from the full spectrum of recorded music history – often in some sort of thematic sequence. Consequently there are huge shifts and changes in context and tone, yet occasionally we transition almost imperceptibly, so the heft of that history almost escapes you. Plus we throw in snatches of field recordings – whether natural or snippets of other media. Overall the effect is equalising: new lo-fi local fare gains greater resonance in stark relief beside forgotten commercial pop and such.
We have a rule that we never repeat a track, other than when paying tribute to a recently deceased artist. That sharpens the intent behind every selection and ensures we never fall prey to the apathy of repetition. Our job is to let the widest possible variety of sounds and artists be heard – their merits and meaning untethered by default formats.
To that end, we've a sickeningly comprehensive segment, The Diary Of Death where we list a vast range of music, arts and cultural events that we rate, especially encouraging the new, the unfashionable, the far-flung.
Love The Beatles?
Get the latest The Beatles news, features, updates and giveaways straight to your inbox Learn more
We also insist that all visiting acts play live. We enjoy an informal atmosphere: enabling unique musical performances and eliciting personal insights from guests, doing our best to steer clear of the banal PR so often recycled elsewhere.
Our only other segment – The Shitlist – plays a role there too. This is where we straight-out name and shame shit that sucks, locally or globally. Calling out the crap, in order to advocate for the shared values and complex aspirations of our audience is a bit of a bitch – but someone's gotta do it! We speak – and listen – freely.
When did the musical obsession begin? What did it stem from? 
I don't feel like I am obsessed, you know – more in a peaceful state of grace, everlasting love! Music snuck up on me: from Abba and The Beatles in our car as a kid; Dad's habit of playing Shadows vinyl first thing on the weekends; even Mum's singing when I was tiny – it all feels natural, yet transformative. I was a bit obsessed by birds as a youngster – still am. Maybe that had something to do with it?
What was your first experience working in radio?
Triple J (when it was still a Sydney-only station) had a host by the name of Tracee Hutchison, who remains a wonderfully warm and genuine broadcaster. She had a segment, back when I was still at school, which let a lucky listener program three songs by the same artist in a row – imagine that happening now!
Pink Floyd were touring and the only debate was whether they were valid without Roger Waters. Almost none of their 'fans' even knew their founding songwriter, Syd Barrett, had ever existed. Trace let me choose three of these humble, heartfelt and shattered tunes to play – and introduce them down the telephone (a postscript: when I put the receiver down later, a kid from school, who'd recognised my voice, rang immediately – screaming words to the effect of, 'you are a homosexual presently enjoying sex'. It was a perfect initiation into the myriad effects of the medium).
Before I hung up however I asked Tracee about her beginnings in radio – and she invited me in to see her do her show in the William St studios the very next day. I was awestruck by her generosity, passion and openness. I arrived in seedy Kings Cross solo – getting to press a few buttons and stare as the show went to air, sun streaming in through streaky windows, the city going by silently outside. Roughly a decade later, while chatting to Richard Kingsmill at triple j, it dawned on us both that he was the producer that day.
Trace told me then about her first days – at community radio station 2SER. Though the seed had been planted, it was years before I lobbed up there, solely due to crossing paths with their unstoppable volunteers co-ordinator, Kath Duncan. With her encouragement I began graveyards at SER with virtually no training – a horrifying liberty and thrill.
Two late night Sunday scenarios evolved out of them: first, The Ken Oath Notices The Sun Sunshines Show; then Crash Hot with Ken Oath. Each deployed 4 turntables at 4 speeds, 4 CD decks, 2 cassette-players, 1 mini-disk, 1 DAT, a live television and the BBC World Service via a dedicated channel on the desk – plus all sorts of astonishing live acts.
Imagine what those unsupervised facilities yielded, between the hours of 1 and 6AM, when guests like Ian Rilen and his motley crew would totter in and play – whilst fellow night-owls like Susan King and Helen Razer readied their own surreal aural excursions for flight. It could not have happened in daylight!
How did you first get involved with FBI?
Sydney was devastated after triple j went national. Without a larrikin local champion venues were withering away and all confidence had leached from the place. When I discovered some of the local heroes of music and media had this audacious plan to convince the government to let them start a truly independent station, for our own city, from scratch – I wanted in. I sent a demo of 2SER fare to Meagan Loader (our original Program Manager, now in the same role at triple j) and she me let loose somewhere in the grid.
This was around 1999. By the end of our years of test broadcasts I was doing a drive-time show called Beautiful, playing just 78RPM shellac, on Tuesdays – and Jack Off on Saturdays. The latter was devised to be an interactive musical talkback fiasco. It was more a John Laws piss-take (trucker poems and all) than my Ken Sherry inspired past-practice at 2SER. In truth both styles melded out of necessity when FBi launched full-time – we had no phones to take or make calls on air for most of the first year!
After ten years, what would have to change for you to consider leaving FBI? 
Well, a broken neck didn't stop me – I actually got US bluegrass maverick Al Duvall to play from my hospital ward, down my mobile to the show, the week I did that – so I'd have to go with death.
That said; I'm so intrinsically wedded to the joint that I daresay I'll be there in spirit even once I've shuffled off this mortal coil. Future generations may need to perform some kind of execrable exorcism if they want to be rid of me for good.
What do you think the fate of radio is going to be, with people being able to craft their own playlists at will?
Programming yr own shit is boring. Radio is about surprise. It's an experience of endless discovery. You listen to be challenged, to learn and to share. There will always be a role for restless and informative media. It's the staid formats that are gonna go down in a screaming heap. They add nothing to what the internet provides, just fake laughter, ads and bad gags – the din of a dying breed.
Stations like FBi embrace technology to share more, more widely. It's how we will continue to grow. Why? Because people trust organisations based on sound principles. We do this collectively for love alone. It's an endlessly renewable resource, pure of purpose and limitless in scope. Love, music and truth. Not for sale – for free.
What do you think separates FBI from other community radio stations?
One very important distinction is this: we were granted the most powerful licence for a community broadcaster (equal to commercial FM stations) in Australia's history; yet we were starting from scratch. On the bright side that meant we were unencumbered by any inertia due to internal politics, however the financial challenges inherent in constructing a viable base from the get-go were massive. Paradoxically, this brought out the best in all involved.
People chose to take enormous risks together for the greater good – and prevailed. Our unparalleled commitment to airplay for local and Australian artists – especially emerging acts – got us the licence; our innovation, audacity and unity kept us on air.
This last week – out of debt and going strong – we got our first chance to really look back and take stock. It's still hard to believe but we actually did it and Sydney is a far more diverse and dynamic city as a result. In fact, it's hit home from a lot of the birthday messages we've had from listeners and artists around the world that we've all contributed to something that is unique globally. I can't tell you how surprising and gratifying it is to discover we've meant that much to so many, already.
What do you think the most important role of a radio presenter is?
To listen.
What do you like most about being a part of the Sydney music community?

Going for swims in sparkling blue waters every time you wake up hung-over from another gig.
For the FBI turns 10 celebrations coming up on Sunday 8th September, who are you most looking forward to seeing live? Is there anyone you haven't seen live that you're keen to see?
I'm actually gonna miss the whole thing! I'd have so loved to play, or even just mosey about. Merely writing this response pains me – but I've got a gig to honour up the coast, then my residency with Robbie Buck at the Cricketers the minute I get back.
If I was attending I'd be certain to check out The Naughty Rappers Collective. They are the only act I've not yet encountered on the bill – but I know they are gonna bring it! Beyond that I'd like to see what Kirin J Callinan is doing with his new album live and just party with mates like Katalyst and the Straight Arrows.
So many brilliant people, stirring up the status quo and enriching our lives.

Can I give a shout-out to everyone, especially those behind the scenes, for giving up their time? Thanks also to all who've ever volunteered for, supported or listened to FBi. This shit has just begun!
To become a supporter of FBI radio head to: fbiradio.com/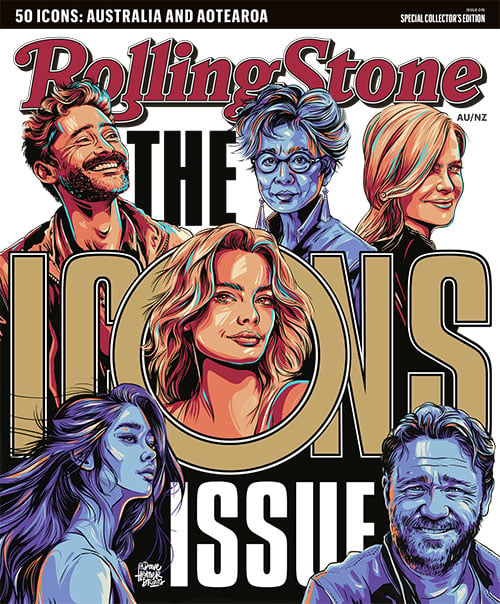 Get unlimited access to the coverage that shapes our culture.
Subscribe
to
Rolling Stone magazine
Subscribe
to
Rolling Stone magazine