Jimmy Page has revealed how he was almost part of an impressive supergroup with Dave Grohl and his Led Zeppelin bandmate John Paul Jones, inferring that he just missed out on being in Them Crooked Vultures.
Way back in 2005, Dave Grohl hinted that he was working on a brand new project with Queens Of The Stone Age's Josh Homme and Led Zeppelin's John Paul Jones.
Four years later, the world was treated to the first new song by a supergroup named Them Crooked Vultures. Releasing an impressive self-titled debut and playing a handful of shows all the over the world, the band were quickly over as soon as it began.
However, in a recent post on Instagram, Led Zeppelin guitarist Jimmy Page revealed that he was in talks to either be part of Them Crooked Vultures, or the axe-man in a completely different, yet somewhat related supergroup.
Taking to social media, Page looked back on the Foo Fighters' 2008 performance at Wembley Stadium in which he and John Paul Jones appeared to perform versions of Led Zep's 'Rock And Roll' and 'Ramble On' to the adoring crowd.
"During the post-O2 period, I had been playing new material with Jason Bonham and John Paul Jones at rehearsal rooms," Page began. "I was asked to play with the Foo Fighters at Wembley. This was after the Led Zeppelin show at the O2 attended by Dave Grohl.
"So, on this day in 2008, John Paul Jones and I played 'Ramble On' and Dave sang with Taylor Hawkins on drums. Then Taylor swapped drums with Dave and he sang 'Rock and Roll'.
"Dave Grohl said 'You guys should come to the States and record with us'," he continued. "I didn't hear anything more from Grohl, and John Paul Jones' communications seemed to dim.
"The next I heard, they were promoting their new group."
Check out the Foo Fighters performing with Led Zeppelin members:
While fans are left to wonder whether or not Jimmy Page could have been part of Them Crooked Vultures, others are wondering when and if the supergroup will return.
Back in 2017, Dave Grohl explained that he hadn't ruled out a reunion for the band, but noted nothing was set in stone just yet.
"We do talk about it," he revealed in an interview with Beats 1. "Every once in a while, you'll be up at night drinking a bottle of wine by yourself, and you'll watch some Crooked Vultures live thing on YouTube and go, 'We were so good!," and then we'll text each other saying, 'Miss you man!'"
Check out 'New Fang' by Them Crooked Vultures: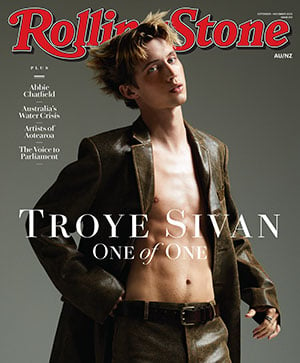 Get unlimited access to the coverage that shapes our culture.
Subscribe
to
Rolling Stone magazine
Subscribe
to
Rolling Stone magazine