Joan Jett might be one of the most fearless musicians in the punk genre, though she has recently recalled the one thing that left her feeling "scared shitless"; fronting a reunited Nirvana.
On April 10th, 2014, Nirvana were inducted into the Rock and Roll Hall of Fame. While the ceremony also saw the famously combative Courtney Love burying the hatchet with Dave Grohl, fans also got to see the surviving members of the group play under the Nirvana name for the first time in almost 20 years.
The ceremony featured four songs being performed by Dave Grohl, Krist Novoselic, and Pat Smear, alongside guest vocalists Joan Jett, Sonic Youth's Kim Gordon, St. Vincent, and Lorde. Needless to say, fans were stoked to see such a performance, but the good news wasn't over just yet.
Hours later, under 250 people packed into a crowded bar in Brooklyn to witness the first full Nirvana set in 20 years. Featuring 19 tracks performed alongside Joan Jett, Kim Gordon, St. Vincent, Dinosaur Jr.'s J Mascis, and Deer Tick's John McAuley, the set was well-and-truly FOMO inducing.
Then, back in October, fans were treated to yet another Nirvana reunion of sorts, recruiting Joan Jett and John McAuley for a six-song encore during the Foo Fighters' Cal Jam 18 performance.
Check out Joan Jett's interview on 93.3 WMMR:
Now, speaking to US radio station 93.3 WMMR (via Blabbermouth), Joan Jett has revealed that being asked to take part in the original reunion back in 2014 left her feeling "scared shitless".
"Getting a call was one of those things where you had both emotions — it was, like, 'Oh my God! I'm scared shitless," Joan Jett recalled. "The reason I'm scared shitless is 'cause I know I have to say yes. I have to do this. I mean, how, as a rock and roll fan, could you say no? As a Nirvana fan? So, that was not a possibility — saying no."
"Being asked was such an honor. I didn't wanna read into it too much and think about it too much, so I just practiced and got it together, and luckily, we had some chances to go through the song before we had to actually play it that night."
"But, strangely, I was very calm, which is not normal. I should have a certain level of anxiety, and I'm glad I wasn't petrified, 'cause that makes it tough too. But I was strangely calm, which then gave me a sense it was all right, just karmically, that I was doing this. And I was calm."
Check out Joan Jett performing 'All Apologies' with Nirvana:
Recalling the performance in question, Joan Jett explained that it was an "amazing experience", noting the surreal feeling of seeing Nirvana's surviving members in action.
"I remember turning around and looking at Dave [Grohl] and just seeing his hair flying and thinking about, 'Wow! It must be really cool to play these songs,'" Jett explained.
"And Pat Smear I've known since he was in The Germs, 'cause I produced that band many, many years ago — in 1980, or whatever it was. And so he is in Nirvana. And I look at him, and he's grinning ear to ear."
"[Krist Novoselic] was so funny. I think he's the one that got me into the Hall Of Fame. 'Cause he was bitching afterwards, saying, 'Can you believe she's not in the Hall Of Fame?' So I think they guilted 'em into it."
In related news, Joan Jett is set to return to Australia early next year, performing for the Red Hot Summer Festival, as well as a sole headline show in Melbourne. Check out the details below!
Check out Joan Jett performing 'Smells Like Teen Spirit' with Nirvana:
Joan Jett & The Blackhearts Australian Tour 2019
Wednesday, January 16th, 2019 (Sold Out)
With Cable Ties + Chiko Molls DJ's
The Corner Hotel, Melbourne, VIC
Also appearing on the Red Hot Summer Tour
Red Hot Summer Tour 2019
Featuring…
Jimmy Barnes
Joan Jett & The Blackhearts
The Living End
Diesel
Richard Clapton
Chocolate Starfish
Saturday, January 12th, 2019 (Sold Out)
Mary Ann Reserve, Mannum, SA
Sounds By The River
Sunday, January 13th, 2019
Sandalford Wines, Swan Valley, WA
Saturday, January 19th, 2019 (Sold Out)
Mornington Racecourse, Mornington, VIC
Sunday, January 20th, 2019 (New Show)
Mornington Racecourse, Mornington, VIC
Saturday, January 26th, 2019 (Sold Out)
Country Club Lawns, Launceston, TAS
Sunday, January 27th, 2019
North Gardens, Ballarat, VIC
Saturday, February 2nd, 2019
Roche Estate, Hunter Valley, NSW
Sunday, February 3rd, 2019 (Sold Out)
Bella Vista Farm, Baulkham Hills, NSW
Saturday, February 9th, 2019 (Sold Out)
Sandstone Point Hotel, Bribie Island, QLD
Sunday, February 10th, 2019 (New Show)
Sandstone Point Hotel, Bribie Island, QLD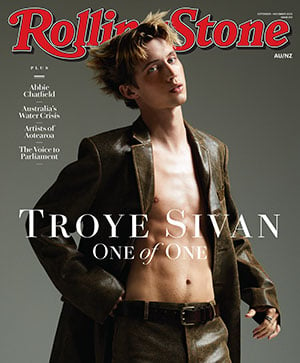 Get unlimited access to the coverage that shapes our culture.
Subscribe
to
Rolling Stone magazine
Subscribe
to
Rolling Stone magazine