Karen O has opened up about the breakthrough hit from the Yeah Yeah Yeahs, noting she is "fascinated" by how popular the band's 2003 single 'Maps' has become.
If you've ever found yourself listening to iconic indie-rock outfits of the early '00s, then there's a fair chance you've heard both the Yeah Yeah Yeahs and their breakthrough hit 'Maps'.
Released on their debut album, Fever To Tell, 'Maps' was the record's third single, and was managed to reach #9 on Billboard's Hot Modern Rock Tracks chart. Since then though, the tune has gone on to become one of their most popular and beloved.
In fact, while Spotify lists it as their second most-streamed track, Tone Deaf labelled it as one of the most-overlooked songs in Hottest 100 history, with classic bands like Camp Cope having covered the tune over the years.
Check out an acoustic version of 'Maps':
But to Yeah Yeah Yeahs frontwoman Karen O, the track's popularity is something of a shock, explaining to BBC Radio 6's 'The First Time' (via NME) how she feels about the song so many years down the line.
"I'm fascinated by it, I really am," Karen O explained. "I'm endlessly curious about that song because it's just strange to me.
"It was one of the earliest songs that we wrote for the [first] record. I remember it was like a daydream making that song; it just happened so kinda effortlessly and so incidentally."
As Karen O explained, the song was quickly written after first hearing guitarist Nick Zinner playing a sample that would soon the backbone of the song in his room.
"I was walking past his door, I heard the sample and came in and I was like, 'What is that?' And then five minutes later I was singing basically the lyrics to it and then it was there," she recalled. "It was like one of those songs that wrote itself in like five minutes.
"And then yeah, it's done pretty well for itself since then [laughs]. It's a love song, and there's just not a lot of bands that have one of their biggest songs as a love song. So I'm pretty stoked about that, too."
While the last few years have been a little bit empty for fans of the Yeah Yeah Yeahs, the band have making a return to the live stages recently.
Having last performed in Australia in 2013 (in support of their latest album, Mosquito), the group revealed they were on hiatus as of 2014. While it remains to be seen when we might receive a new record from the group, at least we'll always have 'Maps' to look back on.
Check out 'Maps' by the Yeah Yeah Yeahs: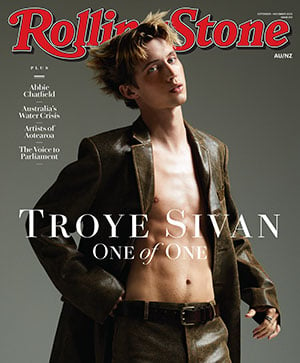 Get unlimited access to the coverage that shapes our culture.
Subscribe
to
Rolling Stone magazine
Subscribe
to
Rolling Stone magazine