Keeping up to date with music today is as easy as jumping online and doing a simple search. However, if you blinked four decades ago when Big Star shot across the sky, you would've missed them. Even if you did know the American rock band back then, due to the distribution issues they had, the odds of finding even a single release in a record store were slim.
Big Star may still be unknown to many, but their influence is heard through bands such as R.E.M., Teenage Fanclub, and The Posies to name a few.  Alex Chilton, who had a huge hit with 'The Letter' (The Box Tops) in 1967, formed Big Star with singer/songwriter Chris Bell, drummer Jody Stephens, and bassist Andy Hummel in Memphis in 1971.
Ken Stringfellow, musician, record producer, and tour manager for the Sydney Festival's production of Big Star's Third (a.k.a. an orchestrated live performance of their third album, Sister Lovers) has been an avid Big Star supporter for a long time.
Who would have thought back then that today their three albums would be name checked by so many artists?
"It's a curious thing," Stringfellow says. "Pretty much for every musician, especially in the indie genre of music, Big Star has a place and everyone knows who they are and from a musicians outlook, they are a very famous band. For the average person to know about bands or artists, you see how much work it takes in a sense to get their name known."
"I don't have to tell you, but there was no way to 'Google' anything"
"Their records only sold a few thousand copies when originally released. The word of mouth has not had much of an impact on the public at large.  Having said that, it would be interesting to know what percentage of the people have purchased the few hundred thousand records up to this point are not in bands," Stringfellow mused.
You might want to poll your friends to see if Big Star have made a resurgence, or if they are still the biggest, if not the first, cult band that existed. Stringfellow became aware of the group when he was growing up in America.
"I lived in a small town, not that it would have made much of a difference, but the Big Star records were impossible to find there, that's for sure. I had heard the name referenced in reviews in Rolling Stone or the like and I thought, what are they talking about? I could not really find any information."
"I don't have to tell you, but there was no way to 'Google' anything," Stringfellow laughed.
"Being in a small town, whatever came to the record store is what you got, so the chances were pretty much nil of seeing their records. When we moved to Seattle, which was the nearest big city, and The Posies started to have their career, it was when those albums had started to get reissued in Europe and come into record stores as imports."
"Many people were recommending them [Big Star], and when we heard them, for us this was the missing link. It became the most important thing in many ways. It was a template for what The Posies were doing, and we were very deep into those Big Star records. We started covering those songs right away," Stringfellow said.
After signing a record deal, The Posies had to decide where they wanted to make their record. Memphis popped into their minds.
"Our band formed in 1988 and by 1990 we had a big record deal. We could record wherever we wanted. We looked into working at Ardent Studios in Memphis where Big Star recorded their albums. We did not end up doing that but through our contacts at the studio we found out that Jody Stephens [Big Star] worked there and was the public face of Ardent Music. We were flabbergasted."
"We stayed in touch with Jody and he was very much a fan of The Posies and supported what we were doing – we were on his radar."
"People constantly asked him to reform under the Big Star name and Alex would routinely say no"
It was around this time that talk of a Big Star reunion started to swirl.
"People had been asking Alex to play Big Star's music and he was fairly famously indifferent about it. People constantly asked him to reform under the Big Star name and Alex would routinely say no," Stringfellow stated.
In 1993, Chilton finally gave in. Students at the University Of Missouri were able to stage a coup, and Chilton acquiesced in the decision to form a Big Star reunion on their campus. Jon Auer and Stringfellow made up the band with Stephens and Chilton.
"Various names were bandied about for the reunion but Jody had, from the beginning, suggested that Jon and I were the guys. He had heard us cover the songs. We had done some faithful cover versions of the songs and Jody felt we could sound just like the records and we would be perfect."
"The good news was that nobody else could do it. The gig was offered to a lot of people. The folks organising the reunion knew they were onto something and thought they could make a big event out of the concert."
"They were trying to get Paul Westerberg from The Replacements, Mike Mills from R.E.M., and Chris Stamey from the dB's – all of whom said no for different reasons. Either they were busy like Mike, or they were intimidated by the prospect of taking on that music that meant so much to them and they did not want to fuck it up. So the door was open," Stringfellow recalled.
Stringfellow and Stephens will be joined by Mitch Easter (Let's Active), Stamey, Mills, and a cast of all-stars during the performance of Big Star's Third at Sydney's Enmore Theatre in January. The album will be faithfully reproduced with a 12-piece string ensemble and some very special guests on vocals. Cat Power, Kurt Vile, Dave Faulkner, Edwyn Collins, and others will join the band for the unique event.
Regardless of whether you do or don't know Big Star or their third album Sister Lovers, with this much talent on one stage, it's shaping up to be one hell of a show.
For full programme details, dates, venues, and tickets for the Sydney Festival, head to the Sydney Festival's official website.
Ken Stringfellow 2014 Australian Tour
Thursday, 23rd January 2014
Big Star's Third, Sydney Festival, Sydney
Tix: Via Sydney Festival
Friday, 24th January 2014
The Astor Lounge, Perth
Tix: Via The Astor Lounge
Sunday, 26th January 2014
The Grace Emily, Adelaide
Tix: Via The Grace Emily
Tuesday, 28th January 2014
Northcote Social Club, Melbourne
Tix: Via Northcote Social Club
Wednesday, 29th January 2014
Caravan Music Club, Melbourne
Tix: Via Caravan Music Club
Thursday, 30th January 2014
Blackbear Lodge, Brisbane
Tix: Via Blackbear Lodge
Friday, 31st January 2014
Clarendon Guesthouse, Katoomba NSW
Tix: Via Clarendon Guesthouse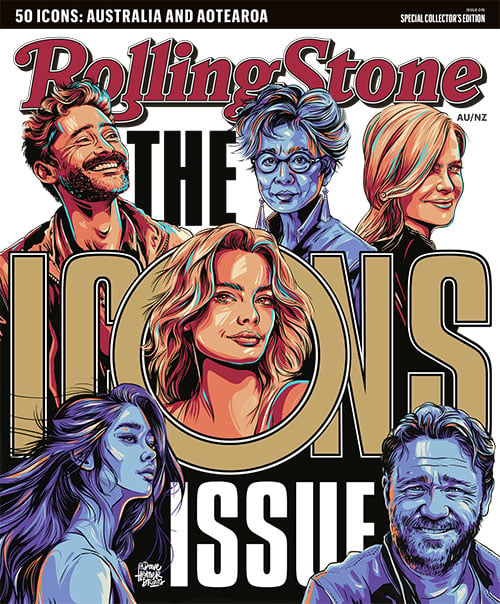 Get unlimited access to the coverage that shapes our culture.
Subscribe
to
Rolling Stone magazine
Subscribe
to
Rolling Stone magazine