Kendrick Lamar has disappointed fans by revealing he's not working a follow-up to 2017's DAMN. just yet, but noted something else is on the way.
Last year saw the release of Kendrick Lamar's fourth studio album, DAMN. A global smash, the record was a huge success, and was even met with rumours of being complemented by a follow-up record in the days after its release.
While this didn't come to pass, the rapper has since had some of his busiest years yet, with world tours, curating the Black Panther soundtrack, and even making the Academy Awards' shortlist for Best Original Song.
Of course, rumours of a new album have been rife, with Isaiah Rashad and Top Dawg Entertainment's Anthony Tiffith making some rather interesting statements.
Noting back in August that Top Dawg still had a few new releases in the pipeline for 2018, fans began to speculate that one of them would be ScHoolboy Q's new record, while another could be a fresh Kendrick album.
This rumour only became more believable when rapper Isaiah Rashad explained that "[Tiffith] just played me a whole [Kendrick] album, damn near."
Check out Kendrick Lamar's 'DNA.':
Now, as part of a new profile with the Los Angeles Times, Kendrick Lamar has sadly revealed he's not working on a new record just yet, but explained he's "writing long-form" between time in the studio.
"He's friendly but cryptic, inclined toward vague generalities open to interpretation," the Los Angeles Times profile notes. "He's been writing long-form, but declines to articulate what it's about, what themes are reoccurring and in what form it will eventually see release."
"He claims he hasn't been working on a new album, but says that he's constantly working. Someone in his camp mentions they're going to the studio immediately after this."
Elsewhere in the interview, Lamar also addressed his work on the Black Panther soundtrack, which recently earned him an astonishing eight Grammy nominations earlier in the month.
"This is another landmark, another stepping stone to something bigger and greater," he explained. "Best believe I'm proud. And I know Ryan [Coogler, writer and director of Black Panther] is as well."
Despite his track record of winning awards (like the Pulitzer Prize), and the fact that 'All The Stars' recently made the Oscars' shortlist for Best Original Song, Kendrick noted that he's not too sure how he'd react if he was given such an honour.
"I don't know what I'll say if I win," he explained. "A lot of different emotions will be running through me, and I usually just say what I'm inspired to say at that moment … what comes off the chest."
"It's just a great thing to know that these bodies of work come from a simple thought and you put that simple thought down on wax, and then you give it to the people and it goes from there."
While we might still have to wait a while before we found out what exactly Kendrick is working on in the studio, his reputation speaks for itself, and we might just have another stunning record on our hands when it finally drops.
Check out Kendrick Lamar's 'HUMBLE.':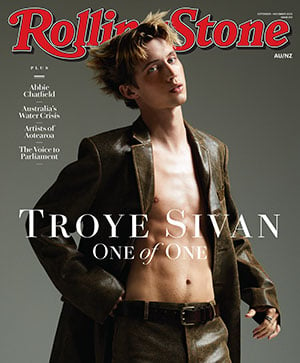 Get unlimited access to the coverage that shapes our culture.
Subscribe
to
Rolling Stone magazine
Subscribe
to
Rolling Stone magazine