Last week marked three years since the release of Tame Impala's most recent album, Currents, but it sounds like we now have a bit of an idea as to when we should expect the group's next record.
Since the release of Currents in 2015, Tame Impala have continued their world-beating level of success, serving as poster-boys of the psych-rock scene, selling out shows all over the globe, and generally making Aussie music fans proud. However, there haven't been too many new tunes released during that time.
While last year saw the release of a Collector's Edition of Currents (which gave us the delightful 'List Of People (To Try And Forget About)'), and we recently heard what the group's collaboration with Zhu sounds like, it's been a while between drinks in terms of albums, but it seems like that might be changing soon.
In an interview with Beats 1's Matt Wilkinson, Kevin Parker revealed Tame Impala's long-awaited fourth album should be out by this time next year, noting that he would "be really disappointed if we didn't have something out by then."
"I'm always working, I'm pretty certain now that another Tame Impala album is my main priority, definitely," he stated. "I think now I've felt that calling. It's like a calling from beyond."
"I love playing the songs live, I love playing Currents songs I love playing Lonerism songs and everything but I think I'm ready to play some other songs live."
"All the instinctual things are there. You know when a bear knows that it's time to hibernate? When birds fly north or whatever. How do they know? They just feel it," Parker remarked, before explaining that he's not too big on performing unheard tunes before they're released.
"My thing is that I don't like to play unreleased songs live, I like that the first time people hear it is the recorded glory," he explained. "The pre-meditated thing I've spent two years on rather than us being half drunk bashing it out on stage, hitting clanger notes."
Throughout the rest of his interview, Kevin Parker also noted that 'Back Together', the product of his collaboration with SZA and Mark Ronson, is likely to see the light of day at some point, while also revealing that he'd be more than happy to work with Arctic Monkeys frontman Alex Turner if the opportunity arose.
While he's undoubtedly a busy man, it looks as though there's a very good chance that we'll be seeing plenty of new Tame Impala tunes in about twelve months. Who knows, we might even see a few high-profile names on the new record as well.
Check out Tame Impala's 'List Of People (To Try And Forget About)':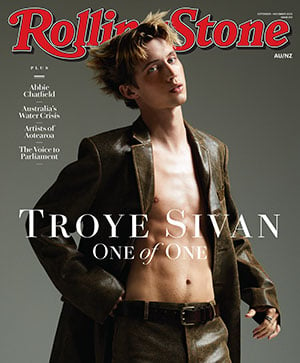 Get unlimited access to the coverage that shapes our culture.
Subscribe
to
Rolling Stone magazine
Subscribe
to
Rolling Stone magazine