A lot of bands would like to say they're the hardest working in Australia, but Kingswood have a stronger claim than most. 
The rockers are currently in the midst of their biggest Australian tour ever, taking in over a whopping 120 dates, travelling to corners of this fine music-loving country that haven't seen national touring in decades.
And they're doing it all on a custom-made bus, properly committing to a self-sustainable way of touring. To celebrate their mammoth tour, which is in support of the band's excellent new fourth album Home, Tone Deaf asked Kingswood to take us inside their home away from home.
You can see their tour bus diary below, and find more information about their current tour here. Surely they have a show stopping near you?
Kingswood's Home is out now. 
Kingswood: This is how we met Peggy, guttered and lonely, empty and bare. But we loved her nonetheless. We started work three days after we landed from our European tour and finished at 5am on the morning we drove to Tamworth to start the Hometowns Tour. We had built studio walls and considered ourselves 'handy' but this was a whole new beast. We learned a lot. 
Love Live Music?
Get the latest Live Music news, features, updates and giveaways straight to your inbox Learn more
Here is Peggy loud and proud. When we decided to undertake this mammoth 120-date tour we looked at the budget for accomodation and van hire – versus building and owning the greatest and perhaps the only sleeper tour bus in Australia, it was a no brainer. We're coming to a town near you, door to door rock'n'roll all around the country. 
Here we can see the layout from the back of the bus. Behind the TV are the two back bunks and through that door four more. On the right the kitchenette, fridge and bar. A huge thank you to Sonos for kitting out the bus with superb speakerage.
The Rancho relaxo lounge. The table also goes down to make extreme relaxo mode. So much relaxo needed. This room hosts many movie nights and uno, and a game called bang which I highly recommend. When we first got to Tamworth we didn't have an aircon back here and it was a fucking oven. Literally got one installed a few days later. 


If we aren't on stage, in the bunk, or exploring the town this is where you'll find us. Behind Al's right elbow is a new and improved, openable sliding window for increased airflow. We felt it necessary, we definitely didn't back the window through an awning and pop it out. Certainly not. 
A tour like never before. We park up at venues, caravan parks, sightseeing carparks, people's farms or even just somewhere in the bush off the road. We are fully self-sustained so we are basically The Millers doing a lap of Australia.
Time for the quiz, one of our daily activities as we drive to the next show. Although now I look closer I believe I was reading horoscopes from a stray 'Who's DiCaprio Dating' magazine. You could choose the accent and intensity in which I delivered your reading.
Al here in captain mode – behind him is the loo (emergencies only) yet to be used. Anyone who's done bus touring overseas knows this is the general rule. There's another TV in the front area with a Nintendo Switch, PlayStation in the back. Plenty of movies. Or we quiz, sleep, read, or passionately discuss anything from life in the universe or the viability of a universal wage system.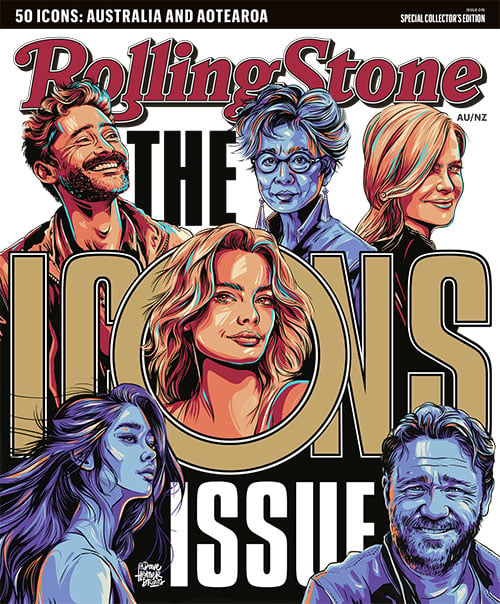 Get unlimited access to the coverage that shapes our culture.
Subscribe
to
Rolling Stone magazine
Subscribe
to
Rolling Stone magazine