It's time to take the day, off, head down to local record store, and bask in the glow of one of the year's best records, because Kingswood have just unleashed the majestic Juveniles.
Though they've been around for over a decade now, it wasn't until 2014 that Kingswood released their debut album. Hitting #6 on the ARIA charts, their 2017 follow-up followed suit, hitting #10, and giving the band another reason to be proud of all their hard work.
Now, after a few years between drinks, the group are releasing Juveniles, their highly-anticipated third album today. While its release should be a national holiday in itself, the album has been preceded by singles like 'Say You Remember', 'Bittersweet', and 'You Make It So Easy', ensuring that folks are already aware of the white-hot content this record has to offer.
With Juveniles sitting on the shelves of your local record store as we speak, we spoke to vocalist Fergus Linacre to get a run through of the album's new songs, what went into them, and what they mean to the band themselves.
If you're liking the sound of this, you can find Juveniles at all the usual places, and you can also catch the band on their national Australian tour, which kicked off last night.
Check out Kingswood's 'Say You Remember':
Kingswood talks us through Juveniles
'You Make It So Easy'
We thought we would kick off the record with a bang, and this one feels like splashing ice water in your face. In this song curiosity turns into passion in a straight line.
Love Classic Rock?
Get the latest Classic Rock news, features, updates and giveaways straight to your inbox Learn more
Sometimes when two people are open and honest, you can be yourself completely from the get-go, and a bond of freedom and understanding is achieved, it is a very good place to be.
'Bittersweet'
'Bittersweet' is a realisation, that if love happens upon you, and your heart is full and it is exciting and you experience joy, you must also accept pain, sorrow, and all the debris that inevitably follows the collision of two hearts.
There's no love on this earth that isn't bittersweet, it is important to not get clouded by the tougher times, to the point where you cannot bask in the moments that make it all worthwhile. Performing a mental arithmetic in search for some clear answer or path is futile. Trust your heart, just know it won't always be easy. 
'Ready Steady'
The story of a break up, living inside probably the most fun song to dance to on the record. I love the lyric "I'm all out of colour like the photo in my pocket", Al wrote this when he was in LA and amidst the break up, by the time we recorded things were back on track and I think that's why the song feels triumphant rather than sad. I also award this song with best guitar solo.
'Say You Remember'
Once we finished writing this song, we knew we had found the direction for the album. Before it we had music crossing many genres and we felt a little lost as to what our third record would sound like.
Al befriended a wonderful older lady in LA, they became close and would have dinners and go to the theatre; they had a unique friendship. Al pondered that in a different universe if they had both existed and met young, that perhaps their soulmate-like bond would have turned into a true love. This inspired the nostalgic love song that is 'Say You Remember'. 
'If Only'
This song takes me back to the early teen years, when your first crush was so heavy you felt that if you could not be together, the whole universe would collapse around you. When you could only fulfil your deepest desires when in a dream, perhaps the one you dream of doesn't even know you exist. We can't always be the ones we fall for, in this song there is a longing to turn the dreamscape into reality.
'Snakepit'
'Snakepit' centres around the idea of being sold the golden dream, whether it's a person, or a job, or an idea – the luscious top layer, ever so alluring, with its glamorous trimmings and persuasive beauty can easily trap and mould you to feeling like you belong to a part of something by exploiting your insecurities.
The harsh reality of when you peel back and look a little deeper, reveals a murky subtext, a foundation of sludge and grime, where your change is handed to you with greasy hands and your dry cleaning comes back with the whites just a little duller.
And yet still, with that knowledge, the insatiable quest to fit, or to love or be loved, or to be successful makes us all look past the shortcomings and the hyperboles, for that one very simple human condition – to make us feel good. 
'Cigarettes In Bed'
This song is a letter, for anyone who will always care for someone who is no longer in your life, a lost love, a friend, someone who has passed on to the other world whatever it may be. It says "I remember you, and I remember our time together fondly".
In the final scene from a heartbreaking French film about two lovers who broke up and met years later, one says "you don't love me anymore?", the other says "no, but I have infinite tenderness for you, and I always will."
I think this song captures that feeling, it's a hard thing to describe or talk about but I think everyone can relate. I hope this song makes people understand that place a little better and know that others share these feelings too.
Check out Kingswood's 'You Make It So Easy':
'Cross My Heart'
The moment of affirmation, when you forgo fears and doubts, and it is all of a sudden clear that you are in love, you know what you want, and you are ready to tell the world. This song is triumphant, holding hands and driving off into the sunset kind of stuff.
It is a song that transports you into a cinematic cityscape, neon lights reflecting off the rain soaked bluestone steps, two lovers twirling through the night together like a La La Land romance montage. 
'Marylin'
This song is glamorous, it belongs in a grand ballroom. It's the slow dance of the record; it's romantic. It tells of being unable to wash off the scent after the most perfect of first encounters, and at risk of souring a truly perfect moment in time, the upside is the possibility of the most magical of loves.
The line, "told my mum I made a friend" is a sweet moment for me, in a song that is pretty raunchy in the way it sounds and the imagery of the lyrics, there is this endearing admission that he told his mum about her. Just a little bit cute.  
'One More Dance'
Sometimes two people know that they shouldn't be together, it could be for a number of reasons, the balance of good and bad is tilting the wrong way, but it doesn't mean there aren't still things piling up on the good side of the scale. It is a goodbye song, a wish you well song, but there is more of a finality to it that you might think.
This isn't a 'let's stay friends' goodbye, this time it's over for good. Take me off your birthday, list. I was driving listening to this song a few days after my grandma had passed away, it wasn't written as a goodbye song for someone who is no longer with us, but it somehow felt perfect and I lost it a little. What I'd give for one more dance with you.
'Candy Blue'
'Candy Blue' wrestles with the validity of consequence of falling and falling hard. This is happening, so I'm just gonna dive in, and if there's no water in the pool then so be it. It is a beautifully visual song set in a sunset where the realisation of ones love overpowers all that might stand up to challenge it.
It was the last song written on Juveniles, and I think it is the conclusion for all the turmoil Al was facing through the writing and recording of this album.
'Young, Charming And Funny'
This is an all-out uncompromising celebration of love. It praises a special someone is so filled with such an energy that upon entering the room everyone turns and asks who is that, what are they doing here, where are they going tonight.
It is a thank you to fate, that one superpower that puts those we love in front of us. It is loud and chanty and gets you jumping and singing, its one I can't wait to play live.
Kingswood's Juveniles is out now. Find it in the usual places, and catch the band on tour around Australia. Details below!
Check out Kingswood's 'Bittersweet':
Kingswood 2020 Australian Tour Dates
Friday, March 13th
The Corner Hotel, Melbourne, VIC
Saturday, March 14th
Volta, Ballarat, VIC
Wednesday, March 18th
Kambri Anu, Canberra, ACT
Thursday, March 19th
UOW Unibar, Wollongong, NSW
Friday, March 20th
Oxford Art Factory, Sydney, NSW
Saturday, March 21st
Cambridge Hotel, Newcastle, NSW
Thursday, March 26th
The Gov, Adelaide, SA
Friday, March 27th
The Rosemount, Perth, WA
Saturday, March 28th
Prince of Wales, Bunbury, WA
Sunday, March 29th
Freo Social, Fremantle, WA
Thursday, April 2nd
The Triffid, Brisbane, QLD
Thursday, April 9th
Republic Bar, Hobart, TAS
Saturday, April 11th
Saloon, Launceston, TAS
Sunday, April 12th
Forth Pub, Devonport, TAS
Thursday, April 16th
The Northern, Byron Bay, NSW
Friday, April 17th
Miami Marketta, Gold Coast, NSW
Thursday, June 25th
The Jack, Cairns, QLD
Friday, June 26th
Otherwise Bar, Townsville, QLD
Saturday, June 27th
CBD McGuires Hotel, Mackay, QLD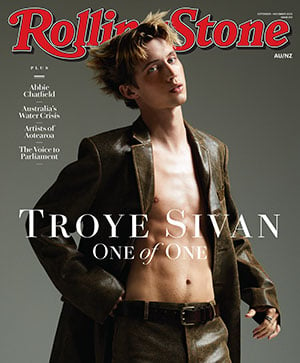 Get unlimited access to the coverage that shapes our culture.
Subscribe
to
Rolling Stone magazine
Subscribe
to
Rolling Stone magazine