You probably know Kwame is doing big things. Maybe you've caught one of his fire sets at Splendour in the Grass or Spilt Milk or his sold out tour, or maybe you've heard his huge new tune 'STOP KNOCKIN' @ MY DOOR', from his upcoming 2020 EP, which has hit the internet and our eardrums like Miley Cyrus' proverbial wrecking ball.
Kwame is proud as hell of it. "When I first made it I was like, I know this is huge," he says. "Like this is on some like, international, world-respected, hip hop-type track, and I just wanted to sort of come out with something super different."
Stream 'STOP KNOCKIN' @ MY DOOR' below:
"I'm so appreciative of what tracks like 'WOW' and 'CLOUDS' did, but like that for me… those are tracks I just made. They were just beats where I was just making fun and then I would like throw vocals on and it did what it did.
"But with this single and with this new stuff, it's like, this is Kwame. This is me, this is literally like the sonics I've been trying to get to for so long, so I wanted to put that song out, for people to realise the direction that I'm moving in."
It's easy to forget the Western Sydney hip hop artist is only 22, because it feels like he has been defining Australia's hip hop scene for years. "I guess it's wild," he says. "Like I'm ever so grateful for everything that has happened, like thus far, and for more things to come."
In 2016, Kwame was releasing his early singles when he went viral with a chance cameo at A$AP Ferg's Sydney concert. 2017, his debut EP. Then last year with the release of Endless Conversations., he says, "That was sort of like, things starting to pop off. And 2019 is slightly solidifying but still trying to solidify myself into more of a household name."
Watch Kwame at A$AP Ferg's Sydney concert:
2020 is where it's at for Kwame
"I always felt within myself that 2020 is the year things will change. I feel like a lot of people have said that 2018 was the breakout year or whatever, but 2019 is the one where I'm really coming for things.
"I'm trying to sweep up some ARIAs, then in two or three years I'm going for the Grammys type thing, there's no games in 2020 you know. It's going to be crazy."
And his plans don't stop there—he's got the next 10 years figured out.
"It was always in my head that like, this is the next thing I'm going to get on, but then I'm going to get onto this, and then I'm going to get onto that, and then I'm going to be doing an album here, and then this, and then that. I don't know, I just love looking into the future's future. It's just like, fascinating to me. It inspires and motivates me."
Stream Endless Conversations. below:
This year, he did SXSW in Austin, toured Australia, finally played live with his band (a long-held ambition), and went to London for the Nando's Music Exchange, where he mentored artists from Australia, the UK and South Africa for five days.
He has nothing but praise for the mentees: "They know what they're doing. Everything I listened to, I was like, you guys are ready for radio play.
"I think the gap between professionals versus someone who is starting out is slowly caving in. I feel like, those who are starting out are so hungry for it, like they'll do everything and anything it takes to get to that level that they're aspiring to."
The whole trip was amazing, but, "I guess the one thing I took from it was the fact that my opinion was respected and valued which was crazy. The fact that someone would take something on board, and just only want to better themselves, which I believe we are so capable of," Kwame says earnestly.
"For me at least, everyday I'm always looking to be a better version of the person I was the day before, you know what I mean? I feel as humans we're all capable of doing so. Sometimes it can be hard because you don't always have people guiding you towards that mind-frame.
"But as long as you're surrounding yourself around people who do, then the sky's the limit, you know what I mean? Anything's possible."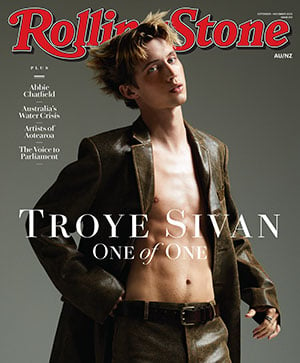 Get unlimited access to the coverage that shapes our culture.
Subscribe
to
Rolling Stone magazine
Subscribe
to
Rolling Stone magazine