Commissioned by Sydney Festival, Holland Festival, and Stargaze, 'Hurricane Transcriptions (Last Night On Earth)' is a live song cycle experience that sees guitar legend Lee Ranaldo (Sonic Youth) throwing down tones of baroque-esque complexity accompanied by the 15-piece orchestra Ensemble Offspring.
While New York City groaned under the catastrophic strain and noise-scape of Hurricane Sandy in 2012, field recordings captured during the storm by Ranaldo feature as the core of the movement.
"I heard all of this really weird sound coming through the windows, maybe three or four hours before the height of the storm.  I listened to it for about an hour and it was very musical, sometimes quite discordant and ugly, and then suddenly very beautiful like voices or strings or something like that. It sounded very musical…very complex."
Ranaldo promptly donned his rain jacket and proceeded out into the weather to capture nature's angry song.
"I listened for about an hour and was very intrigued…I tried recording through the glass but decided I had to get out on the street and record this stuff.  I got all my rain gear on and put a little hand-held recorder in a plastic bag and went out to start recording.  I was out beside the [East] river, which was starting to overflow. Garbage cans were rolling down the street."
"I'm definitely looking for musicians to bring their own personality to it"
"I kept wandering from corner to corner to find where I could get good recording without the wind getting in the way. It felt to me that the city was being played like that [Aeolian] harp with wind through the fire escapes and between all the tall buildings."
The incongruous blend of classically trained orchestral clinicians and the freer form of noise rock for which groups like Sonic Youth are revered is a juxtaposition not lost on Ranaldo.
"When I write a song for the band, we get to rehearse it for months and months before anybody gets to hear it.  With these kinds of 'professional ensembles', you put music in front of them and two days later they're playing in front on an audience.  They're playing something else the next day, and the next…and being required to interpret all of these different pieces."
"To me that's a very weird way of working…it's a complaint you often hear in the contemporary music world.  It's down to the skill of the musicians, I really think.  I'm definitely looking for musicians to bring their own personality to it, which is often the opposite of what a classical musician gets asked to do.  They're asked to interpret music to the letter of the law."
Though Sonic Youth may now be on an indefinite hiatus, Ranaldo has continued to find prolific output as a musical collaborator, visual artist, producer, poet and author, and most recently with his current group Lee Ranaldo And The Dust.
Ranaldo meekly reflects on time recently spent on tour in Europe. "The shows have been going really well…the band has reached a point where we're playing together so well it's just been a pleasure, and we've got a new record.  It's been really fun."
The Dust sees Ranaldo move 'front and centre' where songwriting duties are concerned.
"I guess I would say that it's not as collaborative, where (Sonic Youth) was the ultimate collaboration in that regard.  We wrote our songs together and everybody contributed to most of them.  This is much more me writing the songs at home and bringing them to the band, and the band is arranging them."
"The band is a big help in arranging them, but if you heard the original demos of the songs as I sketched them out you'd recognise them right away.  Whereas often times with Sonic Youth, somebody would come in with just a couple chords or a vague idea of a song and the group would be writing it and working it out together."
"I guess I would say that it's not as collaborative, where (Sonic Youth) was the ultimate collaboration"
"It's also a bit different being the sole front person, where in Sonic Youth I was kinda the third of three singers so we had a little bit more sharing of the tasks in way. It's been exciting for the most part…it's been really fun, I'm enjoying the songs I've been coming up with and especially with the new record the band has grown into something quite formidable and is a big part of how the record sounds – that's for sure."
Ranaldo has also contributed significantly to the Australian musical landscape in his role as producer for You Am I's Sound As Ever, Coprolalia, and Hi Fi Way.
"When their label guy approached me about the idea of working with them he said, 'I don't know much about them but I think their Australia's version of Nirvana'. It's neither here nor there whether that description is ridiculous or apt, but at that time I was very interested and doing production on records for a lot of people, and I was willing to give it a shot."
"When we got together in the studio the first thing we did was the [Coprolalia] EP. I just immediately fell in love with Tim (Rogers) as a songwriter and song composer.  It's not that they were doing anything similar to what Sonic Youth was doing, but this was early '90s…Nirvana was breaking and people thought all these different things had potential."
"After we recorded that EP I was wholly convinced. So when they asked me to do the Sound As Ever record I just jumped at the chance to do it.  At that point I was really into what they were doing, and as I've moved more into a singer/songwriter direction myself over the last couple years, I've appreciated even more of some of the stuff I saw in Tim's songs."
A new recording produced in aid of SLAM is set for release on limited edition 7" vinyl, and features Ranaldo covering You Am I's 'Jaimmie's Got A Gal', and Rogers reciprocating the effort, recording Ranaldo's tune 'Stranded' from his 2012 record Between The Times And The Tides.
"That was a real pleasure for me to cover a song of Tim's that I've always loved, and for him to cover one of mine was also quite flattering."
For full programme details, dates, venues, and tickets for the Sydney Festival, head to the Sydney Festival's official website.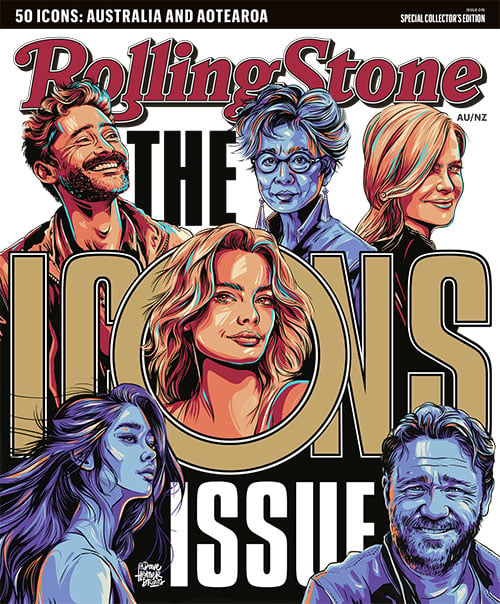 Get unlimited access to the coverage that shapes our culture.
Subscribe
to
Rolling Stone magazine
Subscribe
to
Rolling Stone magazine