Earlier this year, it was revealed that for the first time ever, hip-hop had overtaken rock as the most popular genre of music, with seven of 2017's ten most popular records belonging to the genre.
But, why? Could we look at Bring Me The Horizon's recent comments that claim modern rock is "mostly shite" and lacking in good songwriting? Or could we just write it off as a case of 'people will like whatever is getting airplay'?
While we do see rock artists such as Dave Grohl promoting acts such as Lil Pump, others – such as Tekashi 6ix9ine – can invoke a voyeuristic response, where their popularity seems to rely solely on the vicarious thrill people obtain from watching these artists crash and burn.
However, one person who has been wondering why hip-hop is so popular these days is one of the legends of the game, Run-D.M.C.'s Darryl Matthews McDaniels, who questions hip-hop's popularity during what he claims is the most "stupid and ignorant time in its history."
Recording a video for Double Down News recently, D.M.C. posed the question, asking why hip-hop is now considered the most popular genre when its figureheads are so far removed from for what the genre has traditionally stood for.
"We need groups that look like Migos, rapping like De La Soul," D.M.C. explained. "We need a guy that looks like Lil Wayne talking like KRS-One. We need a rapper like Drake making records like Chuck D of Public Enemy."
"I'm not talking to sell records and be number one rappers – [we need it] to see change in the lives of our everyday people.
Love Tekashi 6ix9ine?
Get the latest Tekashi 6ix9ine news, features, updates and giveaways straight to your inbox Learn more
"There was a time that as soon as something happened in the media, that was happening historically, we all jumped on it," he continued. "Now, this current generation sits back because they think it's not cool to talk about doing something right."
Of course, D.M.C. isn't wrong in the slightest. While Nine Inch Nails' Trent Reznor recently hit out at "the Taylor Swifts of the world" for not using their platform to address big issues, it does make us wonder why we no longer have the huge political rap anthems that we used to.
While artists such as  Public Enemy, N.W.A, and Nas did indeed help bring political issues and world events to the forefront with their music, Darryl McDaniels wonders when we might see such a movement again.
"I remember I was a little kid, disco was huge," D.M.C. recalled. "One night I went to sleep, I woke up the next morning, and all over the world and the globe; 'disco sucks.'"
"All that everybody was saying was 'disco sucks'. It wasn't the artists and the music that sucked, it was the fucking lifestyle."
"If you look at hip-hop right now, purple fur coats, diamonds, champagne, Rolls Royces, Bentleys, fuckin' lear jets, sex, violence – everybody's living their life," he continued.
"So what happened when that happened in New York City in the '70s? The very thing that's happening with hip-hop right now is what disco did, and Melle Mel came out and made a record; 'The Message'."
"Right now, we need a 17, 19-year-old individual to make 'The Message', to shut down all the nonsense that we're celebrating."
Of course, political artists do still exist, with the likes of Kendrick Lamar, Run The Jewels, Vince Staples, and Aesop Rock – to name a few – all doing their part to ensure issues are heard. But why is it that their music is going ignored?
Could it be that because their music doesn't feature multi-coloured grills, or lyrics that discuss spending racks on new chains, it gets completely overlooked? Possibly, but what is clear is that we need a cultural shift. We need – as D.M.C. says – someone to come out and turn hip-hop on its head, and to get everyone to stand up and listen.
While there are many of brilliant hip-hop acts out there today, they aren't the ones being celebrated for their contributions to the genre. Rather, it's the vocal minority who help to put a bad face to the genre at times that gets celebrated.
Here's hoping that a talented, driven, and motivated individual rises through the ranks soon, and lays down some bars that helps the genre experience the shake-up it needs to get back on track as one of the most vital genres alive today.
Check out Grandmaster Flash & The Furious Five's 'The Message':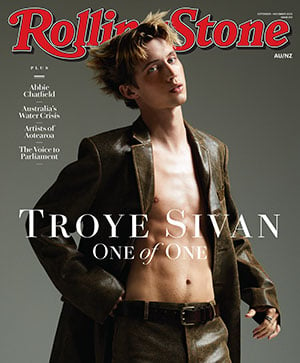 Get unlimited access to the coverage that shapes our culture.
Subscribe
to
Rolling Stone magazine
Subscribe
to
Rolling Stone magazine