Review: U2 supported by Noel Gallagher's High Flying Birds at Marvel Stadium, Melbourne, November 15th, 2019
Back in 2017, U2 announced to their legions of loyal fans that they would be hitting the road. No, they weren't going to be touring support of their yet-to-be-announced Songs Of Experience record, rather, they were planning to take a look back 30 years, touring in support of their 1987 record, The Joshua Tree.
Their fifth record, The Joshua Tree was a landmark release in the band's catalogue. Coming three years after The Unforgettable Fire (which saw them tour Australia for the first time), it managed to top charts around the world (except Australia, sadly), and helped turn the group into rock idols almost overnight.
Inspired by the band's search for the "real" America, the country's landscape, its people, literature and myths, the record was a dizzying mix of roots music and the emotional, powerful anthems that the group had already been making for years. Needless to say, it's a record close to many fans' hearts, and the opportunity to see them live was not one they were going to pass up.
After being forced to witness millions of fans reminisce over one of the greatest albums of the '80s, Australian fans were lucky enough to receive word of the band's impending arrival on our shores – their first since 2010's U2 360° Tour.
Kicking off their tour in Brisbane earlier this week, the iconic Irish rockers helped their Victorian fans close out their week by taking to the country's fourth-biggest stadium for a concert that we would not soon forget.
Check out U2's 'Where The Streets Have No Name':
As fans from all walks of life descended upon Melbourne's Marvel Stadium on Friday night, it was clear that the evening was going to be a big one. With fans decked out in tour memorabilia from all decades and sharing stories of seeing the mighty U2 live, newcomers may have felt almost intimidated, yet welcomed, by the band's hardcore supporters.
Love The Beatles?
Get the latest The Beatles news, features, updates and giveaways straight to your inbox Learn more
With thousands of punters as far as the eye could see filling the wide open grounds of the venue, it felt as though everyone in the city had turned up for the show. Before long though, the attention of each and every person in attendance was given to Noel Gallagher's High Flying Birds, back for their first Aussie shows since 2016.
As the eponymous Noel Gallagher swaggered out onto stage, a collective unified cheer rose from the crowd, signalling the start of his set with 'Holy Mountain'. Blasting out an alternative rock sound bolstered by the presence of a brass section, the set was off to a thunderous start, with the crowd roaring in appreciation, and joining in for the appropriate singalongs.
As the set continued with belters like 'It's a Beautiful World' and 'This Is the Place', fans got a glimpse of what it was like to catch the iconic Gallagher playing stadiums like he did back in the days of Oasis. While Noel was surprisingly tight-lipped for the start of his performance, his Mancunian accent did make an appearance as he introduced 'Wandering Star', his new single which had only been officially released earlier that day.
After conceding that the first half of the set was for him ("because [he's] fucking amazing"), it was time for the band to dedicate the second half to us ("because [we're] fucking amazing"), dragging out some of his old Oasis classics.
Kicking things off with 'Little By Little' and 'Stop Crying Your Heart Out', it was almost instantly obvious that the entire vibe of the stadium had shifted, with fans becoming more receptive to the music, and the band themselves appearing more exuberant in their delivery.
As Gallagher belted out a stunning version of 'Wonderwall' that could very well eclipse his brother's, the singalongs kept coming, with the entire stadium joining in unison to chant the iconic chorus to the legendary 'Don't Look Back In Anger', bringing us all back to the heady days of 1995 with that pair of classics.
Noting that there was practically no where to go after a track like that, Noel Gallagher's High Flying Birds readied themselves for their exit from the stage, but not before pumping out a stellar rendition of The Beatles' beloved tune, 'All You Need Is Love', overcoming video screen malfunctions to deliver another singalong that had fans trying to keep a smile from their faces.
Check out Noel Gallagher's High Flying Birds' 'Wandering Star':
As long lines snaked to the concession stands and facilities ("it's never been this bad at the footy," shouted one angry attendee), those left before the stage were lucky enough to gaze in awe at the mesmerising setup before them.
As poetry from the likes of Alberto Rios, Lawrence Ferlinghetti, and Walt Whitman scrolled down one side, the gigantic silhouette of a Joshua tree shone bright upon the massive video screen in front of us.
Touted as the largest high-res LED video screen ever used in a touring show, and featuring 1,040 individual video panels, the setup was almost intimidating, as the similarly-shaped Joshua tree B-stage jutted out into the audience, raising expectations about what was still to come.
Before long, the lights dimmed, and the sounds of The Waterboys' 'The Whole Of The Moon' rung out across the stadium, fading out as drummer Larry Mullen Jr. made his way out to the outer stage to kick off the iconic intro to 'Sunday Bloody Sunday'.
Soon, he was joined by The Edge and Adam Clayton, before Bono followed along to start busting out those classic lines. In case you had any doubt, U2 were here to turn your night into one you'd never forget.
Check out U2's 'Sunday Bloody Sunday':
As red lights illuminated the crowd and roars of appreciation almost overpowered the song, Bono's iconic figure cut through the smoke and light to encourage fans to chant the chorus back to him; a task which they graciously took up.
No sooner had the first song finished had we received a bit of a surprise, with the setlist deviating to include the first appearance of 'I Will Follow' in just over a year. As The Edge pushed his Gibson Explorer to the, well, edge, fans themselves did their part, with the clapping section near the end being enough to register on the Richter scale.
Following a performance of 'New Year's Day', an absolutely mesmerising rendition of 'Bad' saw Bono take the opportunity to turn the lights down and pay tribute to firefighters tackling blazes around the country. Including a portion of Nick Cave & The Bad Seeds' 'Into My Arms' into the middle, fans were completely in awe of the iconic frontman's arresting stage presence and powerful vocals, clearly turning this into an early highlight.
Wrapping up a well-received rendition of 'Pride (In The Name Of Love)', it was time for the band to well and truly kick off what we were all here to see; the full album performance of The Joshua Tree.
As 'Where The Streets Have No Name' slowly swelled and U2 made their way to the main stage, the full capabilities of the video screen were shows. With original album photographer Anton Corbijn once again recruited to film footage for the performance, gorgeous captures of Death Valley and Zabriskie Point were played out behind the band, showcasing just what it was that inspired this record so many years ago.
As the jaw-dropping triple-punch of 'I Still Haven't Found What I'm Looking For', 'With Or Without You', and 'Bullet The Blue Sky' were powered through, Bono found himself injecting a little bit of comedy into the mix, dropping in his own rendition of 'Singing In The Rain' as the heavens opened up, inspiring venue officials to close the Marvel Stadium roof.
Check out U2's 'Bullet The Blue Sky':
As the record continued, Bono welcomed us to side two of The Joshua Tree, with more songs finding themselves paired with Corbijn's striking visuals, and being subjected to mesmerising renditions from the band.
Following an emotional tribute to former U2 roadie and friend Greg Carroll during 'One Tree Hill', a moving performance of 'Mothers Of The Disappeared' gave way to the end of the record, leading Bono to note that "this is what happens next" as they closed off the main set with 'Angel Of Harlem', exiting in the reverse order from how they entered.
Of course, it wouldn't be a true U2 gig if the show wasn't anywhere near being over yet, would it? Following barely any wait at all, a hazy mix of multicoloured splashes on the screen welcomed the band back for an almost blissful version of 2001's 'Elevation'.
From there, the hits kept coming. As fans chanted along with Bono's faulty Spanish for 'Vertigo' (which also featured a snippet of INXS' 'Devil Inside'), 'Even Better Than The Real Thing' and 'Beautiful Day' showed us more than ever why U2 are – by their own admission – "the greatest rock and roll band on the north side of Dublin".
As a moving tribute to strong women (including Australia's own Hannah Gadsby, Cathy Freeman, and Magda Szubanski) during 'Ultraviolet (Light My Way)' was shown on screen, Bono urged fans to fight against poverty and inequality by supporting the ONE organisation's on-going Poverty Is Sexist campaign, 'Love Is Bigger Than Anything In Its Way' showed us we weren't too far from the end of the night.
Bidding us farewell, the ever-moving 'One' helped to send fans on their way and into the night, with a few tears shed from their emotional supporters as the 1991 classic closed out an evening that would go down in history.
Check out U2's 'One':
When a world-renowned band has found themselves touring the world for so long, it could be very easy to expect their performances to get lazy, or for their energy to begin to wane somewhat. Of course, U2 aren't the average band. They aren't here to give a half-assed show, or to phone it in once they've got your money, they're here to give you an experience you'll carry forever.
With many fans undoubtedly leaving the stadium with a newfound appreciation for The Joshua Tree, there's no doubting the fact that U2 delivered a show that will rank up there with some of the greatest-ever, with their penchant for stadium-worthy singalongs and powerful, anthemic tunes setting them apart from all others.
Despite criticisms surfacing online regarding the lack of video focus on the band themselves, and issues regarding the sound quality, these complaints pale in comparison to the unending praise their dedicated followers have for them following a performance such as this.
Needless to say, those who had spent almost nine years water for the band to return were in no way disappointed. While there's no word yet as to when we'll see them once again visit our shores, we're just hoping it's not another decade before we once again get this chance.
Check out U2's 'With Or Without You':
U2 @ Marvel Stadium, Melbourne 15/11/19 Setlist
'Sunday Bloody Sunday'
'I Will Follow'
'New Year's Day'
'Bad'
'Pride (In The Name Of Love)'
The Joshua Tree:
'Where The Streets Have No Name'
'I Still Haven't Found What I'm Looking For'
'With Or Without You'
'Bullet The Blue Sky'
'Running To Stand Still'
'Red Hill Mining Town'
'In God's Country'
'Trip Through Your Wires'
'One Tree Hill'
'Exit'
'Mothers Of The Disappeared'
'Angel Of Harlem'
Encore:
'Elevation'
'Vertigo'
'Even Better Than The Real Thing'
'Every Breaking Wave'
'Beautiful Day'
'Ultraviolet (Light My Way)'
'Love Is Bigger Than Anything In Its Way'
'One'
U2 The Joshua Tree Australian Tour
With Noel Gallagher's High Flying Birds
Remaining Dates
Tuesday, November 19th
Adelaide, Adelaide Oval, SA
Friday, November 22nd (Sold Out)
Sydney, Sydney Cricket Ground, NSW
Saturday, November 23rd
Sydney, Sydney Cricket Ground, NSW
Wednesday, November 27th
Perth, Optus Stadium, WA
Tickets on sale now via Live Nation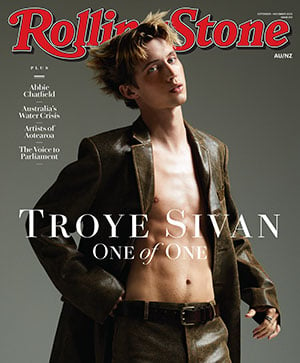 Get unlimited access to the coverage that shapes our culture.
Subscribe
to
Rolling Stone magazine
Subscribe
to
Rolling Stone magazine