American music icon, former Velvet Underground leader, and one of the most distinctive and influential figures of his generation, Lou Reed, has died aged 71.
The infamous New York rock pioneer passed away in Long Island on Sunday of complications following a liver transplant, which Reed had in May.
Reed's literary agent, Andrew Wylie, confirmed that the musician had died on Sunday morning in Southampton, New York, of an illness related to the transplant to stem Reed's liver failure.
A prolific drug user and drinker for the better part of his career, Reed cancelled five concerts scheduled for April as a result of his liver troubles before entering the Cleveland Mayo Clinic, his wife Laurie Anderson told media, as The Guardian reports.
Following leaving surgery, Reed took to his website in June to write, "I am a triumph of modern medicine." Adding: "I look forward to being on stage performing, and writing more songs to connect with your hearts and spirits and the universe well into the future."
Born Lewis Allan Reed in Brooklyn, 1942, the singer-songwriter would become of New York's most iconic artists, particular with his incalculable influence as a founding member of the Velvet Underground.
Taken to the world under the wing of Andy Warhol, the Velvet Underground mixed iconoclastic rock with a keen sense of melody, while telling stories of the seamier side of culture and fusing it a sharp artistic purpose.
The band's influence on the spheres of art, punk, and rock saw Rolling Stone name them the most influential band of all time. But Brian Eno's famous quote more better sums up the shadow they cast over the generations of musicians that followed. Saying that although the eponymous 1967 album only sold 30,000 copies in its first few years, "everyone who bought a copy formed a band."
After making his name with the Velvet Underground and Andy Warhol's Factory movement, Reed shouldered his way into the glam side of rock, becoming close friends and collaborators with David Bowie and Iggy Pop –  equally influential figures of the 1970s.
Through the decade Reed recorded what would be his most recognisable solo albums in the near-perfectly executed Transformer (1972), Berlin (1973), and one of rock music's most polarising recordings, the searing white-noise experiments of Metal Machine Music (1975).

During the 80s Reed's influence diminished none, but critics began to turn on Reed over a series of albums that appeared to lean towards more commercial turns, such as 1984's New Sensations and 1989's more accessible New York. By 1991, Reed had returned to collaborate with Cale on Songs For Drella, a tribute to Andy Warhol, a few years later the pair had reunited The Velvet Underground for a series of European shows.
The 90s were also distinguished by Reed's meeting with musician-come-performance artist Laurie Anderson – of O Superman fame (following a divorce from Sylvia Morales in the early part of the decade). Reed and Anderson became inseparable; working, collaborating, and performing live together, as well as working on civic and environmental activism – though they didn't marry until 2008.
The famous New Yorker followed his own artistic interests throughout the '00s, as well as becoming a fervid practitioner of T'ai Chi, his more famous releases including his Edgar Allen Poe inspired double-album The Raven (2005), soothing ambient record Hudson River Wind Meditations (2007), and Lulu, his surprise 2011 collaboration with Metallica.
"All through this, I've always thought that if you thought of all of it as a book then you have the Great American Novel, every record as a chapter," he told Rolling Stone in 1987. "They're all in chronological order. You take the whole thing, stack it and listen to it in order, there's my Great American Novel."
Learning of the news of Reed's death, longterm musical collaborator and Velvet Underground co-founder John Cale said: "The world has lost a fine songwriter and poet … I've lost my school-yard buddy."
Tributes for Reed have poured in all over the world and through social media.
Devastating news:… http://t.co/LukCOL1T4r

— Iggy Pop (@IggyPop) October 27, 2013
Lou Reed is the reason i do everything i do

— Julian Casablancas (@Casablancas_J) October 27, 2013
There is no way a tweet can sum up the importance of The Velvet Underground on the course of music history. RIP Lou Reed.

— Richard Kingsmill (@triplejtheking) October 27, 2013
RIP TO A GREAT FRIEND A FELLOW MUSICIAN. FROM MAXES TO THE MASSES YOU MADE THE WORLD SING. I LOVE YOU LOU! #LouReed

— Steven Tyler (@IamStevenT) October 27, 2013
When you think the night has seen your mind, That inside your twisted and unkind, Let me stand to show that you are blind. #RIPLouReed

— Johnny Greenwood (@johnnyg10) October 27, 2013
RIP Lou Reed.Thank you for your beautiful/dark lyrics/music and stance on life.You inspired me from my teenage years right up till today.

— Nikki Sixx (@NikkiSixx) October 27, 2013
My friend Lou Reed came to the end of his song. So very sad.But hey, Lou, you'll always take a walk on the wild side. Always a perfect day.

— Salman Rushdie (@SalmanRushdie) October 27, 2013
RIP Lou Reed. One of the greatest artists of our time.

— Ricky Gervais (@rickygervais) October 27, 2013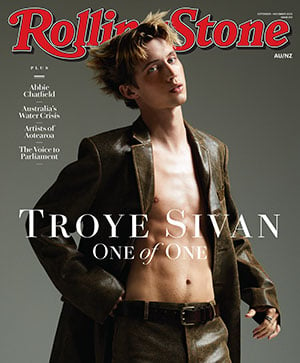 Get unlimited access to the coverage that shapes our culture.
Subscribe
to
Rolling Stone magazine
Subscribe
to
Rolling Stone magazine