One of the UK's most enduring rock bands, and certainly the best music export to come out of Wales, Manic Street Preachers are returning to the Antipodes this June/July to coincide with the tour of rugby perennials, the British and Irish Lions.
"No coincidence I'm sure," remarks drummer and rugby enthusiast Sean Moore of their impending tour. "It's something we've been thinking about since the last Lions tour," he explains in his distinguishing Cardiff inflection. "So last year we decided basically to give our agent a bit of a prod and say 'we need to set this up'."
The three-piece are unapologetic Lions fans themselves, but is the feeling mutual amongst the team's ranks? "I think Sam [Warbuton, skipper] is," Moore conjectures, "we've made a few mutual friends along the way and obviously there's Jamie as well."
That'd be centre position Jamie Roberts, who has joined the Manics – as they're affectionately known – on-stage before for a guitar jam or two, "he's popped into the studio in Cardiff a few times [too]," notes Moore.
In fact the band's forthcoming trip to the Southern Hemisphere very nearly didn't happen because of studio commitments. "We didn't know how it was going to fit with all the new work we've been doing," the drummer reveals, "[but] we managed to find a window…  it seemed to fall into place quite nicely."
To clarify, that 'new work' just so happens to be a new Manic Street Preachers album… or possibly two. "We wrote so many songs in so many different styles that by September last year, we discovered [they] seemed to group into two different works."
Moore and his cohorts – powerfully voiced singer/guitarist James Dean Bradfield and fiery bassist/chief songwriter Nicky Wire – had originally planned to take a well-earned rest following the release of their singles compilation, National Treasures.
Despite an intended two-year break following their mammoth, career-spanning 38-song concert at London's O2 Arena on December 17th, 2011, "come the end of January," says Moore, "we just thought 'we need to start writing more songs again'."
It turned into a fertile creative period for the trio, "we wrote so many songs in so many different styles that by September last year, we discovered really, by chance, that they seemed to group into two different works."
The decision followed that "rather than tyring to pick the best out of the two camps," to simply release two separate albums, says Moore, in order to avoid another "compromised album, as Know Your Enemy was really," referencing the lukewarm reception that their long-winded ,17-track album of 2001 received.
Conversely, the Manics favoured against treading down the path of a bloated double album. "We didn't want to do that," Moore says bluntly. But neither did they want to concede to the modern "track by track thing that everyone seems to be falling [into] now just because the way the Internet is and the way people download."
As for the nature of the new material, and the two stylistically distinctive albums they'll be arranged in, Moore is a little more indefinite. "Some songs lend themselves to be a little easier, gentler to listen to – other songs seem to be…" he trails off, tentative at the suggestion the new material is 'mellower'.
"It's that Holy Bible, Everything Must Go sort of opposed, almost bi-polar condition that we've got in terms of albums," he clarifies, referring to the scathing, incendiary 1994 album and the commercial 1996 breakthrough that followed it, the band's first album following the mysterious disappearance of lyricist and guitarist Richey Edwards.
The story of Edwards' vanishing is something the band have long since come to terms with, but remains a feature that's impossible to omit from the Manic Street Preachers legacy. "It's that Holy Bible, Everything Must Go sort of opposed, almost bi-polar condition that we've got in terms of albums."
It spoke volumes however, when in 2009, for the band's ninth studio album, Journal For Plague Lovers, they turned to Edwards' old tomes for song lyrics, a year after he was officially presumed deceased in 2008.
Much like the Holy Bible/Everything Must Go binary, the "arthouse… aggressive" Journal…, as Moore describes it, was followed by an "easier listening, radio-friendly album", 2010's Postcards From A Young Man, which debuted at #3 in the UK.
The format obviously found success for The Manics – a catharsis of the Richey Edwards demons on a spikier turn back to their earlier material that satisfied diehards, followed by a critical and commercial chaser that kept them relevant to the wider masses.
It's the same pattern Moore suggests the band will follow for their two new records, finding the sweet spot where one album cycle wraps up and another begins.
"It seems to work for us," confirms the drummer, "and it's like with everything in the (music) world now, that cycle is getting shorter and shorter. So people's expectations are far bigger and you can't really leave that amount of time now in-between albums."
Though they've yet to define release dates and titles, updates from the studio have been forthcoming, the band's social media pages revealing a few juicy tidbits of information regarding the new albums. Including a tweet noting that Moore (who's competent trumpeting features on Manics tracks like 'Kevin Carter' and 'Ocean Spray') had dusted off the old horn for the recording sessions.
"[I gave] it another stab and there was a few tracks that I felt were beyond my abilities now seeing as I don't really practice and play like I used to," Moore acknowledges in his genteel tones.
"So we've got a feller called Gav in from Paolo Nutini's brass section [Gavin Fitzjohn, trumpeter of Horns Of Thunder] he's done really, really good work. And to be honest with you, without his help we wouldn't be able to achieve a lot of the things."
The bugle boy isn't the only collaborator that's dropped in to lend a hand on sessions either, Moore reveals there's a couple of fellow natives who have contributed too. "We got Cate Le Bon, she's a Welsh folk indie singer [that] we really admire… We got Cian [Ciaran, multi-instrumentalist from Super Furry Animals] he's doing a few bits and pieces for us."
"We've got a young singer called Lucy Rose, who's done a few bits and pieces with Bombay Bicycle Club [contributing vocals to albums Flaws and A Different Kind Of Fix]. We asked Kevin Rowland from Dexy's for vocals as well, so we've cast the net wide."
Having already checked off a few names on the bucket list, including Guns N Roses bassist Duff McKagan and Echo & The Bunnymen mouthpiece Ian McCulloch on their last album, Manic Street Preachers can now rub Sheffield visionary Richard Hawley from the whiteboard.
"He's a great man," Moore purrs; "He played some slide guitar which none of us could ever, ever approach. And he's got such a wonderful rich and very sincere voice, which I think that was pretty evident on his last album," last year's psychedelically inclined, Mercury-nominated Standing At The Sky's Edge."
"Sometimes when you're asking other people whether it's collaboration or hired gun sometimes you've just got to let them flourish and not be too precious," he adds.
Holding court with some of the UK's finer musical ranks would probably have seemed as odd as it was impossible to the Manic Street Preachers of 30 years ago – the young, proud outcasts who started out by casting stones at the stuffy rock aristocracy. "Obviously in those younger days we thought it was going to be one album and that was it… it was a nice idea at the time… but we [realised] there's much more."
Edging towards their third decade as a band and what will be their 11th and 12th studio albums, it must seem odd to look back on their storied history.
"It does," admits the 44-year-old musician, "because you know, obviously in those younger days we thought it was going to be one album and that was it," he says of the band's original noble artistic aims to release just a single LP before splitting up.
"At the time if it had achieved the successes that we wanted it to do, then we probably would have called it a day," Moore confers, "but then you realise that you wouldn't have carried on and you wouldn't have written those other songs."
"It was a nice idea at the time and it was the energy we needed to be in a band, become a band, write and play in the way that we did, but we sort of realised that there's much more."
This defiant quality has defined their career from the outset, kicking against the pricks of their conservative upbringing and their industrial working class surrounds the only way they knew how, by channelling the rebellious spirit of rock.
Dressed as glam punks with lashings of military garb in their native Wales, they may as well have been from another planet.
Calling their 1992 debut album Generation Terrorists certainly telegraphed their intentions of shaking up the establishment, and though they never followed their dogmatic promise to dissolve following its release, high conviction's loss was music's gain.
Nearly 30 years on and at 44 years old apiece, their sense of defiance has diminished none, as Nicky Wire's provocative grabs – from slagging off young bands and politicians – continue to punctuate the pages of the British press demonstrate.
Their provocations might smack lightly of exhibitionism, or worst contrarianism, but the political undertones of their music have never thwarted their musical direction.
It's an issue close to Moore, who agrees with the idea that most popular musicians are avoiding social issues at a time when there's potentially more reason than ever to be taking to the soapbox.
"We are a product of where we were brought up and a product of our time," says Moore. The four original Manics members were raised under the yoke of Margaret Thatcher's Britain of the late 80s in Blackwood, "a mining town that was completely decimated by a period of ideology," says the drummer.
An era that he likens to the troubles of "post-war Britain in the 50s and 60s," that spurned a creative counter-culture in the same way that punk did another decade later to industrial Britannia and to the young Manics
However, Moore reasons, "we've lived through the better times, of late, and it's only recently now in the UK that things have taken a downturn. I don't think people have really witnessed true deprivation or poverty." "Immediately you've got that soapbox to stand on but then there's plenty of people out there with stones to take you off it."
"There was a downturn and then revised, so it is cyclical," he continues, "but I don't think that even at the worst of the (global) financial crisis that it'd be anything like it was in the late 70s or late 50s."
The argument being that even the darkest of modern days hasn't been able to spit out artists ensnared with ideologically charged mindsets the likes of The Clash, Billy Bragg, or The Manics themselves.
"At the same time you've got all the distractions of modern life," Moore argues, where entertainment, mobile phones, and the Internet can offset a lack of class entitlement or quality of life. Products that "seem to dissipate any collective political thought… people don't really see socialism in the same light that they used to then, as an opposition to the establishment," he says.
"I think people are quite accepting of the establishment now," he laments. But Moore really begins to rattle when its suggested that it's a division that was made clear in the recent death of The Iron Lady herself; "Exactly! But even then, as soon as you have any sort of opposing view (on Thatcher's death) – if you're vocal on the internet or any social network then you're immediately outcast or castigated for it."
Something clearly seen in the spectrum between the 'ding, dong, the witch is dead' celebrations and the British media that played upon these anti-Thatcher stances as vile and immoral.
"The Internet gives freedom of speech," says Moore, but simultaneously "opens you up to ridicule… Immediately you've got that soapbox to stand on but then there's plenty of people out there with stones to take you off it. It's so instant then that it doesn't allow for debate," laments the Manics member.
For the Welsh quartet, it's always been about the debate. Even today, with a ream of chart successes, album sales, and popular appeal to their name that'd potentially unsettle the idyllic younger version of themselves, Manic Street Preachers have managed to preserve their sense of passion and conviction with a sincerity that shows little clemency for compromise.
Well perhaps one small allowance – the British Lions could use something from the Manic Street Preachers songbook as they enter the pitch come their Down Under matches.
"I'm sure over the years 'A Design For Life' has probably had an airing," Moore guesses airily. "Whether they'll do it again – I don't know. You never know, 'Australia' might air for Australia?"
National Treasures (The Complete Singles) is out now on Sony. Manic Street Preachers' Send Away The Lions Tour sees the band touring with the British & Irish Lions this June/July. Dates and details below.

Manic Street Preachers 2013 Australian Tour
Friday 28th June – Festival Hall, Melbourne
www.ticketmaster.com.au 136 100
Friday 5th July – Hordern Pavilion, Sydney
www.ticketek.com.au 132 849
TICKETS FOR ALL SHOWS ON SALE FRIDAY 10TH MAY, 10am AEST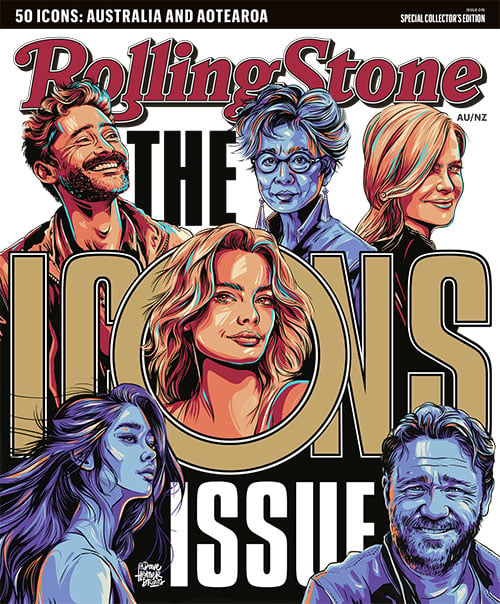 Get unlimited access to the coverage that shapes our culture.
Subscribe
to
Rolling Stone magazine
Subscribe
to
Rolling Stone magazine