For this Canadian four-piece, who have risen from Toronto's underground to international heights since their formation in 1998, the only way is up.
With 2009's Fantasies allowing the band to break through their homeland's borders where their previous three albums couldn't, last year's Synthetica continued Metric's rise in the international music community.
"Metric's been on the same trajectory for a really long time," says lead guitarist James Shaw on touring their fifth studio album.
"Everytime we go back out on the road it's one small step up in venue, a few more people there and a slightly bigger production and Synthetica is kinda the same thing. It's just steady on."
Although perhaps Shaw isn't completely correct in regards to the band's current form as being just "steady on".
It seems with their own smart phone app just released as well as the Synthetica Reflections instrumental album that the band are doing far more than just touring.
The app allows fans to remix songs from the record and while it has been in development for almost a year the instrumental version of the album was completed in studio before their fifth record was released.   
With only one instrumental track in mind at the time of the recording the four-piece were surprised that the development of this song only took half an hour.
After completing the first track the band worked until the early hours of the morning giving the rest of the album the same treatment.
"I really enjoy the way it makes me feel when I'm listening to it," buzzes Shaw on their release.
"I personally find [music] more entertaining from a fan's standpoint".
"I listen to a lot of music that's actually like that. It's very atmospheric and ethereal and really floaty. I was just really jazzed that we could do a whole version of the record. I think it's a cool addition."
This addition, along with the app, is another facet that's helping Metric's continuing trajectory.
"I personally find it more entertaining from a fan's standpoint" says the guitarist of their extra curricular releases.
"An album just comes and goes so quickly, it's much more entertaining if there is a constant flow of things to keep not only us but our fans curious.
"There's sort of a constant flow of creativity and things keep happening and things are continuously released, especially now and the future that we live in."
While keeping the fans curious will sustain their career garnering new ones is the only way for Metric to keep rising.
Their North American dates supporting Paramore throughout October and November this year is one way the four-piece are doing this.
Shaw is quick to gush over their tour with the Hayley Williams fronted band.
"We've definitely felt that warmth in the crowd every night that we've played. It's actually gone really really well and everyone on the tour is a total sweetheart."
While the musician believes that there's a lot to like about Metric if you're a Paramore fan he can't deny that the audience is different from what they're used to playing too.
"The crowd is definitely young," admits Shaw, although Metric are more than happy to play the 45 minute support slot this time around.
"I'm not really big on the nostalgia thing. I just want to keep going forward, the time to look back is when you stop".
"Every once in a while you do this and you gain a whole bunch of new fans and sort of expand the whole knowledge of the band. It works, it's a good thing."
Far from being comfortable though Shaw admits that he'd rather play their own shows.
"The thing about touring is, there's a lot of just sitting around in weird places. The music is by far the best part."
Which is why the have been doing their own smaller sideshows, a fact that is undoubtedly good news for the diehard fans wanting to hear their older material.
"We played all this old material that we really haven't played for years," reminisces the guitarist about their last headline gig at New York's Bowery Ballroom.
"Some of this stuff we haven't played since 2005/2006 and it was really cool to do."
These developments should please Metric's Australian fans when the band return Down Under for the first time since their Splendour In The Grass sideshows last year.
"You can expect some of those old old songs to be pulled out," affirms Shaw.
However don't expect the band to go as far playing nostalgia gigs in tribute to their old releases.
With their debut, Old World Underground, Where Are You Now?, turning ten this year and its follow up Live It Out only two years away from reaching double digits the band could be forgiven for taking a trip down memory lane.
"We might," begins Shaw before adding, "I'm not really big on the nostalgia thing. I just want to keep going forward, the time to look back is when you stop".
There it is again. The guitarist's mentality of trajectory and looking forward suggests that they're in no mood for even thinking about slowing down after being together for 15 years.
After finishing up their Australian dates here in December Shaw says the band will head back into the studio and "see what happens".
"We don't really have a chosen direction at this point. We're going to have to go through a bunch of phases of exploration before we know where to go."
However maybe the band's increasing love of analogue synthesizers could provide a few hints as to where their sixth album could lead Metric.
"Synthetica was made a lot about the love of analogue synthesizers, but to be honest with you the collection now has like quadrupled since we finished Synthetica."
"There's only one synth that I had since we made Synthetica and (now) there's about 10 more," says Shaw.
Although the guitarist is quick to concede that "we're not gonna change sound completely".
"But there is going to be an element of just making music and waiting until something really resonates with us."
So a full on electronic record is out of the question?
"You never know though, you never know," teases Shaw.
Metric Australian Tour 2013
w/ special guests Glass Towers
Saturday 7th December – Metro City, Perth – CANCELLED
Monday 9th December – The Forum, Melbourne
Wednesday 11th December – The Tivoli, Brisbane
Thursday 12th December – Enmore Theatre, Sydney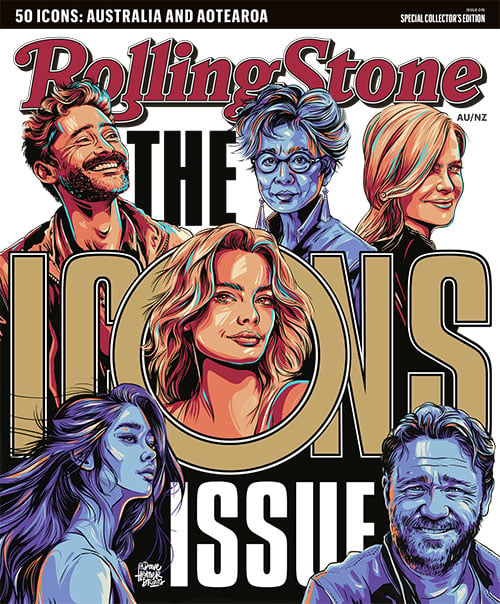 Get unlimited access to the coverage that shapes our culture.
Subscribe
to
Rolling Stone magazine
Subscribe
to
Rolling Stone magazine