The on-going battle to shape your listening habits is heating up, with Microsoft preparing to unveil their own music streaming service via their popular videogames console,  the Xbox 360.
According to ​The Verge​, the new streaming service, entitled Xbox Music, will launch be available on PC, Xbox and Windows phone and is set for release on October 26, which will coincide with the release of Microsoft Windows 8. The technology giant says that Xbox Music carries a whopping 30 million tracks and in a model similar to those of Spotify and Rdio, will offer a subscription-based model, much like Microsoft's current Zune Music Pass, as well as free version that will be supported by ads.
The streaming service also employs Microsoft's new cloud-based intergration, SkyDrive, which allows users to store music and playlists in an offsite cloud, which is then available across multiple devices, and Xbox Music is also expected to eventually roll out on Android and iOS.
It's a significant move from Microsoft, long-term arch rivals with Apple, who are looking to get a bite of the streaming music boon, with its phenomenal popularity now contributing a booming $1 billion to the music industry.
Arch-rivals Apple recently announced an online radio station, to compete with services such as Pandora, which is currently unavailable in Australia but has proven a popular alternative to Spotify overseas. It allows users to select their music tastes and creates a custom radio station stream that matches their preferences.
But in a serious blow to the tech giant, the service was canned from the iPhone 5 at the last minute following a dispute with the world's largest music publisher, Sony ATV. Built-in streaming for the iPhone 5 relied on approval from Sony ATV, who hold the key to the music catalogues of the 'Big Four' (Sony, Warner, EMI and Universal).
Another entity looking to take a bite out of Apple, is Canadian music legend Neil Young, who recently revealed plans of his new iPod killer, a digital music player that focuses on a recording technology that preserves the fidelity of music the way it was intended, giving Apple another reason to worry about their dominance in the music field.
Meanwhile, Indie darlings Grizzly Bear recently declared that Spotify "doesn't help bands". The band tweeted: "Spotify might be good for exposure but after about 10 thousand plays we got approximately 10 dollars. It provides a great service for people. Does it help a band? No more than downloading from Lime Wire."
They may want to turn to Rdio who recently announced their new 'Artist Program' that pays musicians and recording artists direct – not for the streaming of their music, but for how many fans they can sign up as subscribers.
Only last month ​Tone Deaf revealed how much musicians actually make from streaming. Estimates say that for an artist to see a dollar, their music needs to be streamed over 300 times. And with so many new online music services popping up, we took the time to explain what it all means for you.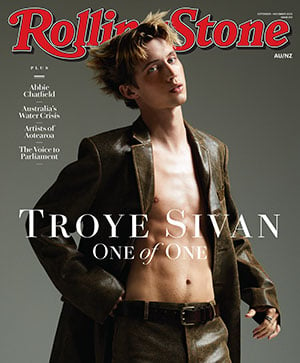 Get unlimited access to the coverage that shapes our culture.
Subscribe
to
Rolling Stone magazine
Subscribe
to
Rolling Stone magazine