No one knows the creaking floors and dank toilets of Melbourne better than the twelve-armed contents of Money For Rope.
After slogging long and hard en route to their debut album. The self-titled record has been a long time coming for such a hardworking act, but here it is.
With a full LP and a stack of double A-Sides under their arms, how far have their heads gone from the bad old days of lugging their hungover bodies from pub to pub?  Not far it would seem, not far at all.
Like shady characters meeting at dusk in a park, sans trench coats, we gathered in inner-North Melbourne's Edinburgh Gardens, a safe distance from the seesaw. With sausages.
Coins were spared for the BBQ and it would be bassist Michael Cini who'd take charge, ridding the hot plates of any mystery stains with a couple of sacrificial smashed lemons.
There were cracked beers and chinked necks before the asphalt-worn football was unveiled. Beers and snags took a backseat as the backbone of The Birmingham Hotel Lions in singer Jules McKenzie and keysman Rick Parnaby went laces out from distance.
With guitarist Carl Russo, drummers Chris Valdamarin and Nigel Moyes swooping in from the trees to crumb loose balls, the feast fried away unattended before the beer intake took its toll.  Can't be running about in that state…  'Time for a bite,' we thought."We all kinda know when it's a Money For Rope sound and that usually feels good."
Perched around a mountain of barbequed food and a tub of odd coloured mush, necks were chinked again as all took turns listening to each other chew (before the curious tub got the better of your humble narrator).
Like the band themselves, there was more to the mush than you'd first think.
"It's kind of a band staple. I think we ate it the first time we went away," begins McKenzie. "Coffs Harbour," he recalls, "everyone squeezed into the one room and we sat around on the floor in this motel, there was blood stains on the walls… and there we were on tour. Eating 'That Bean Salad' out of a bowl with our hands."
Chief salad man Michael Cini seems to be capable beyond the bass and managed to make friends with the salad.  On top of that, he was only to happy to provide us with the magic recipe:
'THAT BEAN SALAD'
One can of Four Bean Mix
One Squeezed Lemon
Baby Spinach
Avocado
Cucumber
Balsamic Vinegar
(and a can of tuna if you're extra peckish)
Mash that into a paste and you'll live through the night.
"It's got everything we need… Vitamin bean, mostly," quipped McKenzie.

Money For Rope know the tale of the industry and 'That Bean Salad' has seen them through a lot. Can it power them on through more? Could do. Especially if the release of their initial set of singles as a 12" pack in Spain makes much of a move off the Iberian shelves.
If that goes to plan, their tour schedule could read: Corner Hotel, The Espy, Benecassim.
Could, and probably should if there's anything right with this world. But, looking forward to that has a hurdle – second album syndrome.
"We clash all the time," piped drummer #2, Nigel Moyes; "I don't think we could really write songs together. We're not just a jam band that goes into a room and things evolve completely from that."
Russo too found voice: "That said, we all kinda know when it's a Money For Rope sound and that usually feels good."
"We're not that conscious of it though, really," opined McKenzie. "I think we know when it sounds like us too. So, no direction at all… " he adds, to not insignificant laughs.
Directional planning aside, comparisons are always short sighted and Money For Rope haven't been able to dodge that ailment, with one in particular cropping up time and time again: The Doors.
Singer Jules McKenzie was, understandably, first to defend himself against any such accusations.
"They were a great band, but there's a lot of great bands out there. I guess a lot of people who hear or see us go 'Oh, yeah, two-note bass line, keyboards in there and a singer with long hair – The Doors!' People who aren't really all that fanatical about music coming up to us telling us we sound like The Doors and we're like 'You probably go to The Big Day Out,' and that's it, come on." "I dick-slapped Kingswood… They were pissed off, obviously."
"They sound specific to that era," continues the singer, "if we sat down and tried to play something like that, it just wouldn't be right. We do it for different reasons, but it does come up a bit.  You could have two bands playing together who play the same guitars, have the same kind of singer, playing the same songs but are coming at it all from different angles," he concludes. "That's sort of where we're at with that."
Debate centred on the simple fact that none of the band are even great fans of the band, but it was best left to Moyes to summarise their collective feelings.
"I like The Doors, but I reckon Jim Morrisson is one of the most overrated c*nts going around."
Ooohh… All fair. Could be worse though, they could be compared to fellow Melbourne heavyweights, Kingswood. "I dick-slapped Kingswood."
"At the Hard Rock Café in Brisbane," Jules proudly chortled. "We were touring together and a few of us jumped on stage – kinda invited and kinda not – and then that happened."
Go on…
"They were pissed off, obviously," he explains. "They got all 'urgh urgh" about it and did this weird revenge thing of just sitting down right at the front of the stage when we were playing. We like them, but that was weird. It wasn't even funny, so I don't know what that was all about really…"
Beans, beers, and dick slappings later, the light faded to a point where one could no longer be confident when reaching for a sausage and everyone shuffled off – safe in the knowledge that Money For Rope will be well nourished on their rock'n roll quest. They should be. After all, they're great.
Money For Rope's self-titled album is out now (read the Tone Deaf review here) and play the Roslyn NYE Warehouse Party with The Vasco Era on December 31st. Full details and other tour dates here.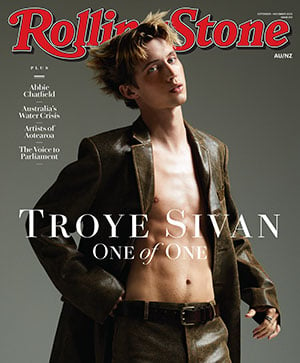 Get unlimited access to the coverage that shapes our culture.
Subscribe
to
Rolling Stone magazine
Subscribe
to
Rolling Stone magazine