The end of April was a very exciting time for one of the ABC's freshest faces in its extensive radio family, Double J, which happily celebrated one full year of successful broadcasting.
Originally known as Dig Music, the station was relaunched as Double J in April 2014, the station's first year of operations met with a rouse of success, playing over 117,800 songs with more than a quarter of the music heard being Australian, including the likes of Mia Dyson, who came in the station's Top Three Most Played Songs and took out the inaugural Double J Australian Artist of the Year J Award.
Double J had it's naysayers, many dubbing it a radio station for those "stuck in the '90s", however the newcomer proved the doubters wrong, featuring mostly newer music, with almost 70 percent of the music played made up of releases from this decade.
Spearheaded by the forever-adored Triple J legend, Myf Warhusrt, who hosts the weekday segment "Lunch With Myf", Double J gained a loyal following cemented itself a radio station that's here to stay, and we're bloody happy about it.
We were ever so lucky to chat with the one and only Myf, the adored radio presenter super excited to share with us some of the artists – both local and international – that she believed were destined for a huge latter half of 2015.
From soul artists that harken the spirits of legends passed, to dreamy, immersive shoegazers from Brisbane, to joking (or was she?) that Australia would steal one of her favourite up-and-coming Kiwi artists, join us as we explore the musicians Myf believes y'all need to keep an eye on for the second half of 2015.
Leon Bridges
"He's ace, he's pretty new, he's from Austin, Texas, and he's been taken under the wings by a couple of the guys from White Denim, he does that nu-soul sound and he's really good. He's extraordinary.
"Sharon Van Etten took him on the tour in the US recently, I think he's going to explode, he's got that beautiful old soul sound. He's compared to a lot of the greats."
Marlon Williams
"We all know he's from New Zealand, but we're going to take him as our own, he's too got a beautiful voice, he does that great – I don't even know what you'll call it – he's just got a gorgeous tone to his voice and I think he'll win a lot of hearts, and mine, over the next six months.
"He's amazing live, just that pure voice, it's really good."
Nadine Shah
"She's a UK singer-songwriter, she's been around for a while, a lot of critics are calling he a combination of Nick Cave and PJ Harvey, but she laughs it off – I love her – she laughs it off and says it's only because she flicks back her hair and she's got a big nose.
"She's awesome, she's got a great voice I like it, it's kind of deep, it's beautiful. I think she's a good one to watch out for."
Dark Fair
"I've only heard one of their singles, 'Listen Up', and it's really great. It's just the two of them, two women, I don't know their names but it just sounds really great on the radio I reckon we'll know more about them pretty soon.
"Ramona and Ellie, they met in Brizzy, they moved to Melbourne now, it's kind of got that dirty rock 'n roll sound but it's really clear as well, I like it, and Adalita of course from Magic Dirt plays bass on their latest EP, so it's that kind of gritty vibe."
Nite Fields
"They sort of sound like something from the '80s, you know all those bands from the UK from the '80s that you love. A bit of shoegaze, bit of dark sounds.
"They're overseas doing a three month tour of Europe, started out in Russia, it seems they're picking up quite a bit of interest over there in particular – I'm not sure so much over here, but I think they're going to be one to know about.
"Sounding like they've come out of a time capsule but with a real 2015 tinge to it."
East Journey
"I love East Journey, they're the North East Arnhem Land band about to do that whole Genisis project with Yothu Yindi and I think they've also been involved with QANTAS Australia, I feel like they're going to be a band that everyone will now soon."
Torres
"She has that kind of pure, quite startling approach, hard to explain actually. I reckon she's definitely one to look out for, she's got that real sense of self in a singer-songwriter, real kind of strong thing that I really like."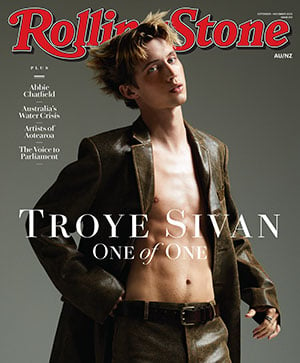 Get unlimited access to the coverage that shapes our culture.
Subscribe
to
Rolling Stone magazine
Subscribe
to
Rolling Stone magazine