Myles Kennedy occupies a strange position in modern rock n' roll. As the singer of Slash's solo band, the Conspirators, he has been the guitarist's songwriting partner for a longer continuous period than Axl Rose in Guns N' Roses' 1980s heyday.
But Kennedy is not Axl Rose. The 49-year-old singer is mild mannered and patient, meditating on every question thrown his way.
Across three records and nearly ten years, Kennedy, originally of progressive-metal giants Alter Bridge, has been the hoarse-throated howl to Slash's searing riffs. He doesn't feel like Slash's new muse though.
"No," Kennedy chuckles, "I just feel like his little songwriting buddy."
The name credited to Kennedy's work with Slash is one of the longest in rock n' roll – Slash featuring Myles Kennedy and the Conspirators – because it was never really meant to be a band.
Kennedy joined under the pretence of a one month summer tour in 2009/10 – nearly ten years today. The band's identity unfurled organically without internal politics or wild ambition, predicated simply on a love of playing.
"It went so well that we were like wait, now let's talk more tours and a record, then more tours and then another record," Kennedy says. "It was just this slow gradual build and before I knew it I was playing in two bands at the same time!"
Kennedy and Slash's arrangement across Apocalyptic Love (2012), World On Fire (2014), and most recently, Living The Dream (2018), allows them to split songwriting duties neatly, without straying from their defined roles.
"Slash has a really great idea that he wants to establish musically – the musical tapestry – and then turns over to me and I come up with the melody and the lyric," Kennedy explains.
"We both have an appreciation of blues based music – that's one of the big things. I think the biggest factor in our success is that we have a pretty similar work ethic. We really thrive and live for making music and making people happy through that medium."
Check out Slash Featuring Myles Kennedy & The Conspirators' 'Call Of The Wild':
Living The Dream arrived in September this year, succeeding as a collection of barrelling rock songs and doubling as the panoramic frame for Slash's guitar virtuosity.
'Call Of The Wild' is the record's gut-busting opener, curiously sticking out as the one lyrical piece that pangs of socio-political concern.
The title isn't a deliberate reference to the Jack London novel of the same name, though it does share a similar sentiment about the fragility of civilisation.
"That song is really about my frustration with how addicted we've all become to technology," Kennedy enthuses.
"That phrase "call of the wild" means that primal calling that is in so many of us, and just speaking for myself, I essentially power down, step away from the smartphone and go back to the simpler things. Things closer to how our ancestors might have lived, things that are more natural to us."
The primal urge is mirrored in Slash's analogue riffage, Kennedy's favourite on the record. The rest of the album is tempered by the singer's third person lyrical narratives; 'Driving Rain' imagines a touring musician suffering emotional manipulation at the hands of an addict partner, while stomper 'Read Between The Lines' is unfurnished lust.
"I feel like the way I look at music beds that I sing over, I kinda look at them like little soundtracks," Kennedy continued.
"I want to paint a picture with that. When I'm writing to a Slash riff or a Slash chord progression and start to put a melody to that, I don't get an introspective impulse."
Check out Slash Featuring Myles Kennedy & The Conspirators' 'The Great Pretender':
Despite the quality of material, Living The Dream's weaker commercial reception in the U.S (#27 on the Billboard 200) continues the downward slide of their domestic rock market, as places like Australia (#4), the U.K (#4) and Europe provide greater support. It isn't lost on Kennedy.
"I think a lot of rock bands from the US ask the same question; 'what is it about rock n roll that doesn't react the same way here?'" Kennedy explains.
As they approach a decade as a band, Slash featuring Myles Kennedy and the Conspirators have touched down in for a stadium tour of Australia.
Perhaps it's our cultural bedrock, but Kennedy fondly remembers the support the country has always given the band's odd product of circumstances.
"Because some of our first memories as a band are there, it feels like Ground Zero (laughs)," Kennedy says. "That sounds wrong. It kind of feels like a homecoming in that sense, and it does feel like one of the first places that really embraced it."
"It was such a big deal because Slash is this, and still is obviously, icon. To see the excitement it generated when we went Down Under was really memorable for me- some of those interviews and moments they might be the things I remember maybe more than just about anything at the beginning of the band."
Slash featuring Myles Kennedy and the Conspirators are currently touring around the country. Check out all the details of their remaining concerts below.
Check out Slash Featuring Myles Kennedy & The Conspirators' 'Driving Rain':
Slash Ft Myles Kennedy & The Conspirators Australian Tour
Wednesday, January 30th, 2019
Brisbane Convention Exhibition Centre, Brisbane, QLD
Ticketek
Friday, February 1st, 2019
Margaret Court Arena, Melbourne, VIC
Ticketek
Sunday, February 3rd, 2019
RAC Arena, Perth, WA
Ticketek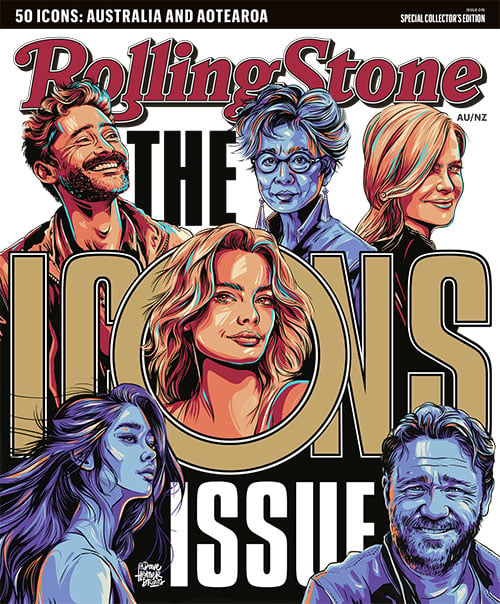 Get unlimited access to the coverage that shapes our culture.
Subscribe
to
Rolling Stone magazine
Subscribe
to
Rolling Stone magazine