Tune in "for the foreseeable" future to Nick Cave's newest endeavour – the Aussie multi-talent has launched Bad Seed TeeVee via YouTube that will feature videos, gigs, and rarities.
Even though we're out of luck for live gigs until restrictions are lifted, artists are finding heaps of ways to lift our spirits. This weekend saw The Beatles stream a sing-a-long version of their 1968 film Yellow Submarine, as well as PlayOnFest putting on a non-stop 72-hour concert stream.
Now, singer-songwriter Nick Cave has stepped up to the plate, and has revealed what he's been putting together for our entertainment. Taking to Instagram, the legendary post-punk musician announced Bad Seed TeeVee, a continuous stream of his previous gigs, videos, and other goodies.
As Cave was set to be performing in Europe this month, with The Bad Seeds, he saw it very fitting to help us imagine we were right there with him on tour by launching this stream.
"It's 10:30 Wednesday evening," Cave began, "and if the world wasn't in lockdown, I'd be onstage in Toulouse, France singing my heart out with The Bad Seeds."
As his tour was postponed like the rest of the world, Cave continued to say, "but I'm not. I'm doing the next best thing – sitting at home watching Bad Seed TeeVee. Pure non-stop joy!"
Featuring "videos, interviews, live performances and more", the stream has already begun, and will continue "for the foreseeable" future, meaning that you shouldn't have to worry about missing out at any rate.
All you've got to do is either visit the Bad Seed TeeVee website, or tune in via YouTube to get in on the action. Since restrictions are currently still in place, there's no telling when we might get to see the brilliance of Nick Cave & The Bad Seeds in concert, but at least we've got the livestream to tide us over.
Check out 'Into My Arms' by Nick Cave: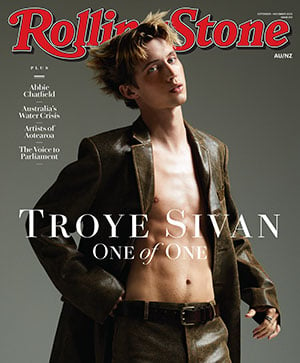 Get unlimited access to the coverage that shapes our culture.
Subscribe
to
Rolling Stone magazine
Subscribe
to
Rolling Stone magazine