Following on from the strange but true announcement that Daft Punk are launching their new album in the sleepy New South Wales town, Wee Waa, the latest instalment of the electronic duo's The Creators Project has dropped.
The newest episode of the making-of video series offers further hints at what to expect for the French duo's upcoming release, Random Access Memories which is out 21st May.
Drip-feeding the latest information on the highly anticipated album, the video series interviews collobators from the album, with the first episode featuring Giorgio Mooder, the Italian producer who worked extensively with Donna Summers in the mid 70s.
The second spoke with Todd Eddwards, a Jersey based house producer who revealed the Parisian pair were channeling classic American West Coast bands Fleetwood Mac and The Eagles on the new album.
Now, as predicted, the latest video features Nile Rodgers, disco guitarist from Chic. He has also worked extensively as a producer, noting in the video his work on David Bowie's Let's Dance, Madonna's Like A Virgin and has collaborated with Duran Duran, INXS, and Diana Ross.
Rodgers has been working on the album with Thomas Bangalter and Guy-Manuel de Homem Christo by lending his experience in disco and funk to their electronic sounds. It comes after he let slip that he and the Parisian pair were "just jamming" in his apartment earlier this year, saying they were "going to talk more about making a record together." "They (Daft Punk) make you up your own game, even if your game is pretty good." – Nile Rodgers
In the video, Rodgers speaks of his own musical experiences, describing his style as "disco based on jazz fusion," while describing the chance meeting with the French duo, commenting that most of the recordings he has made have been a result of "impromptu" meetings.
"Ninety percent if not higher of all recordings that I've ever made in my life have been the result of a very impromptu initial meeting that feels so natural and so organic that you have to take it to the next level," says Rodgers.
Random Access Memories was produced at Electric Ladyland, which for Rodgers, who grew up around the corner, brought back nostalgic memories. In the video, Rodgers speaks of his time jamming in the space when it was a nightclub and recording his first Chic single.
He also offers praise to Daft Punk, commenting that: "They make you up your own game, even if your game is pretty good." Rodgers also speaks of the new album, saying that upon listening to it, it gave him the same feeling when he first heard Donna Summer's 'Love to Love You Baby'.
"… just the magic of that groove and the way it wrapped my body is the way I feel when I listen to this record," says Rodgers.
Discussing the direction and production of the new album he notes, "I feel like I'm working with people who grew up with me and feel it the same way we felt the vibe when we were creating this stuff. It's like they went back to go forward." "I feel like I'm working with people who grew up with me and feel it the same way we felt the vibe when we were creating this stuff." – Nile Rodgers
Fans are also treated at the end with a snippet of a guitar riff, set to appear on Random Access Memories.
The record is Daft Punk's first studio album (discounting the 2010 Tron: Legacy soundtrack) since 2005′s Human After All, and their first under their new deal with Columbia Records – a Sony imprint – after splitting from EMI after 17 years, following the label's $1.9 million merger with Universal Records last year.
It's still over a month until it's release date, but there has been a taster of the record in the 15 second disco teaser aired on Saturday Night Live, as well as the track lengths (but not the song titles) turning up online.
As recently reported and coming with shock but also delight to Australian music fans, Daft Punk have chosen to hold the global launch of  the album in the rural NSW town of Wee Waa as part of the town's Wee Waa Show.
Narrabri Shire Mayor Conrad Bolton told the local paper he though a "mate was pulling my leg" when he was told by Sony Music of the pair's plans to host a global listening party for Random Access Memories, which will be streamed online around the world as part of the Wee Waa Show, an annual local festival.
"It's great for Wee Waa and fantastic for the shire," said Wee Waa Show Society president, Brett Dickinson. "We thought getting senator Fiona Nash to open the show was a bit of a coup, but now our show program has been bolstered 10-fold."
"We're still pinching ourselves. We don't know why, but why not?" Mr Dickinson added. "They just wanted somewhere that was different to what Daft Punk does," said Dickson in support of the decision. "They're known for breaking down barriers and being creative and Wee Waa is uniquely Australian so they just said lets go to Wee Waa."
You can pre-order the album on CD & vinyl here , and view the official album artwork and tracklist (times) below:


Random Access Memories tracklist
01 4:34
02 5:21
03 9:04
04 3:48
05 5:37
06 5:53
07 8:18
08 6:07
09 4:50
10 5:41
11 4:39
12 4:11
13 6:21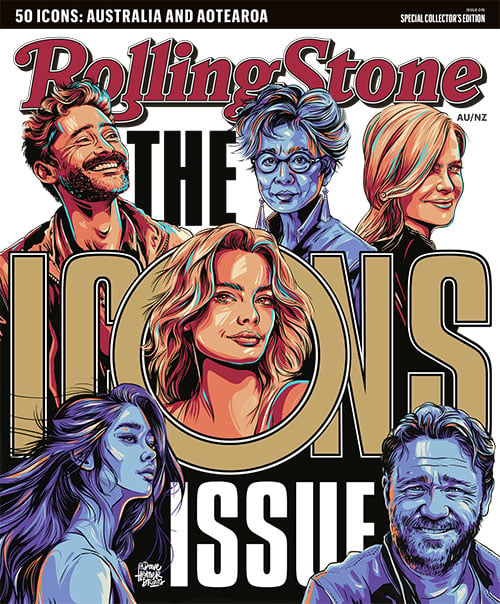 Get unlimited access to the coverage that shapes our culture.
Subscribe
to
Rolling Stone magazine
Subscribe
to
Rolling Stone magazine