NOFX have released a new song asking uncomfortable questions about gun control in AMerica, with proceeds from the track going to a US gun control advocacy group.
Back in October of 2017, 58 people were tragically gunned down at the Route 91 Harvest music festival in Las Vegas. Merely months later, punk rock icons NOFX faced widespread backlash after making light of the event during their set at the Punk Rock Bowling & Music Festival.
"We played a song about Muslims and we didn't get shot," joked frontman Fat Mike, before guitarist Eric Melvin responded, "Man, I'd say getting shot in Vegas… I mean if you're a country band."
"That sucked, but at least they were country fans and not punk rock fans," added Fat Mike, to widespread boos from fans.
The backlash from these comments was swift and far-reaching, with Stone Brewing Co., the sponsor behind NOFX's own Punk In Drublic festival, revealing they were cutting ties with the band, before the group revealed they had practically been blacklisted from performing in their home country.
The band did eventually share an official apology, stating that they "crossed the line of civility" with their jokes, and noting they were "clearly being indecent" at the time.
Now, NOFX have shared a new track about gun control, with all proceeds from the track going to the gun control advocacy group Moms Demand Action.
Sharing the song earlier today, NOFX frontman Fat Mike filmed a small message to fans which preface's the song's video.
Revealing that the song was originally titled 'Unloaded', Fat Mike also noted that the band had actually written the song on June 13th of 2016, even going so far as to drive the point home by adding that fact to the single artwork.
"It was written a year before the Vegas shooting, but I didn't want to release it because it would be insensitive," Fat Mike explained.
"And then other stuff went down in Vegas, so I couldn't release it then, and now it's coming out on our new record, so now is the right time to release it. And there's been so many shootings that we're releasing it early."
Titled 'Fish In A Gun Barrel', the track asks some uncomfortable questions about gun ownership in America, before concluding with the line, "Only a lunatic would sell a lunatic a gun."
While it remains to be seen when NOFX will be unleashing their new record, it seems as though the new release could see politics once again taking a very important role in the content of the upcoming album.
Check out 'Fish In A Gun Barrel' by NOFX: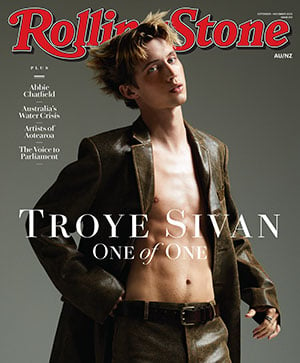 Get unlimited access to the coverage that shapes our culture.
Subscribe
to
Rolling Stone magazine
Subscribe
to
Rolling Stone magazine