There's a chance most of us have shaken our fists in angst at a ticket scalper, when tickets to our favourite international act sell out in minutes only to find pages of them being sold on eBay or Gumtree at double the price (like this cheeky scalper who's selling an Adelaide Soundwave ticket for $999).
But those burnt by online scams and overpriced second-hand sales, such as those that fell victim to a 21-year-old selling fake festival tickets online, may take solace in news that the NSW government have ticket scalpers in their sights.
As reported by the Sydney Morning Herald, the NSW State Government is planning to introduce new legislation that aims to prevent opportunistic scalpers from "preying on fans" with often ridiculously inflated prices.
It is expected that the new laws, proposed by Sports Minister Graham Annesley and the Fair Trading Minister, Anthony Roberts, would restrict the price of any resold ticket for sporting and entertainment events to be within 10 per cent of its original price; anything above that would be deemed illegal.
The NSW government's introduction of a strict threshold for resold ticket prices aims to discourage exploitative scalpers as their profits would be drastically lowered.
For instance, under the new legislation that aforementioned Adelaide Soundwave ticket scalper would have to reduce his $999 price tag down to $220, or risk ending up in court.
"Fans should be able to expect that resale takes place in a manner which does not expose the new purchaser to any undue risk of fraud." – Sports Minister Graham Annesley
"Fans should be able to expect that resale takes place in a manner which does not expose the new purchaser to any undue risk of fraud or price gouging by unscrupulous profiteers preying on the emotions of sports fans," said Mr Annesley.
Similar laws already exist in Queensland in Victoria, however, NSW will have to fight past consumer groups and online auction websites to see their proposed legislation introduced.
In 2010, a report undergone by the Commonwealth Consumer Affairs Advisory Council declared that banning on-selling wasn't in the public interest.
"We believe tickets should be a freely tradeable commodity on the secondary market to allow consumers maximum flexibility in both disposing of excess tickets and acquiring new ones," said the consumer group Choice.
The report declared that ticket scalping is far more uncommon in Australia when compared to other nations. They compared our rate of 5 to 7 per cent with that of 20 per cent in the US and Britain.
However, is ticket scalping really that bad? This has always been a polarising issue, with heated arguments raging back and forth. There's plenty of reasons to dislike it, likely due to personal experience, but one of our writers at Tone Deaf has stuck up for "those damn ticket scalpers" in an opinion piece, arguing that "you may be surprised to see how little of an issue ticket scalping actually is."
In accordance with the Commonwealth Consumer Affairs report, our writer pointed out that "the highest ratio [of ticket scalping] we could find was for The Black Keys in Melbourne, where a total of 40 tickets were available for the seating area of the two shows out of about 4,300 tickets available, or a ratio of about 10 for resale for every 1,000 sold."
And what about when ticket scalping and on-selling works in our favour? For example, if a show doesn't sell out then it's quite easy to find a ticket on Ebay or Gumtree for less than the original retail price.
However, there are more widespread consequences of the government intervening with the ticket market. By crippling the secondary market, i.e. ticket scalpers, it reduces the competition for major companies who will then have a newfound incentive to bump up their own prices.
Greedy behaviour from large ticket vendors isn't unheard of. For example, last year an Arkansas resident, Corey McMillan, successfully sued Ticketmaster for violating a State Act that "forbids the sale of tickets above their face value plus reasonable credit card or handling fees", after he was charged $49 in fees on top of an asking price of $42.75 for four tickets to a concert for country music singer Jason Aldean.
A similar news item from The Telegraph told how Ticketmaster were taking advantage of the highly-anticpated Eagles tour of 2010, by slugging customers who purchased online tickets to the event with a 'handling fee' of an extra $25.
As the issue stands, the NSW government are still in the progress of preparing their new law. Heads up to ticket scalpers: you should probably be shaking in your boots.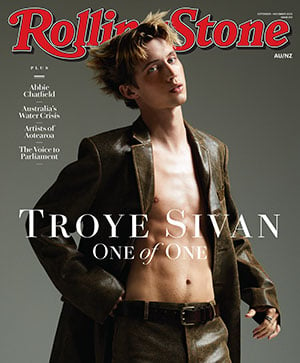 Get unlimited access to the coverage that shapes our culture.
Subscribe
to
Rolling Stone magazine
Subscribe
to
Rolling Stone magazine